Raybon's Review: What We Learned From Week 4 DFS on FanDuel & DraftKings
Analyzing the prior week's results is one of the most valuable investments of your time as a DFS player. In this space, I will deconstruct the winning lineups from FanDuel and DraftKings' biggest GPPs. I will also list general DFS takeaways from the past week.
DraftKings
Winning Week 4 Millionaire Maker Lineup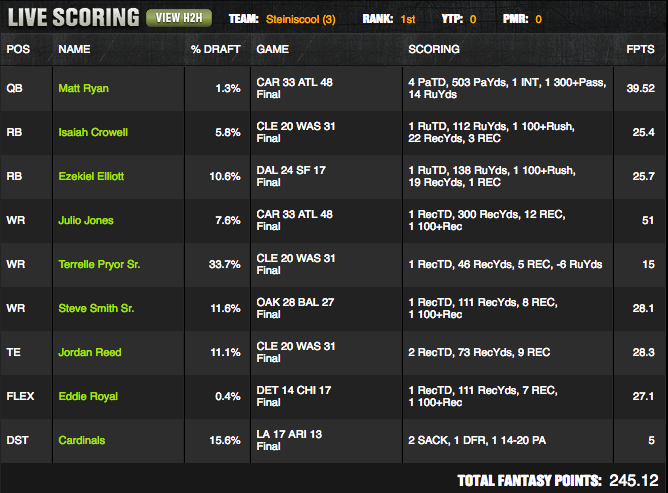 What a lineup.
We'll start off at QB, where rostering Matt Ryan at 1.3% supports my research that QB is the best position to go contrarian due to the plethora of options each week that will see a large workload. 
Of course, he may have landed on Ryan due to rostering Julio Jones as his WR1 over more popular options such as Antonio Brown and DeAndre Hopkins. Julio was a great game theory play, surely to be low owned coming off an extremely poor game in a tough matchup, and going against what was perceived to be a tough matchup against Carolina. The Carolina matchup was probably overrated, as Carolina had faced only Trevor Siemian, Blaine Gabbert, and Sam Bradford to date, and obviously no WR of Julio's caliber. One of the reasons why we wait a few weeks before using aFPA is because early in the season, even schedule-adjusted metrics will contain a lot of noise in the first few weeks. aFPA was able to recognize Carolina was a middling QB matchup (14th), but failed to account for Carolina's potential weakness against a top-tier WR like Jones, as they were ranked third in WR aFPA after holding down a previously scorching Stefon Diggs to a 4-40 line in Week 3.
In general, I believe that as forecasters, we are solid at narrowing down to a pool of players who may potentially have a big game, but we are not as adept as predicting which of those players in our narrowed down pool will actually have the biggest game. Therefore, it makes sense to leverage ownership and increase your exposure to the lesser owned players in these scenarios, which could have gotten you off of someone like Brown and onto Jones.
4for4 DFS Subscription Content
There's more, but it's available only for 4for4 DFS subscribers.
If you are a current subscriber, please login here
Filed Under: w5, 2016
We are your friend's secret weapon.
Get 4 FREE downloads
Receive breaking news alerts & analysis.
Battle-Tested by 40,000+ fantasy football diehards since 1999.