FanDuel Hindsight Week 7: Miller High Life Welcome to FanDuel Hindsight, where we'll recap the previous week on FanDuel, focusing on the Sunday Million tournament, which has a $1 Million grand prize. We'll use the benefit of hindsight to see what lessons can be learned about the Sunday Million winner's low-owned, difference-making plays, then check in on how the most popular plays of the week fared.
Editor's Note: 4for4 has an ALL-NEW DFS SUBSCRIPTION! It includes our revolutionary Lineup Generator, Stack Value Reports, Ceiling & Floor Projections, GPP-Specific Articles, Ownership Outlooks, DFS Theory Articles, Lineup Construction Articles, a Downloadable .csv with Projections and Salary Data, and much more! DETAILS HERE! Previous subscribers don't worry, you'll get the same DFS content you got last season, but we think you'll want to UPGRADE to our DFS subscription because it takes our DFS content to the next level!
FanDuel user brettg83 took down the grand prize with a strong all-around lineup. He had the key play of the day (Lamar Miller), and a valuable contrarian play at kicker (Blair Walsh).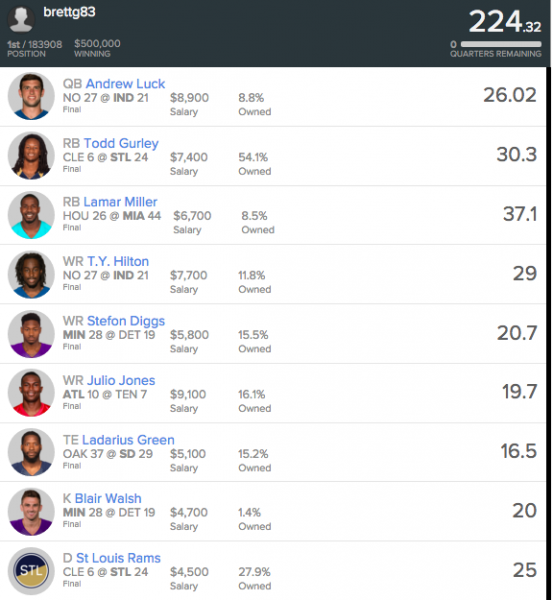 The lineup had two extremely popular plays (Todd Gurley and the Rams defense), six plays with moderate ownership, and Walsh at 1.2 percent ownership at kicker. Every player scored at least two points per $1,000, with seven scoring over three points per $1,000. Two correlated stacks were used: a QB-WR stack with Andrew Luck and T.Y. Hilton, and a RB-DEF stack with Gurley and the Rams. You can find the valuations of all QB-WR stacks and RB-DEF stacks by checking out 4for4's exclusive Stack Value Reports, available to DFS subscribers. Let's take a look at brettg83's difference-making plays.
QB Andrew Luck
Why Not Many Were on Him: Luck was in a good spot, but had struggled this season. There were QBs at lower price points -- Carson Palmer ($8,200) and Philip Rivers ($8,000) who had great matchups as well.
Hindsight Bias: Luck was 2014's QB1 and had shown he could still produce statistically in the previous game against New England. Colts-Saints had the highest Vegas over/under of Week 7 (52), and the Colts had one of the week's highest implied point totals (28).
RB Lamar Miller
Why Not Many Were on Him: Miller was an attractive option at his price point, but Devonta Freeman ($8,700) and Gurley were the consensus top plays, so Miller went under-owned.
Hindsight Bias: Miller was drafted as a fringe RB1 before the season, and the Dolphins had shown a new commitment to the running game under new Head Coach Dan Campbell. The Texans entered the game 23rd in RB aFPA.
WR T.Y. Hilton
Why Not Many Were Him: Hilton had been having a quiet season, with only one TD through six games. Many users instead opted for Larry Fitzgerald ($7,800) at this price point.
Hindsight Bias: Hilton was facing off against a weak defense with an elite QB at the helm. Hilton gets the deep targets necessary to make a huge fantasy impact. He had shown upside beyond his current price point in the past, as his price was at or above $8,600 for the final seven weeks of 2014.
Why Almost No One Was On Him: The Vikings have a middling offense, so Walsh always has a middling projection. Plus the Vikings were on the road.
Hindsight Bias: Walsh profiled as a good play for two main reasons. Firstly, although the Vikings were on the road, they closed as two-point favorites. Secondly, the Lions were ranked 28th in QB aFPA, and soft QB matchups are oftentimes strong indicators of good kicking matchups.
How Did the Most Highly Owned Plays of the Week Do?
QB Carson Palmer 21.4% Owned, 19.2 Points
Palmer had a solid game with 275 yards and two scores, but his output didn't put owners over the top.
RB Todd Gurley 54.1% Owned, 30.3 Points
Gurley proved the wisdom of the masses correct by gashing the Browns' weak run defense for 128 yards and two scores. He also caught four passes for 35 yards.
RB Devonta Freeman, 44.6% Owned, 14 Points
Freeman had a good day yardage-wise with 130 total yards, but failing to score a TD meant he didn't justify his price tag.
WR Larry Fitzgerald 32.6% Owned, 5.4 Points
Fitzgerald was a disappointment with a 3-39 line, as Palmer spread the ball around to other receivers throughout the game.
WR Martavis Bryant 23.9% Owned, 13.3 Points
After Bryant produced a big game with Landry Jones the previous week, nearly a quarter of the field rostered Bryant in the great matchup coming off of an $800 price increase. Both Jones and Bryant came back down to earth, with Bryant only able to muster a 3-45-1 receiving line, along with nine rushing yards. Luckily he found the end zone.
WR DeAndre Hopkins 23.8% Owned, 8 Points
Hopkins suffered through an abysmal first half for the entire offense, and then watched Nate Washington rack up 127 yards and two scores in garbage time.
TE Greg Olsen 16.5% Owned, 8 points
Olsen was held in check by a quietly strong Eagles defense that 4for4's aFPA tool had rated as the league's 12-best against TEs coming in to the game.
TE Ladarius Green 15.2% Owned, 16.5 points
With no clarity prior to lineup lock, 15.2 percent of the field went with Green, while seven percent stuck with Antonio Gates ($5,800) who ultimately did not play. Green was the beneficiary of an extended comeback attempt and buoyed his 4-45-1 line with two 2-point conversions.
D St. Louis Rams 27.9% owned, 25 Points
The Rams were easily the best point-per-dollar value on the slate, and paid off in a big way at home against an overmatched Browns offense.
Most Popular
There is no data to display.