FanDuel Hindsight Week 10: Jeremy Langford Runs Rampant Welcome to FanDuel Hindsight, where we'll recap the previous week on FanDuel, focusing on the Sunday Million tournament, which has a $1 Million grand prize. We'll use the benefit of hindsight to see what lessons can be learned about the Sunday Million winner's low-owned, difference-making plays, then check in on how the most popular plays of the week fared.
Editor's Note: 4for4 has an ALL-NEW DFS SUBSCRIPTION! It includes our revolutionary Lineup Generator, Stack Value Reports, Ceiling & Floor Projections, GPP-Specific Articles, Ownership Outlooks, DFS Theory Articles, Lineup Construction Articles, a Downloadable .csv with Projections and Salary Data, and much more! DETAILS HERE! Previous subscribers don't worry, you'll get the same DFS content you got last season, but we think you'll want to UPGRADE to our DFS subscription because it takes our DFS content to the next level!
FanDuel user jtppick6 took down the grand prize with unexpected big days from Antonio Brown and Jeremy Langford.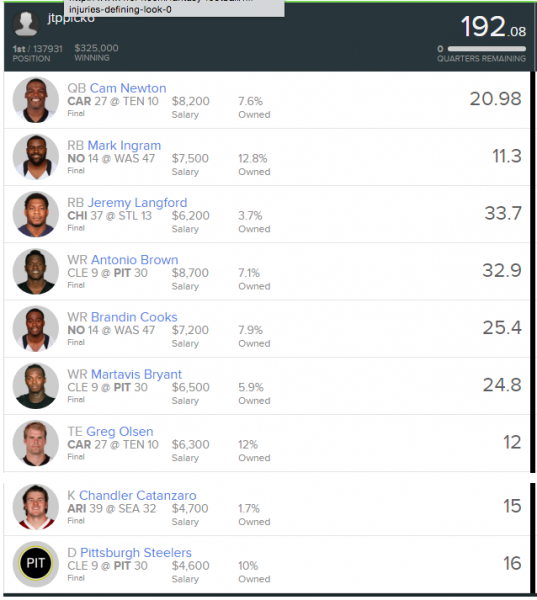 With his most popular play at only 12.8 percent owned, jtppick6 employed one of the more contrarian lineups we've seen take down the grand prize -- only three of his players even cracked double-digit ownership. Six of the nine players in the lineups scored three points per $1,000, with Mark Ingram being the only player to fall significantly short of two points per $1,000. In addition to the Newton-Olsen stack, the lineup employed positively correlated pairings with Brown-Bryant (0.13)1 and Brown-Steelers (0.09)2. For the second straight week, a negatively correlated (-0.07)3 RB-WR stack (Ingram-Cooks) appeared in the winning lineup. Last week in this space, I wrote about why negatively correlated pairings should not be avoided.
Let's break down the difference-making plays.
Why He Was Low-Owned: With a ton of options at RB, Langford was a hard sell facing a Rams defense that had allowed 3.1 yards per carry at home coming in to the game. The success Langford had the previous week was seemingly due to a Chargers defense ranked 27th against the run.
Hindsight Bias: Before injury, the Bears gave Matt Forte the heaviest workload in the league, a trend which continued with Langford, who had 21 touches the previous week. Langford did a ton of damage in the receiving game, where he had averaged over 20 yards per catch on a small sample entering Week 10.
Why He Was Low-owned: Simply put, Landry Jones is no Ben Roethlisberger. Also, many DeAngelo Williams owners likely hesitated to also roster Brown.
Hindsight Bias: Landry Jones getting hurt and giving way to Ben Roethlisberger would have been impossible to predict, but Brown did put up a 6-124 line in Jones's last start.
Why He Was Low-Owned: See Brown, Antonio.
Hindsight Bias: Bryant had caught all three of Jones's TD passes coming in to the game and was coming off of a price drop. Bryant's raw talent makes him liable to go off at any time, regardless of QB.
Why He Was Low-Owned: Ingram was a somewhat popular play, and we know many owners are reluctant to employ the aforementioned RB-WR pairing.
Hindsight Bias: Cooks had come on of late, with three TDs over his past two games coming in to Week 10. Cooks was the top receiver and a game projected by Vegas to be a shootout.
Why He Was Low-Owned: It is generally best to roster a kicker on a team that you think will score a lot of points. The Seahawks defense doesn't not inspire that kind of confidence.
Hindsight Bias: The Seahawks defense has not been as good this year as in years past. The Cardinals offense came in to the game as one of the top scoring offenses in the league. When a good defense meets a good offense, field goals become a likely outcome, because it's tough to completely stop a good offense from moving the ball.
How Did the Most Highly Owned Plays of the Week Fare?
QB Tom Brady 15.2% Owned, 19.26 Points
Brady posted a 334-yard, two-touchdown day, which is a very good performance for any QB. However, a couple of turnovers resulted in a middling score that was not enough to pay off his steep price tag in GPPs.
RB DeAngelo Williams 43% Owned, 7.4 Points
Williams could not get going early, and once Ben Roethlisberger came on in relief of Landry Jones, the Steelers became very aggressive with the pass. Roethlisberger's injured foot may have played a role in Pittsburgh's abandonment of the run, as the team operated almost exclusively out of the shotgun (including a decent amount empty backfield with Williams split out as a receiver, which is not his strength) once Roethlisberger entered the game. Taking shotgun snaps helped Roethlisberger avoid putting stress on his foot by dropping back, but limited the frequency and effectiveness of the team's called running plays. Williams was able to turn 18 touches into only 69 scoreless yards.
RB James Starks 29.4% Owned, 12.6 Points
Starks had a solid 96 total yards and six receptions, but failed to hit paydirt, leaving owners well short of a week-winning play.
RB Todd Gurley 22.2% Owned, 16.4 Points
Gurley got off to a great start with a first quarter touchdown, but didn't get much opportunity thereafter, as the Rams fell victim to bad quarterback plays, turnovers, and a poor defensive effort.
WR Allen Robinson 36.3% Owned, 13.6 Points
Robinson drew 11 targets but was unable to break off a big gain, settling for a somewhat underwhelming 51 yards and a TD.
WR Randall Cobb 23% Owned, 7.5 Points
With the Lions reeling in the secondary due to injury, Davante Adams -- not Cobb -- was the prime beneficiary, collecting 21 targets from Aaron Rodgers. Cobb did see 10 targets, but was able to turn them into only 53 yards in what's becoming a concerning trend of inefficiency for the Rodgers--to-Cobb connection.
TE Jordan Reed 27.9% Owned, 16.4 Points
Reed took advantage of the Saints' historically bad defense to the tune of two TDs on three catches.
D Denver Broncos 15.6% Owned, 1 Point
The Broncos defense was consistently put on short fields due to a four-turnover performance from Peyton Manning. As a result, the Chiefs were able to play conservative football and avoid sacks and interceptions.
Footnotes
1. http://rotoviz.com/2014/10/correlation-matrix-answers-every-question-you...
2. http://rotoviz.com/2014/10/correlation-matrix-answers-every-question-you...
3. http://rotoviz.com/2014/10/correlation-matrix-answers-every-question-you...