Pat Freiermuth Is This Year's Fantasy Football Breakout Tight End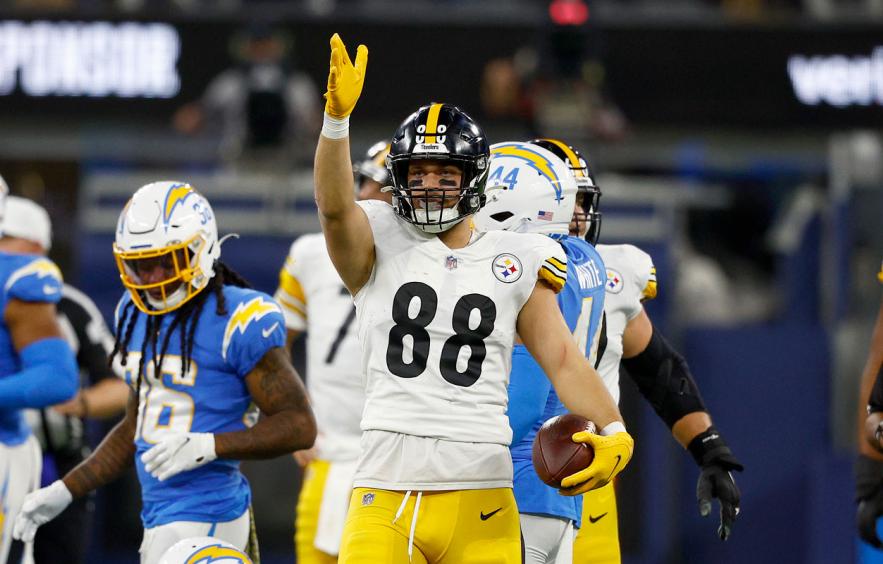 Ronald Martinez/Getty Images
It's no secret that tight ends typically struggle early in their NFL careers. It's one of the more difficult positions to transition to. However, that hasn't stopped Pat Freiermuth from being one of the most productive tight ends during his first two years in the NFL. Freiermuth has the third most targets, second most receptions, sixth most yards, and fifth most touchdowns over the first two seasons of any tight end in NFL history. Despite this, he finds himself being drafted as only the TE10 at Underdog with an ADP of 108.0, making him available with a ninth-round pick.
With last year's midseason trade of Chase Claypool and Kenny Pickett now entering his second season, there are reasons to believe the 2023 season could be Freiermuth's best of his career. While fantasy managers are excited about George Pickens' prospects now entering his second season, it was Freiermuth who solidly out-targeted the rookie receiver last season and seems like the best bet to reprise his role as Pickett's No. 2 target this season.
---
Click here for more 2023 Player Profiles!
---
Put Some Respect on
Pat Freiermuth

's Name

Freiermuth was drafted by the Steelers in the second round of the 2021 NFL Draft and despite the long history of rookie tight ends struggling, he bucked the trend and had a very productive first season. He finished with 80 targets, 60 receptions, 497 yards, and 7 touchdowns. He averaged 7.6 half-PPR PPG, which resulted in a TE16 finish.

He finished with a route participation rate of just 59.4%. Using 4for4's NFL Player Stat Explorer, this ranked just 22nd among tight ends. His 66% snap share was just 32nd among tight ends with at least eight games played. Despite the limited opportunity, it didn't stop him from finishing 17th in targets per game and 13th in receptions per game.

As a rookie, the former Nittany Lion showed plenty of promise, finishing 12th among tight ends with a 20% target per route run. While he did experience some good luck in the scoring department, catching seven touchdowns, there were plenty of other positives fantasy managers could take away from his rookie season, and that made him a favorite for a second-year breakout season.

Unfortunately, due to some touchdown luck that went the other way, fantasy managers may have been left with a sour taste in their mouths following his second season even though he performed better in every other statistical category.
Pat Freiermuth

Stats, 2022

| Target Share | Targets/G | Rec/G | RecYds/G | Yards/G | Yards Per Route Run | Targets Per Route Run | Half-PPR PPG |
| --- | --- | --- | --- | --- | --- | --- | --- |
| 19.6% (6th)* | 6.5 (6th) | 4.2 (8th) | 48.8 (6th) | 54.1 (8th) | 1.83 (7th) | 24% (8th) | 8.3 (9th) |
*Ranks among tight ends with at least 40 targets
He was one of the most productive tight ends in the NFL last season. It's also important to note that Claypool was in Pittsburgh for half of the season. With him now in Chicago, there is less target competition. While Freiermuth's half-PPR PPG certainly left something to be desired given his other numbers, it's important to remember after scoring seven touchdowns as a rookie on 80 targets, he found the end zone just twice on 98 targets.
Although he scored just twice, Freiermuth had good red zone utilization, seeing 12 red zone targets, the 11th highest among tight ends. He also had five targets inside the 10-yard line, the 13th-most. If his untapped touchdown potential wasn't enough, consider that he also had 403 unrealized air yards according to PlayerProfiler, which was the fourth-most last year among tight ends.
A lot of this potential requires Pickett to take a step forward in his second year, which based on his play in his final six starts is something fantasy managers should be expecting.
The
Kenny Pickett

Effect
Kenny Pickett

's Efficiency, First 5 Starts vs Last 6 Starts

| Time Period | Pass EPA/Play | Blitz EPA/Play | TD % | Int. % | YPA | AYPG | Average Throw Depth |
| --- | --- | --- | --- | --- | --- | --- | --- |
| First 5 Starts | -0.110 | -0.004 | 1.1% | 2.8% | 5.75 | 239.4 | 6.6 |
| Final 6 Starts | 0.131 | 0.137 | 2.6% | 0.5% | 6.37 | 258.8 | 8.0 |
Fantasy managers can see from the numbers above Pickett played much better in his final six starts and that should provide optimism for the pass-catchers in Pittsburgh, specifically for Freiermuth. His numbers significantly improved with more playing time and now has a full offseason as the starter. Entering his second season in Matt Canada's system, it's reasonable to expect that improvement to only continue to grow.
George Pickens

or Pat Frierermuth as the No. 2?

There are concerns from some fantasy managers that Pickens could overtake Freiermuth as Pittsburgh's No. 2 target behind Johnson, but based on what happened last year following the Claypool trade, there's very little data to indicate this is a likely outcome.

From Weeks 9–17, Freiermuth averaged 6.2 targets per game and had a 20.6% target share. Pickens earned just 4.7 targets and posted a 15.9% target share. Freiermuth also recorded a higher yard per route run average (1.75 vs 1.68) and a higher target per route run rate (24% vs 15%). In fact, Freiermuth was closer to Johnson's numbers of 1.76 and 25% respectively than Pickens was to Freiermuth.

Freiermuth currently has an Underdog ranking of TE10 and an ADP of 108.0. At 4for4, he's ranked as the TE11. However, based on his 2022 numbers, there are reasons to believe he's one of the better values fantasy managers can target at the tight end position this season. He posted excellent numbers last year in regard to his targets, receptions, and yards per game. Several of his other underlying metrics show a lot of promise, as well. Assuming his touchdown rate progresses toward the mean due to his volume and better play from Pickett, Freiermuth has the potential to outplay his current ranking.

Bottom Line
Freiermuth has been one of the most productive tight ends in their first two years in league history.
His target share, targets per game, receptions per game, yards per game, air yards per game, yards per route run, targets per route run, and half-PPR PPG averages from last season were all top-nine or higher, out-performing his current TE10 ranking.
Quarterback, Kenny Pickett played much better in his final six starts compared to his first five. With a full offseason as the confirmed starter, fantasy managers should expect better play from him and the offense as a whole.
Freiermuth solidly out-played Pickens in the aftermath of the Claypool trade and there is little reason to believe Pickens will leap-frog Freiermuth in 2023.
With a better touchdown rate this season, Freiermuth could be one of the better values available to fantasy managers at the tight end position.