How to Get the Most Out of Your 4for4 Subscription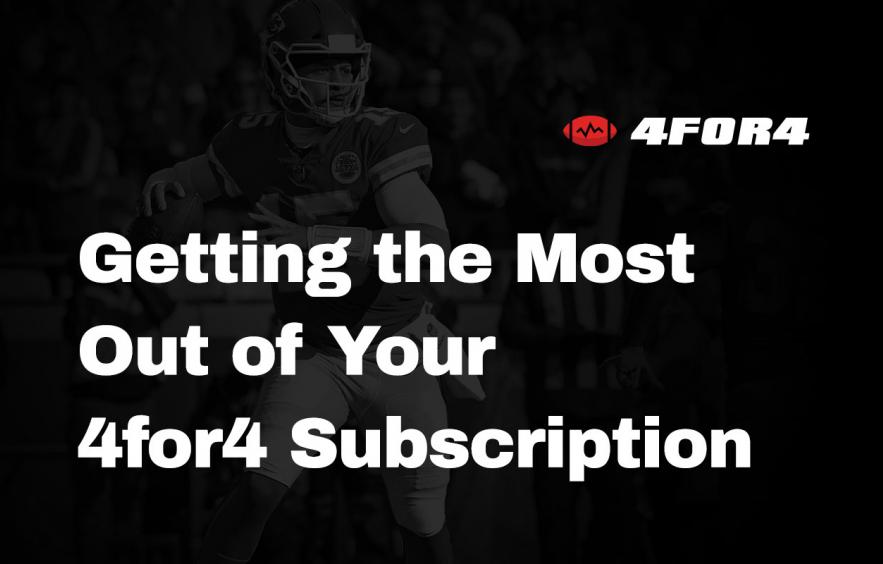 4for4 Illustrations/Doug Houvener
So, you just subscribed to 4for4 the first time and have no idea what to do. Fair. Honestly, I've worked here for over five years and there is always some new feature or tool I'm learning about. The purpose of this article is to help you navigate the 4for4 landscape so that you can get a feel for the site in order to utilize our content and tools to help you win your fantasy league. It's why you signed up in the first place so let us help you do just that.
#Content
Let's start on the content side of things. We have three major areas of focus at 4for4: Season-Long, DFS, and Betting. The quickest way to navigate your way through each section is by bookmarking the home page for each…
Season-Long
During the offseason, our focus is on getting you ready to dominate your fantasy draft. This can mean hyping up players you have to draft everywhere, providing positional draft strategies, diving deep into analytical studies to pinpoint stats that truly matter, or simple player profiles that shed light on player values. Our in-season season-long content features weekly articles such as John Paulsen's Sneaky Starts, streaming guides on QB, TE, Kicker, and Defense, injury updates, and waiver wire recommendations.
DFS & Betting
I'm lumping these two together as they go hand in hand in helping you win money. Offseason DFS content is focused on making you better at DFS and features resources such as Bankroll Management, for example, while in-season DFS is all about helping you win money. Site-specific DFS picks and strategy articles, game-specific strategy articles, stacking articles, and more make up our in-season DFS content.
As for betting, we are constantly providing analysis to highlight the bets you should place, all backed by analytical analysis. We've also bolstered our betting staff to provide betting picks and strategy articles for other sports such as basketball and golf, in addition to football. Every week during the season we will publish articles on the best bets to place and the highest-value props you should be betting on.
If you want to make sure that you never miss a single article published on 4for4 then you have to bookmark our RSS feed.

Player News
If something noteworthy happens in the world of professional football we will report on it and give it a fantasy spin via our Player News team. Our dedicated news team scours the football landscape 24/7 trying to find any piece of information that will help you win your fantasy league or set your fantasy lineup. Each news we report on comes with its own fantasy spin. Whether a starter gets benched and you need to know which backup to target on waivers or how usage impacts fantasy players, we'll report on it. Bookmark our Player News section to never miss a fantasy news blurb.
Tools
Brace yourselves, as this is going to get lengthy. We have tools at 4for4. A ton of them. It's insane the number of fantasy tools we offer subscribers. Let's start off with some tools you will most likely be spending a lot of time using on our site…
Player Snaps App
Want to know which running back led his team in snaps in a given season? Span of weeks? The Snap App is just for you. Fire it up, customize it to your desired settings (week, team, position) and let it rip.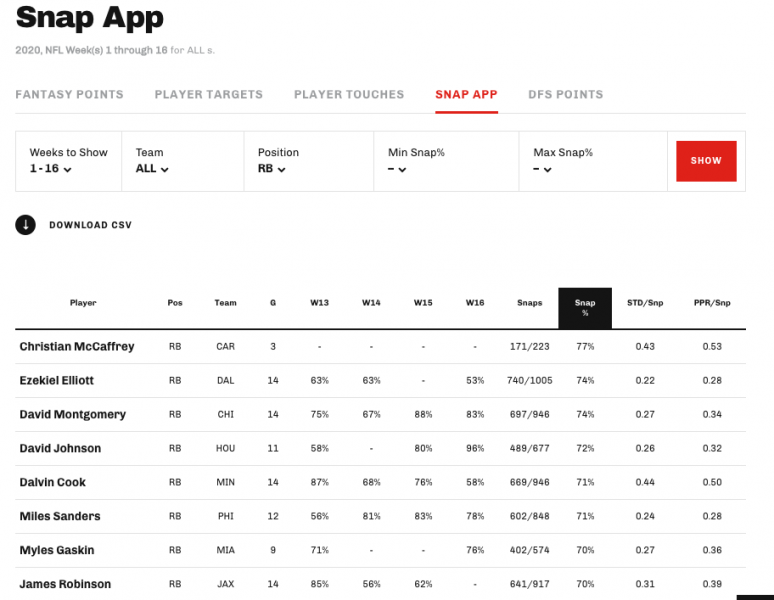 This is a very handy tool in determining who the volume hogs are in a given offense or to spot trends that could lead to you finding the next breakout running back.
Player Targets App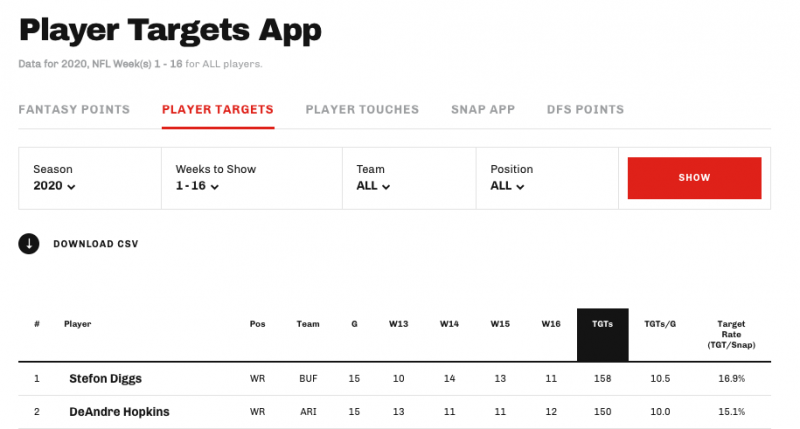 A personal favorite among many 4for4 scribes, the Player Targets app is exactly like the Player Snap App, but just for targets. The name of our tools might be boring but the tools themselves are far from it. The Player Targets app can be customized by week, team, and position, like the Snap App, but it also includes historical data dating back to 2013. Knowing who is seeing the most targets can help make lineup decisions easier, or also provide you with a useful tool when it comes to picking up players off waivers.
Player Touches App
Our Player Touches app gives you a quick and simple glimpse into the players touching the ball the most. There's really not much more to say about this app. It's very handy when trying to see which players are being featured in which offenses.
One way to use this tool is during the season to see how a team is utilizing a backfield. Is an RB2 you think should be the team's top back actually involved in that offense? If so, are they producing? You'll find your answer pretty quickly with this tool.
Fantasy Points Browser
Our Fantasy Points Browser app is great for research to see who's hot and who's not during a given timeframe but it is also a fantastic tool when trying to determine a player's consistency. Whenever you see an analyst mention "Player X finished as a top-12 fantasy player 11 times last season", this is the app you would use to fact check that claim or do your own research.
Market Share Splits and Air Yards App
You'd be surprised at how many people tell us they had no clue we had a splits app or an air yards app. It's true. It's true. It's damn true! We do.
Our Market Share Splits app spits out a player's splits based on a certain set of criteria (such as year or opponent). For example, if you wanted to know how Matt Ryan produced with and without Julio Jones in the lineup this is the app you would use.
Our Air Yards app has data for average air yards per game, average depth of target, market share of team targets, market share of team air yards, and much more. It can also be customized by position, team, and specific weeks. Want to know who led the Carolina Panthers receivers in air yards per game from Weeks 5-9 in 2020? The app has the answer (hint: it was Robby Anderson).
ADP Bargains (Sleepers) Tool
Our ADP Bargains (Sleepers) tool is a quick and easy way to find the most undervalued (or overvalued) players in fantasy drafts. What we do is compare John Paulsen's rankings to current ADP and the app spits out a Bargain Score. It's that simple. It is also customizable to league settings and scoring format. Last year, prior to Derrius Guice being released by the Washington Football team, the app highlighted just how undervalued Antonio Gibson was. This year it's really into Terrace Marshall.

Scheduled-Adjusted Fantasy Points Allowed (aFPA) Metric
Our scheduled-adjusted fantasy points allowed (aFPA) metric is our signature adjusted fantasy points allowed metric that removes schedule bias. With this bias removal, we can compare matchups in an "apple-to-apple" manner. So, say a defense has an easy schedule versus a specific position, their fantasy points allowed are adjusted to account for that strength of schedule. It usually takes about four weeks for the data to become trustworthy during the season. The aFPA data is a great resource in-season when it comes to making waiver wire or starting lineup decisions.
If looking for help during your draft, we provide Strength of Schedule rankings for every position, which goes from 32 (easiest schedule) to 1 (hardest schedule). For in-season, our Lookahead/Playoff Matchup Planner is a color-coded chart that shows which players have the easiest schedules for an upcoming stretch of games. Our Hot Spots tool shows the strength of schedule for every team on a position by position basis, for every player, or for each team's offense and defense. If you want to see which quarterback has the easiest schedule for a specific time frame then this is the tool you will want to use.
Rankings
One of the main reasons people subscribe to 4for4 is for John Paulsen's Fantasy Football Rankings and projections. John has been named the most accurate rankings expert twice (2010 and 2014), and he has finished as a top-10 accurate ranker 10 times since 2010! It's hard to top such consistency in the industry.
During draft season you can find John's rankings in a number of different ways. The most useful pages are the positional rankings and projections for the three most common scoring leagues:
Standard
Half-PPR
Full PPR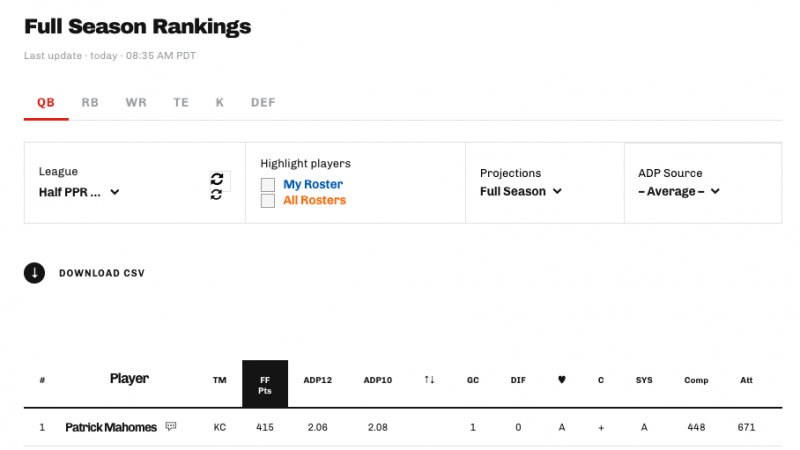 When you click on our rankings it will take you directly to the quarterback rankings for that scoring format, but you can view each position at the top and click on whichever position you desire to view the rankings for.
In the rankings tab, we also have what we call "pre-canned" rankings. These are rankings that are tailored to specific sites and scoring systems. So, for example, if you were to click on the FFPC pre-canned rankings it would automatically take John's rankings and projections and account for the fact that FFPC is a TE-Premium scoring platform that awards 1.5 points per reception for tight ends.
One of the coolest, and most helpful draft tools, related to rankings is our Multi-Site ADP tool.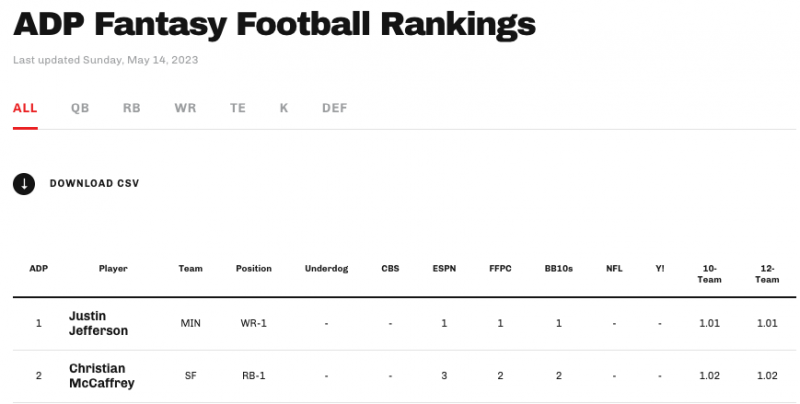 What's great about the way we present ADP data is that we take the ADPs from seven fantasy platforms and show a cumulative ADP for both 10- and 12-team formats. Not only can you see a player's ADP but you can also view how that player is being viewed across all platforms in one convenient chart. We also have an ADP tool just for Underdog Fantasy, which is a great asset during best ball season. The really awesome aspect of this tool is being able to see an entire team's ADP at the same time, which is very handy when it comes to stacking.
LeagueSync
If you have a Pro Subscription you get one of the best features we offer: LeagueSync. What is LeagueSync? Good question! LeagueSync provides you with the ability to sync our rankings to your fantasy leagues. Once set up you will be provided sortable rankings, 1-page cheat sheets, redraft cheat sheets and news tailored to your league's settings. It's your own personal draft day bible and in-season weekly lineup savior. Take all the guesswork out of draft and lineup decisions with LeagueSync.
Draft Hero
Draft Hero is a software tool that optimizes your draft. It is powered by our projections and helps you draft the best team possible. Use our projections while on the clock in your draft and take the advice of the Draft Hero software in each round of your fantasy draft. Find out more about Draft Hero and what you get with our various subscription plans. We also have a detailed walkthrough that ensures you get the best out of Draft Hero.
Audio & Video
Sometimes you don't have the time to sit at a computer or mobile device and read an article. Or maybe you just enjoy listening to your favorite analysts talk fantasy. We get it. Luckily for you, we have a number of platforms to bring you a multi-dimensional aspect of our fantasy content.
On the audio side of things we feature The Most Accurate Podcast, Move the Line, and DFS MVP.
The Most Accurate Podcast, or what we affectionately like to call it, TMAP, has a rotating cast of hosts going over the biggest offseason and in-season fantasy news and what it all means for your fantasy teams. Coming to you twice a week, one episode features John Paulsen & John Daigle, while the other rotates between Brandon Niles & Jennifer Eakins.
DFS MVP is our flagship DFS podcast and every week you can hear TJ Hernandez and John Daigle walk us through their DFS lineup-building process.
Move the Line is all about sports betting, as hosts Sharp Clarke, Connor Allen, and Ryan Noonan let us know which sharp bets to make, but more importantly, where to make them to get the most out of our betting dollars.
How to find our podcasts:
We've also made video a priority at 4for4. Our YouTube channel is home to a number of video shows such as Best Ball Happy Hour and TMAP—Make sure you are subscribed to our YouTube channel in order to never miss a live stream. We also have a betting-focused YouTube channel where you can watch Move the Line—SUBSCRIBE HERE!
DFS
If you play DFS you already know we have a ton of weekly strategy and pick articles for all the major DFS platforms. Our DFS team is led by TJ Hernandez and each week during the NFL season we go all out providing not only the best players to target in DFS cash games and tournaments but also the reasoning behind each pick. Bookmark our DFS Home Page to never miss an article.
Lineup Generator
Whether you're trying to build an optimal lineup or don't have time to research DFS, our Lineup Generator will help you build the most optimal lineup for the week on DraftKings, FanDuel, or Yahoo. Our Lineup Generator is backed by John Paulsen's projections and can be customized by slate, can exclude teams or players and can also be toggled to show floor or ceiling projections.
Stack Value Reports
The Stack Value Reports tool highlights the optimal 2-Man, 3-Man and 4-Man stacks of the week. This tool is very helpful when building GPP lineups, especially if trying to find correlated stacks.
Leverage Scores
Leverage Score is a 4for4 proprietary metric that shows a player's value in GPP tournaments after it has been adjusted for projected ownership. Gaining leverage on the field is a quick way to rise up GPP leaderboards and each week this tool will highlight the top leverage plays.
Player Pricing
Our Player Pricing Report will show you the salary a player started the week at, his current salary, the percentage of total cap, change in salary from the previous season, his salary from the week prior, as well as the change (if any) in his salary from the week before. This is a wonderful resource when it comes to finding out which players are trending up or down during the week.
Other self-explanatory DFS resources include Floor & Ceiling Projections, DFS Points Browser, and Ownership Projections.
Betting
Sports betting has exploded in recent years and 4for4 is here for it. Thanks to Ryan Noonan and Connor Allen, our Co-Directors of Betting, we provide betting picks and strategy. The first thing you will want to do is bookmark our Betting Home Page. Once there you will have access to all our betting strategy articles and picks all year round.
Not only do we offer betting picks but we also have built a number of betting tools to ensure you find the best odds at all the major sportsbooks.
NFL Player Prop Tool
Backed by John Paulsen's projections and built by Sam Hoppen, our NFL Player Prop Tool identifies the highest-value props in the NFL. It can be filtered by sportsbook, teams, players, and prop odds. Using this tool will ensure you place a high-value prop at the best odds. We also have a tutorial on how it works.
Discord Betting Alerts
More on Discord below, but one feature betting subscribers should absolutely take advantage of is push notifications via Discord. Whenever a bet is placed in our betting channels you can get a push notification to your mobile device immediately. To access this feature on Discord, go to "Role Assign" and click the emoji under "Weekly Props Ping".
Betting Tools
Sometimes you need a little help placing a bet. We get that. That's why we asked Sam Hoppen to build a number of Betting Tools to ensure you have the biggest edge when dealing with the books. Our current betting tools:
More Than Just Football
Thanks to Connor Allen and Ryan Noonan, 4for4 has expanded its betting offerings to other sports such as basketball. You can also visit our sister site, Betsperts Golf, for golf picks, analysis & tools!
Underdog Fantasy
Underdog Fantasy has dominated the best ball space and we've taken notice. In addition to our Underdog ADP Tool, we also feature an Underdog Roster Construction Tool and an Underdog Advance Rate Explorer Tool.
Social Media
In addition to everything laid out in this article, our social media channels, particularly Twitter and Discord, provide additional ways of winning your fantasy league. Our analysts are very friendly on Twitter and always willing to help answer any fantasy questions you may have. Follow the main 4for4 Twitter account—@4for4football—and subscribe to our 4for4 Staff Writers List to ensure you are following all of our writers. Into betting? Then you better be following @4for4Bets.
Every 4for4 subscription comes with an invite to our private Discord server. Here you will find channels dedicated to every aspect of fantasy football. In addition to chatting with staff members and fellow fantasy enthusiasts, we also host Q & A sessions with experts and will post betting picks not found on the site to account for line movement. Once subscribed to 4for4, Join our Discord and verifiy your subscription by going to the #verify-subscription channel. If you need help understanding Discord you can send a tweet to @SpaceGhostForce and he will gladly walk you through the process.
Bottom Line
Hopefully, you now have a better understanding of all the tools and content 4for4 has to offer and you can utilize everything to your advantage. If you ever have any questions do not hesitate to email us at support@4for4.com. Thank you.