Gardner Minshew Is Your Superflex Fantasy Football Secret Weapon In 2023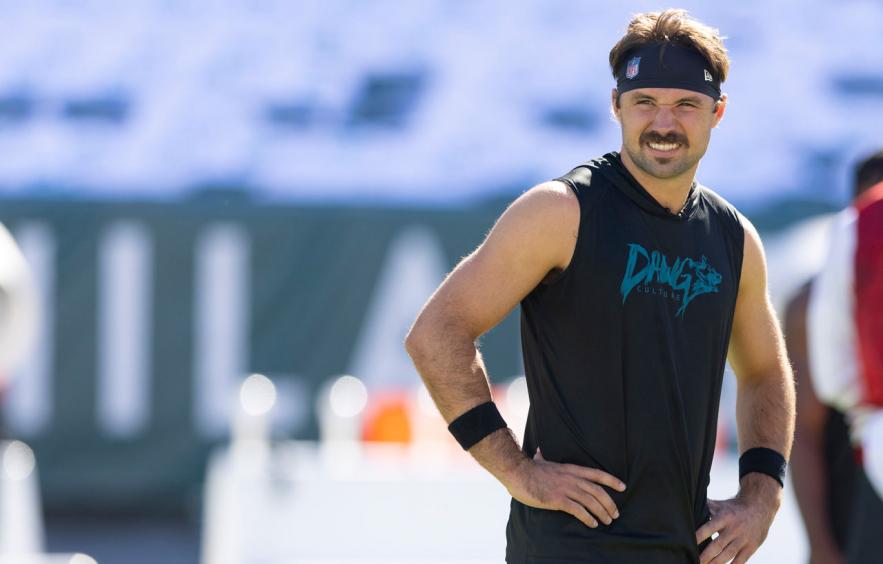 Mitchell Leff/Getty Images
The Indianapolis Colts made headlines this NFL offseason by hiring former Philadelphia Eagles offensive coordinator Shane Steichen to be the franchise's new head coach. The cheesesteaks must be good in Philadelphia because the Colts double-dipped and brought Gardner Minshew along for the ride as well. On the surface, a backup quarterback signing a one-year deal—albeit for a fully guaranteed $3.5 million (with an additional $2 million available in incentives)—may not seem like it matters all that much, but it could wind up being a significant roster move in both fantasy and NFL circles.
---
Click Here for More 2023 Player Profiles!
---
Gardner Minshew

's Magic Mountain Ride

Minshew Magic Mania swept the NFL in 2019. The then sixth-round rookie signal-caller started the 2019 season backing up veteran quarterback Nick Foles, but the bench wasn't warmed for long, as Foles suffered a clavicle injury during the first week of the season. In relief of Foles, Minshew completed 88% of his passes for 275 yards and two scores (plus one interception). He would finish the week as the fantasy QB15, scoring a respectable 17.6 fantasy points.

Minshew had two different stints as the starting quarterback in Jacksonville that season: Weeks 2-9 and Weeks 14-17.
Minshew's 2019 Starting Stints

| Starting Stints | Average Fantasy Points/Game | Relevant Weekly Fantasy Finishes |
| --- | --- | --- |
| Weeks 2-9 | 15.9 | 6 Top-15 Finishes |
| Weeks 14-17 | 17.9 | 3 Top-12 Finishes |
Foles was shipped off to Chicago the following season, paving the way for Minshew to start the 2020 season. It was a roaring fantasy success for the then Jacksonville QB1 until injuries derailed his campaign—he started the first seven games of the 2020 season and averaged 18.6 fantasy points. He was the QB12 overall during that span but injuries basically ended his season. He would make an in-game return during Week 14, though, and one more start the next week (15.9 fantasy points/QB21).
All in all, Minshew proved his worth his first two seasons in the league in fantasy, averaging 17.1 fantasy points in his starts, and as an NFL starting QB, recording a 33:9 TD-to-INT ratio and five 300-yard passing games. However, a 7-13 win-loss record, including seven straight losses in 2020 as the starting quarterback, ended the reign of Minshew Mania in Jacksonville and started his backup quarterback journeyman career.
The Shane Steichen Connection
The first stint in the Gardner Minshew reclamation project was a stop in Philadelphia. In two seasons as Jalen Hurts' backup, Minshew was thrust into the starting lineup a total of four times—twice in each of the last two seasons. The offensive coordinator in Philadelphia during that time was now Colts head coach, Shane Steichen. Minshew proved serviceable in those four starts, throwing a combined seven touchdowns and three interceptions while averaging 17.23 fantasy points. As pointed out by our own John Daigle, Minshew's weekly fantasy finishes during that span were QB9, QB18, QB7, and QB17.
2023 Outlook
Minshew and Steichen now find themselves working together again in Indianapolis in 2023 in what could potentially turn into a season-long partnership. The Colts' quarterback depth chart currently features Gardner Minshew, Nick Foles, and Sam Ehlinger, after already cutting ties with Matt Ryan. In five combined starts for the Colts last season, Foles and Ehlinger threw for 646 yards, three touchdowns, and four interceptions. You can see why the team brought in a new quarterback, and are likely to draft a rookie and possibly jettison Nick Foles in the process.
If Minshew starts the season at quarterback for the Colts, he finds himself in a friendly situation surrounded by talent. At wide receiver, he'd play alongside a bonafide No. 1 WR in Michael Pittman (whose 141 targets in 2022 were the 12th-most at his position), an emerging second-year talent across from Pittman in Alec Pierce (whose 78 targets were the 4th-most for a rookie WR), and, when healthy, Jonathan Taylor has proven himself to be one of the league's top running backs (and decent in the passing game with a career 104 receptions in 43 games). The situation is ripe for Minshew to start the 2023 season at quarterback, and potentially keep the job all season long, depending on what happens in the 2023 NFL Draft.

Bottom Line
It's highly unlikely Minshew is the long-term answer at quarterback for the Colts. Even though he's still young (turns just 27 in May), the Colts currently hold the fourth overall draft pick in the 2023 NFL Draft—a prime spot to draft a quarterback. However, that doesn't mean Minshew can't be fantasy relevant in 2023, especially in Superflex leagues, where he could be the ideal QB2.
Rookie quarterbacks aren't guaranteed to start right away in the NFL. If the Colts draft a project signal-caller who's a year or two away, a la Anthony Richardson, Minshew could last the full season as the starter in Indianapolis on a one-year prove-it deal. Minshew has proven his fantasy worth already (averaging 17+ fantasy points in 24 career starts) and should be on the draft radar of anyone who plays in Superflex fantasy football leagues. He should also be in consideration as a late-round dart throw in best ball leagues, where he's currently going as the QB176 (!?).