SharpClarke's Best Week 18 NFL Bet: CLE @ PIT Matchup Spotlight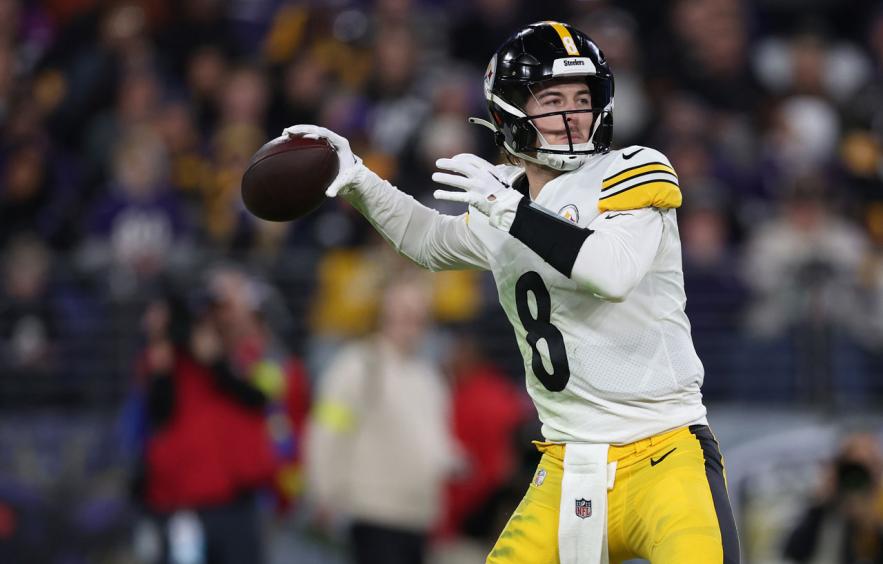 Patrick Smith/Getty Images
With plenty of intriguing matchups on a surprisingly exciting Week 18 slate, I'm heading to Pittsburgh for my weekly spotlight to break down the matchup between the Steelers and the Browns. The Steelers are playing for a chance to make the playoffs if the Bills can beat the Patriots and the Jets can beat the Dolphins, whereas the Browns' season is over. But if you've been reading my content this year you'll know that I do not give a lot of credence to these types of "motivational" edges. I prefer to assess the quality of the teams, trending metrics, and specific matchup factors. Let's dive in.
My Numbers: 9th (Offense: 18th, Defense: 9th)
Pittsburgh Steelers: 12th (Offense: 14th, Defense: 13th)
Cleveland Browns: 14th (Offense: 13th, Defense: 17th)
Baseline: PIT -3.5

Matchup Breakdown
PIT Offense vs. CLE Defense
The Pittsburgh offense has meaningfully improved over the course of the season. Based on my effectiveness ratings, they have played above expectation now in five of their last six games. The one exception was the very cold, snowy game against the Raiders. Trending metrics can be pure noise or they can be meaningful. To determine how meaningful they are, I look at the specific circumstances. Here, there are two key reasons why the Steelers' offensive improvement provides signal and not noise. First, they are heralded by a rookie quarterback, with a key rookie receiver and even a rookie running back making meaningful contributions. When so many young players play a key role, an improvement over the season means they are improving as NFL players. This is particularly true for Kenny Pickett, who has looked really sharp in recent weeks, particularly in the biggest moments. His touchdown pass to Najee Harris was incredible, and it wasn't just that pass. He was sharp on that entire drive (and really that entire game).
Second, the Steelers are the only NFL team who has had the same five offensive line starters in every game. This unit entered the season as a potential weakness, but the chemistry and cohesion the players have displayed has allowed them to reach a higher level than they would as a simple sum of the individual parts. The Steelers' run game has been key to their improvement, as they are constantly facing manageable second and third downs. This is particularly key against the Browns, who have improved as a defense but still rank as the NFL's worst rushing defense. The Steelers want to run, and they have two backs who can take the ball 20 times and be productive. The Browns will need to devote everything to stopping the run, which should open things up once again for Pickett. Given how he has performed in the biggest moments recently, the high stakes of this game should produce his best showing yet. Despite the improvements the Browns' defense has made, the Steelers have the advantage on this side of the ball.
CLE Offense vs. PIT Defense
I have not been impressed with Deshaun Watson this year. I had low expectations coming into the season because I think he has always been an underrated quarterback and that his style of play does not mesh well with what the Browns do best. But it's been even worse than I predicted. They were a better offense overall with Jacoby Brissett. I don't see that turning around in their last, meaningless game. This feels like a situation to evaluate in the offseason. Even last week in their impressive-looking win against Washington, he only completed nine passes. On one, Amari Cooper acted like he was going out of bounds, causing the defender to give up, leading to about 40 yards after the catch. So even his yards per attempt were inflated. With T.J. Watt finally looking healthy, this won't be any easier for Watson, who has a tendency to hold onto the ball too long. I would not be surprised to see Watson fumble the ball in this one.
The Steelers have also been better against the run since Watt's return (and the return of some other players), including a very impressive showing against the Panthers in which they completely negated a run game that had been dominant previously behind a strong offensive line. The Browns do have a good offensive line, so it won't be a total trainwreck for the Browns' run game. But I do not envision them running all over the Steelers, which they would likely have to do in order to win this game. With the Browns playing in a hostile environment against a well-coached defense and a strong defensive line, I again give the advantage here to the Steelers.
Prediction
The Steelers continue to run the ball effectively and sustain long drives, with Pickett delivering some nice third-down conversions along the way. Unlike in previous weeks against stout run defenses where they struggled in the red zone, the Steelers actually make it into the end zone several times in a strong start. Watson delivers a few counter-punches but ultimately the Browns are forced to abandon the run game and the Steelers capitalize in an easy win.
Final Score Prediction: PIT 27-13 CLE
Market Evaluation
The game opened around PIT -3, which was close to fair. But a release on the Browns brought the number under a field goal to PIT -2.5 (and even PIT -2 for a while at some spots). This was excellent news for me because I love the Steelers in this spot. But understanding where the move came from leaves me comfortable with it and gives me confidence in fading the steam. I expect as more sharp bettors get involved closer to kickoff, this one will likely return to PIT -3. I would get Steelers bets in fast (and if you want to fade me, you can probably wait on it).
Best Bets
This morning PIT -2 was available, but now the widely-available price is PIT -2.5 (-110). I prefer this over the Moneyline.
PIT -2.5 (-110) (Widely available)
If you enjoyed this matchup breakdown, you can access all my picks with detailed write-ups for every play with a 4for4.com Betting Subscription. Sign up using the Promo Code SharpClarke for 10% off and get every bet I make in real-time. For the most up-to-date picks check out my Twitter and subscribe to our Discord. This sheet from Dan Rivera tracks all my betting picks (and those from the rest of the betting staff) on the year. Just click on the tab with my name on it for the results.
---
This article is intended for entertainment purposes and adult users only. Call 1-800-GAMBLER if you have a gambling problem.