Trey Lance is Set for a Fantasy Football Breakout in 2022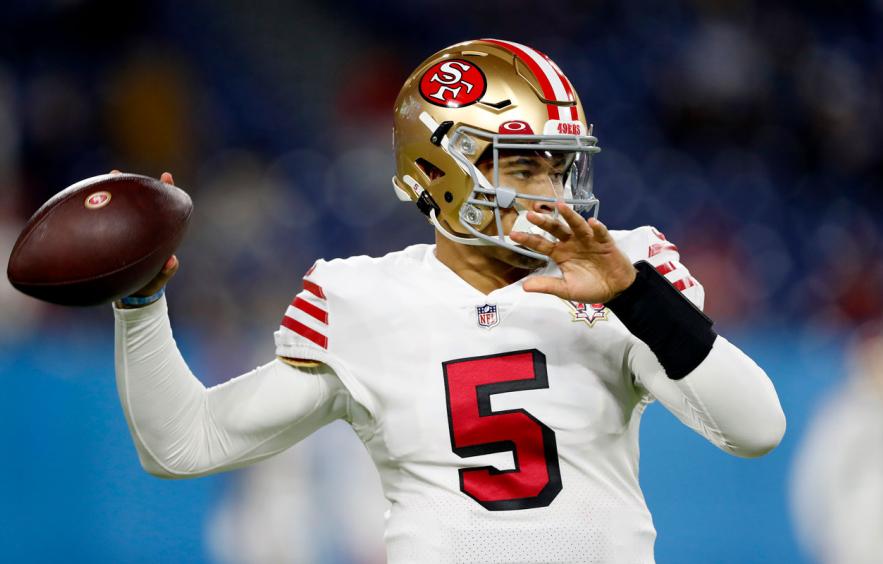 The San Francisco 49ers made a huge splash in 2021, swapping their first-round pick that year with the Miami Dolphins while also sending 2022 and 2023 first-round selections for the right to select quarterback Trey Lance. While many people were excited about the thought of the rookie taking the NFL by storm, he spent most of the season on the sidelines. After significant playing time in just three games, just what should we expect from Lance in 2022?
---
Click here for more 2022 Player Profiles!
---
Trey Lance

's Rookie Growing Pains

Despite the significant cost of acquiring Lance, 49ers coach Kyle Shanahan showed little enthusiasm in thrusting the kid into the starting line-up. He instead chose to ride with veteran Jimmy Garoppolo, a steady presence but without the theoretical upside of Lance. This strategy didn't exactly sink the 49ers, as they made it to within a game of their second Super Bowl appearance in three seasons. Lance ended up starting two games, but he saw significant playing time in another, effectively giving the free footballing world a three-game sample on which to judge him.

In those games, Lance averaged 23.3 pass attempts, completing 13.3 for 199.3 yards and 1.3 touchdowns per game. His completion percentage of 57.14% would have been acceptable in the 1960s perhaps, but in 2021 it was concerning. In Week 16 against the Texans, Lance put his best game on tape as a passer, showing at least some development. He completed 16 of his 23 attempts for 249 yards and two touchdowns. Lance was able to average 18 half-PPR points per game in this sample, thanks in no small part to his rushing. In the three games in which he played most of the snaps, Lance rushed a combined 31 times for 161 yards. It was noticeable, and stands Lance in good stead, that in these three games the 49ers averaged four more plays a game than in the other games in which he was on the bench, with all these extra plays being rushing attempts.
It's
Trey Lance

's Team Now

Garoppolo has been sidelined since the end of the season with a shoulder injury, and the actions of the 49ers all point to his being traded away when healthy (and a suitable offer comes their way) or just released and the team handing the reigns over to Lance. The transition should be quite smooth, with a full offseason as The Guy under his belt and a regular-season schedule that could certainly be worse. Sharp Football Analysis has the 49ers' schedule ranked 13th easiest in the entire league. But does all this mean that Lance is a player that fantasy managers should be desperate to get onto their rosters?
2022 Fantasy Football Outlook
Lance is currently going off the board in Underdog drafts as the QB11. This is an interesting ADP, as there are factors in play that could go against him. Volume and opportunity are two such factors. In 2021, the 49ers were among the slowest teams in the NFL and passed the ball far less than you would like to see. In neutral game situations, they averaged 29.6 seconds per snap, the second slowest among all NFL teams. In these situations, the 49ers' pass rate was 53%, tied for the fifth-lowest in the league. Overall, the 49ers averaged 28.3 seconds per snap (third slowest) and operated at a 52% pass rate (second lowest).
The good news, however, assuming these trends are similar this season, is that Lance will be a factor in the running game. This was evident last season when he commanded a 41.1% share of the carries in Weeks 4-5. Including Week 16 games, He carried the ball 7, 16, and 8 times and averaged 53.6 rushing yards per game. That's an extra five points per contest before we even consider the prospect of his stealing a few goal-line carries. These rush attempts should help him return value that might be lost with the 49ers not filling the air with footballs.
In the absence of volume, the fantasy manager should always seek efficiency, especially from a passer. Here, Lance is at least able to boast efficient partnerships with key members of the 49ers' passing game. He averaged a whopping 12.52 adjusted yards per attempt when targeting Deebo Samuel last season on 23 targets, while his linkup with Brandon Aiyuk was good for an average of 9.69. He and George Kittle need to work on their chemistry, however. In the three games in which Lance saw most of the playing time, Kittle saw an average of 6.5 targets per game. But he averaged a mere 2.5 receptions and 34.5 yards, "good" for 5.0 half-PPR points. In all the other games, Kittle averaged 5.5 receptions, 70.1 yards, and 12.7 fantasy points.
While the 49ers' offense is not likely to resemble the Greatest Show on Turf from a passing point of view, there is enough there to suggest that Lance, as a part of the unit, can be an effective fantasy performer. While he is not going to lead the league in pass attempts, he should be among the leaders in quarterback rushing. This, in combination with an efficient passing game, should see him fully justify his current ADP, and for perhaps the first time in more than half a decade get us excited about the fantasy prospects of a 49ers quarterback.

The Bottom Line
Lance's rookie season, in concert with the 49ers' tendencies, shows that he can be a fantasy viable option as soon as he is named the starting quarterback and is worth his QB11 ADP.
While not expected to rack up gaudy passing numbers, Lance's legs offer considerable upside especially if he takes goal line carries away from the other rushers on the team
Lance has chemistry with most of his leading receivers, which should help to prop up his own fantasy stock while not completely torpedoing theirs in a "run first, run often" offense. Although fantasy managers might need to start worrying about George Kittle.