Projected Three-Down Linebackers For 2022 IDP Leagues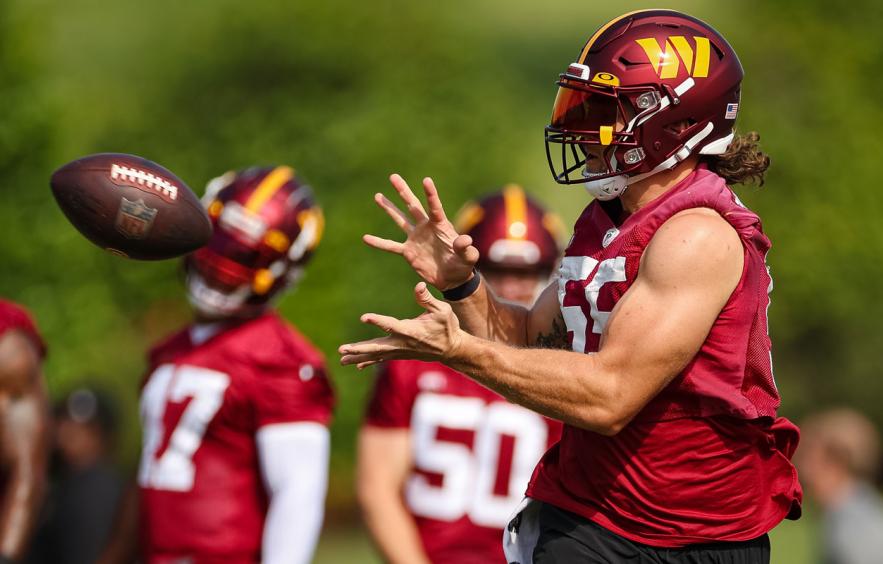 Scott Taetsch/Getty Images
As defensive schemes remain fluid and complex, the roles of the linebacker are changing as well. More teams are deploying just two linebackers at a time, with some teams deploying single-LB sets. It's vital to know which linebackers won't be leaving the field, or at least less often. Much like the running back position, it's becoming a challenge to identify those three-down guys or bell-cow linebackers who are going to see at least 80% of the snaps.
---
More IDP Content: IDP Primer | Breakout DBs | Breakout LBs | Breakout D Linemen | Rankings: DBs | Rankings DL | Rankings LBs |
---
As we head into the preseason and draft season, I project who I think is going to wear the green dot as their team's defensive play-caller and who'll be on the field in a full-time role. This will update throughout the preseason as roles change and new information is discovered.
2022 Projected Three-Down Linebackers

| Team | Player | Games Played 2021 | 2021 Snaps | 2021 Snap Rate | 2022 Projected Green Dot |
| --- | --- | --- | --- | --- | --- |
| ARI | Isaiah Simmons | 17 | 1,005 | 92% | |
| ARI | Zaven Collins | 17 | 220 | 20% | |
| ATL | Deion Jones | 16 | 1,071 | 98% | x |
| BAL | Patrick Queen | 17 | 826 | 76% | |
| BUF | Tremaine Edmunds | 15 | 873 | 81% | x |
| BUF | Matt Milano | 16 | 916 | 92% | |
| CAR | Shaq Thompson | 14 | 798 | 73% | x |
| CHI | Roquan Smith | 17 | 1,009 | 95% | |
| CHI | Nicholas Morrow | 0 (Missed Season) | 0 | 0% | x |
| CIN | Logan Wilson | 13 | 707 | 63% | x |
| CLE | Jeremiah Owusu-Koramoah | 14 | 598 | 53% | |
| CLE | Jacob Phillips | 4 | 123 | 11% | |
| DAL | Micah Parsons | 16 | 904 | 79% | |
| DAL | Leighton Vander Esch | 17 | 663 | 58% | x |
| DEN | Josey Jewell | 2 | 82 | 8% | x |
| DET | Alex Anzalone | 14 | 828 | 73% | x |
| GB | De'Vondre Campbell | 16 | 988 | 92% | x |
| GB | Quay Walker | 0 (Rookie) | 0 | 0% | |
| HOU | Christian Kirksey | 13 | 789 | 69% | x |
| IND | Darius Leonard | 16 | 1,001 | 92% | x |
| IND | Bobby Okereke | 17 | 1,073 | 98% | |
| JAX | Foyesade Oluokun | 17 | 1,149 | 98% | x |
| KC | Nick Bolton | 16 | 624 | 56% | x |
| KC | Willie Gay | 12 | 437 | 39% | |
| LV | Divine Deablo | 17 | 296 | 26% | |
| LAC | Drue Tranquill | 14 | 561 | 48% | |
| LAR | Bobby Wagner | 16 | 1,128 | 89% | x |
| LAR | Ernest Jones | 15 | 440 | 38% | |
| MIA | Jerome Baker | 16 | 972 | 86% | x |
| MIN | Eric Kendricks | 15 | 1,032 | 85% | |
| MIN | Jordan Hicks | 17 | 1,054 | 97% | |
| NO | Demario Davis | 16 | 1,037 | 93% | x |
| NO | Pete Werner | 15 | 394 | 35% | |
| NYG | Blake Martinez | 2 | 142 | 12% | |
| NYJ | CJ Mosley | 16 | 1,096 | 92% | x |
| NYJ | Quincy Williams | 16 | 879 | 74% | |
| PHI | TJ Edwards | 16 | 685 | 61% | x |
| PIT | Myles Jack | 15 | 919 | 83% | |
| PIT | Devin Bush | 14 | 762 | 65% | x |
| SF | Fred Warner | 16 | 978 | 90% | x |
| SF | Dre Greenlaw | 3 | 113 | 10% | |
| SEA | Cody Barton | 16 | 189 | 15% | |
| SEA | Jordyn Brooks | 17 | 1,107 | 87% | x |
| TB | Devin White | 17 | 1,079 | 95% | x |
| TB | Lavonte David | 12 | 787 | 69% | |
| TEN | David Long | 10 | 634 | 58% | x |
| WAS | Cole Holcomb | 16 | 1,021 | 92% | x |
| WAS | Jamin Davis | 16 | 581 | 52% | |
Arizona
Cardinals
Okay, I don't really know what Arizona is doing with their off-ball LBs. They drafted Isaiah Simmons in the first round in 2020 and, essentially, red-shirted him. Zaven Collins was drafted in the first round, and well, you know the drill; red-shirted. Simmons ended up playing in just over 1,000 snaps.
During training camp, Simmons has been playing all over the field and with the DBs. Vance Joseph has decided to call it the "Star" position. We'll see how this plays out, but it could lower Simmons's efficiency if he plays more DB. He played 587 snaps at LB and 183 snaps at CB. If that changes, it will decrease his tackle floor.
Zaven Collins may not be a three-down LB, however, he'll see an increase in snaps. If he does get a full-time role, he'll be able to focus on making plays. Nick Vigil is playing as if he's going to take the job, and not just be a camp body.
If Simmons plays more with the DBs, Collins, and Vigil could be the full-time ILBs.
Green Dot: Jalen Thompson
Atlanta
Falcons
The narrative around Atlanta was that the Falcons weren't happy with Deion Jones and were looking to trade him and his contract. Fast forward to training camp, they still haven't found a trade partner and it's unlikely they cut him. Jones is still on the Falcons and looks like he's progressing from shoulder surgery.
There's plenty of competition at linebacker with Mykal Walker, Rashaan Evans, and Troy Andersen. Until his role changes, I think they continue to roll out Jones as their three-down linebacker when he's healthy and ready to return.
Rashaan Evans has familiarity with Dean Pees' defense from his time in Tennessee. This will be a position battle to monitor throughout camp and the preseason, as I have no real clear indication of who's in front.
Green Dot: Deion Jones
Baltimore
Ravens
The Ravens are another team who have placed the playcalling responsibilities in the hands of a DB. Chuck Clark has been the play-caller over the last few seasons.
Patrick Queen has had a rough go as an off-ball LB. Queen has missed 43 tackles over his first two seasons and has struggled in coverage and against the run. Other than that, how was the play, Mrs. Lincoln? Queen has appeared in an average of 78% of the snaps in his first two seasons and the Ravens haven't had a real option to replace him at this point.
Josh Bynes has been that veteran presence in the locker room. As far as his play? He saw 61% of the snaps but played well over his 500+ snaps in 2021.
Baltimore deployed two linebackers 78% of the time and scaled back their one and zero LB packages. I'm hoping the addition of Zachary Orr as LB coach will help in Queen's development, and Queen is the one I'm targeting in most formats. He's not a weekly LB1, but I'm targeting him as an LB3/4.
Green Dot: Chuck Clark
Buffalo
Bills
Tremaine Edmunds has been the defensive play-caller since his rookie year and has amassed nearly 3,700 snaps over his four-year career. Edmunds has been a consistent IDP producer, recording 108 or more tackles in each of his four seasons - resulting in a 12.5% tackle rate. He's a solid tackler, but his coverage has tailed off and become a liability. It does look like coverage is the aspect of his game he's working on, as he's been making plays in camp and receiving praise. Will that translate to Sundays? We'll have to see, but as of now, Edmunds is entrenched as Buffalo's signal caller and three-down linebacker.
Matt Milano is another LB who should see the field for the majority of the snaps. Buffalo typically runs out 2-LB packages and Milano is the guy opposite Edmunds. Although he receives the volume and usage in most packages, it hasn't translated to production. In a full-time role, Milano recorded a 9.4% tackle rate over 916 snaps. In deeper leagues, starting four or more LBs, he'll have some use. He's a solid depth piece.
I like what I've heard from 3rd round pick Terrell Bernard. It might take an injury for him to see snaps, but keep him on your watch list and add him in dynasty.
Green Dot: Tremaine Edmunds
Carolina
Panthers
I don't think a whole lot changes with Carolina this season. Shaq Thompson has been the play-caller over the last few seasons and produced his third straight 100-tackle season. I think he's entrenched as their signal caller for 2022 and is a solid LB3 and is one of that LB1 should you decide to fade the top of the LB ranks.
I'm not interested in the LB2 as there will probably be a rotation between Cory Littleton, Frankie Luvu, and Damien Wilson.
Green Dot: Shaq Thompson
Chicago
Bears
So, the latest NFL trend is the "hold in". Showing up to practice, but complaining of an ailment. You're at practice, so you can't be fined for wanting a new contract.
Roquan Smith is one of those players. He's been Chicago's signal caller and he might be playing the right outside ILB position (weak-side) and ceding those duties. Smith has been an elite IDP producer and has recorded a 14.5% tackle rate over his 3,600 career snaps - resulting in 524 career tackles. I'm not too concerned with his contract situation.
Nicholas Morrow should be the LB2 opposite Smith and has sleeper appeal as the "MIKE" and is the favorite to wear the dot. DC Alan Wiliams wants his "MIKE" calling the plays. The Bears ran 2-LB packages nearly 80% of the time, however, did run single-LB around 20% of the time. Target Morrow as an LB4/5 near the later part of your draft. He's on track to see a three-down role as the signal caller.
Green Dot: Nicholas Morrow
Cincinnati
Bengals
The Bengals' locker room deemed Logan Wilson worthy of the dot in 2021, much like Mjolnir deemed Captain America worthy of wielding him. High praise for the second-year LB. An injury derailed him a few games and Wilson ended up playing 63% of the snaps and he produced a 14.1% tackle rate. He also stepped during the playoffs - recording 39 tackles, four TFL, an INT, and three defended passes. Heading into the 2022 season, Wilson appears locked in as the play-caller and a three-down LB. I'm targeting him as a weekly LB1.
The Bengals deployed 2-LBs 84% of the time and were predictable from that standpoint. They rotated linebackers for specific packages. Germaine Pratt was on the field for nearly 70% of the snaps, and even though he recorded 91 tackles, he was an inconsistent IDP option on a weekly basis. When Wilson was inactive, he was on the field for 100% of the snaps as the backup play-caller. He'll have some value as bench depth in deeper leagues and is a decent option in IDP best ball leagues. In most league formats, he'll be a waiver wire add.
Green Dot: Logan Wison
Cleveland
Browns
Over the last few weeks of the 2021 season, Anthony Walker and Jacob Phillips each wore the dot when the other wasn't on the field. Injuries limited Walker to 13 games and 701 defensive snaps. Phillips has been dealing with injuries since being selected in the third round of the 2020 draft.
Jeremiah Owusu-Koramoah looks ready to take on more responsibility and handle more on his plate heading into his second year.
I'm projecting Phillips and JOK as the full-time guys, but Joe Woods loves to use all of his linebackers depending on the situation. Woods also may want to go with John Johnson as the play-caller. This is going to be one of those situations that may not have a resolution until the end of the preseason.
Green Dot: Not sure as of now
Dallas
Cowboys
It appears that Dallas is going with the trend of a DB wearing the dot, as it looks like Jayon Kearse is set to handle the responsibilities.
Micah Parsons came in like a Tazmanian Devil and wreaked havoc on opposing QBs. Although he was drafted as an off-ball LB, he played more edge due to the injuries Dallas suffered on the defensive line. He led the team in pressures and generated a 21.9% pressure rate, but it hindered his tackle efficiency - resulting in a 9.3% tackle rate. I don't see why Dallas would alter his role, so we could see more of the same deployment for Parsons this season. I'm hoping for a bit more snaps as an off-ball LB, but I'm not drafting him at his current ADP as the 2nd LB off the board.
Dallas ran more four-man fronts with a single-LB because Parsons lined up on the edge so often. Leighton Vander Esch and Jabril Cox are the candidates to play off-ball LB. LVE has impressed so far and could be a team leader in 2022. Cox is definitely getting his chances to earn a spot in the rotation. LVE is shaping up to be the LB2 and can be had in the later part of your draft.
Leighton Vander Esch, according to Jeff Cavanaugh, has been wearing the dot. If this continues, even with Anthony Barr in town, that should increase his snap volume. Jayron Kearse is also wearing the dot when LVE isn't on the field.
Green Dot: Leighton Vander Esch and Jayron Kearse
Denver
Broncos
The Denver Broncos' LB room was a MASH unit as they seemed to suffer an injury every week. They were near league average in 2-LB packages but used single-LB 30% of the time. Even with the injuries, they seemed to be trending in that direction.
Their best LB, AJ Johnson, saw just 320 snaps and missed most of the season. Micah Kiser and Josey Jewell also suffered season-ending injuries early on. They spent time piecing the group together with Kenny Young, Justin Strnad, and Jonas Griffith.
Josey Jewell and Jonas Griffith have been the camp standouts so far. I think Jewell gets the dot and the majority of the snaps, but Griffith could have some value in deeper leagues, as he could see 70% of the snaps.
Even though Denver brought in Alex Singleton, I don't see him factoring too much in the defensive rotation, and could be more of a special team guy to replace Griffith.
Green Dot: Josey Jewell
Detroit
Lions
Last season's signal caller, Alex Anzalone, could still wear the dot or could be a cut candidate. Coach Dan Campbell has cited his missed tackles as an issue (21 last season) and could lose his job. Anzalone is lucky there isn't much depth behind him. He needs to improve his pad level, drops, tackling, and hands. Other than that, he's aces. He struggled to make tackles and missed on his chances. Not ideal traits for an NFL linebacker.
Coach Campbell has singled out Derrick Barnes as a guy who's made big strides from last season and is showing development headed into year two. Will that translate to a full-time role? It remains to be seen and could be a situation that needs to play itself out over the preseason. I do like Barnes' upside for snaps if he can improve his coverage.
Green Dot: Alex Anzalone
Green Bay
Packers
Green Bay struck gold with De'Vondre Campbell. He landed with the Packers in the offseason and immediately entrenched himself as a leader and was bestowed the green dot. Campbell appeared in 92% of the snaps and finished with a 14.8% tackle rate. He's a weekly LB1 and with his continued role heading into 2022, he should be one of the top LBs off the board.
The Packers ran single-LB packages nearly 37% of the time, mainly out of necessity. They didn't have an LB who could play all three downs; until now. Quay Walker is already getting subpackage snaps in camp and is a similar archetype to Campbell. I'd target Walker as an LB3 as I do think he gets a full-time role opposite Campbell. He's head and shoulders more talented than Krys Barnes.
Green Dot: Devondre Campbell
Houston
Texans
Christian Kirksey came in as a free agent and embraced a leadership role and led the defense as the wearer of the dot. While Kirksey has never really been a good linebacker, he's produced when on the field - the key being "on the field". After appearing in just 13 games over his previous two seasons, Kirksey played in 13 games and 789 defensive snaps in 2021. Kirksey recorded an 11.8% tackle rate and was a solid LB3 in most weeks.
The Texans had heavy three LB use and base packages. Kirksey has singled out Christian Harris as the fastest linebacker on the field and "super talented". This is a crowded group of Brooklyn Brawler-type linebackers - jobbers who can step in and do a job that is asked of them. Blake Cashman can't stay healthy. Kamu Grugier-Hill, Neville Hewitt, Kevin Pierre-Louis, and Jalen Reeves-Maybin are also in the mix. The dark horse here could be Garrett Wallow, who's played all positions and has worn the dot, so he could complete with Kirksey for the role.
As of now, I'm only targeting Kirksey in IDP leagues and want no part of this potential rotation. I do like Harris in dynasty and could be a standout mid-season if he develops over the course of the season.
Green Dot: Christian Kirksey
Indianapolis
Colts
So Darius Leonard wants to be known as Shaquille, so keep that in mind if your platform updates his name. However, it doesn't matter. He's still an elite IDP producer. He's been on the field for at least 97% of the snaps for his career and has a 14.9% tackle rate over four seasons. Leonard is also a good bet for some big plays to go along with his tackles. Feel free to target him as one of the first IDPs off the board.
Bobby Okereke should continue to be Leonard's running mate. Okereke saw 98% of the snaps and turned in a career-high 132 tackles. Okereke's ADP is still reasonable in the mid-12th round.
Green Dot: Darius (Shaquille) Leonard
Jacksonville
Jaguars
The Jaguars decided to dole out a ton of cash this free agency period because as we all know, that strategy doesn't blow up in your face. The Jags backed up the Brinks truck to Foyesade Oluokun and he looks like he should have a three-down role. I'm projecting him to wear the dot, as he looked to be comfortable with the responsibility last season with Atlanta. He should be on the field for nearly every snap and has the upside to produce a season similar to his 2021 season.
The Jaguars deployed 2-LBs nearly 90% of the time and Devin Lloyd has the draft capital to command a full-time role opposite Oluokun as a rookie. If Oluokun wears the dot, I'd imagine Lloyd comes off the field in single LB packages, which they did run 15% of the time.
Keep an eye on Chad Muma. He could throw a monkey wrench into the whole defense and LB deployments if he shows out during camp and the preseason,
Green Dot: Foyesade Oluokun
Kansas City
Chiefs
Steve Spagnuolo. The name alone causes anxiety and IDP owners to irrationally swear at their computers in fits of rage. I've been guilty on several occasions and will continue to be.
Nick Bolton had a really good rookie year and showed leadership traits. Bolton finished with over 100 tackles and 10 TFLs and made an impact on the field as a rookie. Spagnuolo has even admitted he's earned the green dot. Let's hope this means Bolton will see the field for more than 70% of the snaps. As KC's signal caller in the past, Anthony Hitchens saw around 65% of the snaps. I'm probably going to regret it, but Bolton's upside is too high to not target him as an LB2.
The Chiefs had a heavy dose of 1-LB/3-LB packages, so who'll play alongside Bolton? Willie Gay and rookie, Leo Chanel, are having solid camps. Chanel is a big hitter who is bringing the truck stick.
I think Bolton sticks in 1-LB sets, while Gay and Chanel could rotate in 2-LB packages based on the situation. There's no doubt, that this is the fastest and most talented LB group the Chiefs had had in a while.
Green Dot: Nick Bolton
Las Vegas
Raiders
Denzel Perryman was probably on quite a few championship rosters as one of those heralded waiver wire pick-ups. So, what will be Perryman's role in 2022? Perryman called the plays for the Raiders last season but still ended up appearing in 83% of the snaps. He did miss a few games, however. I question if the Raiders will still allow Perryman to run as many coverage snaps. He allowed a 115 QB rating when targeted.
Divine Deablo is a guy who I think takes the next step in his development and ends up being one of those guys you can't take off the field. He's making the transition from safety to linebacker and his talent is helping make that move seamless.
The Raiders brought in a bunch of guys to compete; including Micah Kiser (who's already out for the year), Kenny Young, and Jayon Brown. Brown brings in experience from Tennessee, but his play has tailed off. Young started off hot with the Rams, but he turned into Kenny Young.
I'm fading Perryman's career year. He had a lot of tackles just come to him, as opposed to seeking them out, which is fine, but he was more reactive as opposed to instinctive. I'm very high on Deablo's second season and he's the one I'm targeting in IDP leagues.
Green Dot: As of now, Denzel Perryman
Los Angeles
Chargers
The Chargers' play-caller is staging a hold-in and not practicing, which might be better off for Derwin James. Just keep him healthy and ready for the season.
As far as the linebacker room goes, the Chargers allowed Kyzir White to walk in free agency. Drue Tranquill returns, and I project him to pace the group in snaps with just over 800. He was one of their better all-around defenders performing well in coverage. His run defense was inconsistent, but he missed just four tackles all season. White vacates 980 defensive snaps, and I think the majority of those go to Tranquill. Tranquill produced a 13.5% tackle rate last season and with White gone, I think he's among the defensive leaders in tackle share.
The Chargers were another team that deployed one or two LBs consistently. However, they ran single-LB packages more than 25% of the time, so the LB2 opposite Tranquill might only see 65% of the snaps. Kenneth Murray might get another last look before the Chargers move on from him, but there's no real upside here as he's shown no discernable skills up to this point.
Kyle Van Noy is interesting here, as he's been getting some run as an off-ball LB during camp and has pass rush upside. KVN has generated a 13% pressure rate over the last three seasons. I think KVN and Troy Reeder rotate out depending on the situation.
Drue Tranquill is the only Charger LB I'm targeting. Kyle Van Noy is an interesting LB option in the last few rounds for depth.
Green Dot: Derwin James
Los Angeles
Rams
The Rams made a big free agent splash by signing former NFC West foe, Bobby Wagner. The Rams wasted no time in giving him the dot either. Wagner has been on the field for over 1,000 snaps for three straight seasons. The Rams' defense was on the field for over 1,100 snaps in 2021 and just over 1,000 snaps in 2020. Wagner is locked in, once again, as an LB1.
Last season, the Rams deployed single-LB just over 55% of the time. Now that Wagner is in town, he could help cover some of the deficiencies at LB and allow another LB on the field. I think Ernest Jones will have the opportunity to earn a full-time role opposite Wagner. I do like Jones as a late-round sleeper who can breakout if he gets 80% of the snaps.
Green Dot: Bobby Wagner
Miami
Dolphins
As of now, I don't see anything changing with the play-caller. Jerome Baker should continue to wear the dot. Baker has received more than 85% of the snaps in two of the last three seasons and was on the field for 972 snaps in 2021. In four seasons, he's produced an 11.3% tackle rate and has been a reliable source for IDP points. He's been a bit of a liability in run defense, but consistent in coverage. Baker is used in pass rush situations and has been a decent source for sacks, along with tackles. He's generated a 16.5% pressure rate over the last two seasons.
Who plays alongside Baker? Elandon Roberts is barely a replacement-level LB and is more of a special-teamer. The Dolphins played 1-LB on the field over 25% of the time, so the LB2 here might see 700 snaps. I think it's eventually Channing Tindall, the rookie out of Georgia. He has a similar makeup to Baker, as both are speedy linebackers who can get to the QB when called upon. Tindall will have a learning curve when it comes to coverage in the NFL. I'll target Tindall's upside.
Green Dot: Jerome Baker

Minnesota
Vikings
The Vikings are changing up their defensive scheme and philosophy. Heading into the season, they will have a new wearer of the dot, as Anthony Barr found a new home in Dallas. I do think both Eric Kendricks and Jordan Hicks will be full-time linebackers in Minnesota's new system.
Kendricks has appeared in at least 90% of the snaps for six straight seasons and has been one of the most consistent IDP scorers over that timeframe. Hicks is a durable off-ball LB and has three straight seasons of 1,000+ snaps.
So, the question is who wears the dot? I think it'll come down to either Kendricks or Harrison Smith.
Green Dot: Eric Kendricks, Jordan Hicks, or Harrison Smith
New England
Patriots
The Patriots are one of the few teams who bestow the dot to one of their DBs. The Patriots have never had a true three-down or full-time linebacker. Ju'Whaun Bentley led the team in tackles, however, only received 63% of the snaps. Matt Judon saw 81% of the snaps as their rush linebacker on the edge. Veteran off-ball LB, Dont'a Hightower, saw 67% of the snaps last season, so he vacates 634 snaps.
The Patriots LB group is typically one I stay away from due to the volatility in their usage and use in Bill Belichick's system. They used a combination of single and double LBs while running a single LB more consistently than any other team. It's a very flexible defense. Bentley is a two-down run stopper. Kyle Van Noy is on the Chargers and Jamie Collins is gone, as well. The name that intrigues me in this group is Cameron McGrone.
Green Dot: Devin McCourty
New Orleans
Saints
Demario Davis is one of the veteran leaders of the defense. He's been one of the durable LBs and has appeared in virtually every snap over the last two seasons. His tackle efficiency has declined but is still a dependable LB2/3 on a weekly basis.
The Saints don't do much experimentation with single-LB, so you can bet they'll be rolling with at least two LBs and in some instances, three. I do like Pete Werner to get the majority of the snaps alongside Davis this season and he's who I'm targeting for a breakout IDP season.
Green Dot: Demario Davis
New York
Giants
Pretty simple here - Blake Martinez is healthy and should have a three-down role. I don't think the Giants want to see Tae Crowder on the field for 90% of the snaps again.
Micah McFadden is a name I'm keeping in my back pocket for later in the season.
It looks like Wink Martindale is utilizing Xavier McKinney as his play caller. Wink did the same in Baltimore, utilizing his DB (Chuck Clark) as the signal caller..
Green Dot (Updated 8/4): Xavier McKinney
New York
Jets
CJ Mosley returned to the field in 2021 after opting out of the 2020 season. It was his first action on the field since Week 2 of the 2019 season. Mosley appeared in nearly 1,100 snaps (1,096) and recorded 168 tackles - resulting in an elite 15.3% tackle rate. I've got him as my LB9.
The Jets didn't do too much to address the LB position in the offseason, so Quincy Williams is in line to get the snaps opposite Mosley. The third-year LB ended up with a sizable role during the season and finished with a 78% usage rate. The Jets ran out 2-LBs over 70% of the time and rarely deployed just one LB, so the LB2 opposite Mosley should continue to produce. My only concern with Williams is if he'll continue to see the field with his poor play, especially against the run. Williams will carry some risk heading into the season as an LB2.
I don't see Kwon Alexander factoring in too much unless he really shows out during camp and preseason.
Green Dot: CJ Mosley
Pittsburgh
Steelers
The Steelers are trying to piece together their LB room with spackle and brought in Myles Jack to play alongside Devin Bush or Robert Spillane. As of now, Jack has stood out in camp and looks to be right at home with Brian Flores. When asked about the green dot, Jack has said Devin Bush is wearing it right now. How long will that last? Jack had decent seasons with Jacksonville when he didn't have the responsibility.
Devin Bush is under pressure in his fourth year, even coming off a torn ACL from 2020. He was a solid tackler with just five misses all season. He was a liability in the run and struggled in coverage at times. Bush ended up close to a full-time player, appearing in nearly 80% of the snaps. The IDP production didn't translate from the volume.
His 2022 training camp isn't getting off to a strong start either. Robert Spillane was typically on the field for their dime packages or 1-LB sets.
As of now, Jack is the only Steeler off-ball LB I'd target. TJ Watt is definitely an asset in big play scoring formats, but with his ADP, you're counting on another record-breaking season.
Green Dot: Devin Bush
Philadelphia
Eagles
The only reason TJ Edwards played fewer than 65% of the snaps, is because he found himself in a rotation early on in the season. Once the Eagles realized he was the best LB, he took over the green dot and was a full-time LB. Here is his usage in the final eight games of the season:
I think he continues on as the signal caller of the defense as one of the full-time LBs.
The LB2 is going to be on the field quite a bit, but who will it be? Kyzir White was signed as a free agent but only on a one-year deal and the Eagles drafted University of Georgia standout, Nakobe Dean. I think Dean is behind White in the pecking order, that could change. Davion Taylor is also in the mix. Dean is still learning and we may need to temper expectations on him this season, but he's getting first-team reps.
Green Dot: TJ Edwards
San Francisco
49ers
Fred Warner is one of the locker room leaders and will wear the dot heading into 2022. He's been as durable as they come; appearing in 970 or more snaps in all four seasons of his 49er career. Warner has produced a career 12.6% tackle rate and is working on causing more turnovers, so there's big play upside to go along with his tackle floor. Target Warner as a weekly LB1.
Who will play alongside Warner? Early indicators have Dre Greenlaw. Injuries limited Greenlaw to just three games. Azeez Al-Shaair took advantage of the volume and was a serviceable LB - finishing with 102 tackles. Early on, it's been Al-Shaair who is coming off the field for the extra DB, so Greenlaw is on track to earn the three-down role. If Greenlaw does get the snaps opposite Warner, there's sleeper appeal and can be had for free in drafts.
Green Dot: Fred Warner
Seattle
Seahawks
The Seahawks will look dramatically different without Bobby Wagner. Jordyn Brooks isn't half the player Wagner was. Brooks will take over the green dot and have a three-down role. His role hasn't changed dramatically, outside of the dot.
Cody Barton should be the three-down LB opposite Brooks this season and is embracing the new role and added responsibility. GM John Schneider has shown confidence in Brooks and Barton by not adding any other pieces at the LB position. Barton's experience at safety will help in coverage and keep him on the field. I prefer Barton's price and could have a breakout IDP season with his workload.
Green Dot: Jordyn Brooks
Tampa Bay
Buccaneers
Devin White recorded his second straight season of 120+ tackles and was the signal caller of the defense. White had his third straight season of 900+ snaps and appeared in 1,079 in 2021. His pass rush efficiency dipped in 2021. White converted 27% of his pressure into sacks and that fell to 8% last season. He improved his pressure rate but just couldn't convert his hits into sacks. His tackle numbers are still consistent to warrant him being a weekly LB1.
Lavonte David will be the LB2 opposite White. He's appeared in virtually every snap, however, he missed five games in 2021. Is the air of invincibility slipping? Even though he missed five games, he came up just three tackles short of 100 - recording a 12.3% tackle rate. In redraft leagues, I'd still target him as my LB2.
Green Dot: Devin White
Tennessee
Titans
It looks like this has become David Long's defense. Jayon Brown suffered an injury at the beginning of the season and Long took over playcalling duties and never relinquished them. Long dealt with some injuries throughout the season, but ended up appearing in 634 defensive snaps. With Brown now in Las Vegas and Rashaan Evans in Atlanta, Long appears to have the green dot for the 2022 season. He should be targeted as a weekly LB1/2.
The Titans ran out 1-LB packages nearly a third of the time. This is worth noting since I'm seeing Zach Cunningham drafted as an LB2. If the Titans are going to continue running out 1-LB packages, Cunningham's usage might settle at around 70% of the snaps. Cunningham has a chance to redeem himself after getting cut by the Texans. He's a risky LB2 with his potential usage floor at around 70%.
Green Dot: David Long
Washington
Commanders
I don't think there's any argument or doubt; Cole Holcomb has the best head of hair among the NFL's linebackers. The mullet flows freely and smoothly, much like his movement to the ball carrier. Holcomb looks to be on track to wear the dot for Washington this season. Holcomb was on the field for all but a handful of snaps and produced a 13.9% tackle rate on 1,021 snaps. He's a weekly LB1 heading into 2022.
It'll be impossible for his running mate to match his locks. They may only see field fewer than 70% of the snaps since Washington favored single-LB looks. Jamin Davis was a first-round pick but didn't look like it. At this point, Davis and Khaleke Hudson are battling for snaps. David Mayo is also going to factor in, but he's just a run stopper at this point. I'm hoping Davis's draft capital gives him the edge and is the guy I'm targeting if I miss out on Holcomb.
Green Dot: Cole Holcomb