NBA Awards Betting Preview: MVP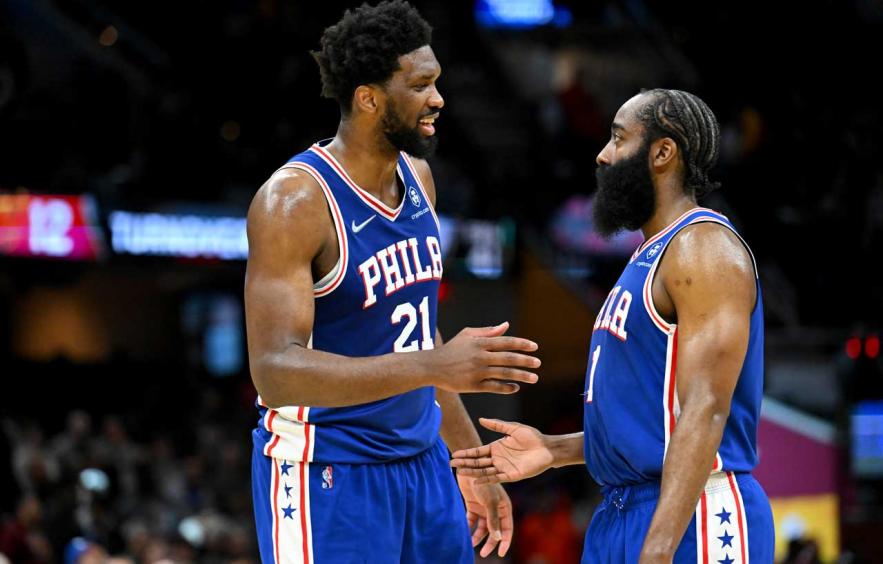 Jason Miller/Getty Images
The NBA regular season is a mere 21 days away and futures betting is in full swing as we approach the start of the season. Last week, we (NBA analysts Joe Metz and Rick Camp) previewed each team's regular season win totals and how to approach betting them, going division by division.
---
2022 NBA Betting Award Previews: MIP | Coach | Sixth Man | Defensive Player | Rookie
---
With the division previews in the rearview mirror, it's time to move on to NBA award betting. Changing pace relative to the division previews a bit, we will be tackling each award article together, providing a trio of picks for each award. We will segment our awards into the following categories:
Layup (any player with odds shorter than +1000)
Mid-range Jumper (any player with odds between +1000 and +3000)
Three-Pointer (any player with odds longer than +3000, your classic longshots)
Without further ado, the first award on tap; Most Valuable Player...
NBA MVP Best Bets
Layup
Luka Doncic (DAL): +475, Caesars (Joe)
The "passing of the torch" is a very real concept when it comes to the NBA MVP award and we're likely to see it again in the 2022-23 season. No player has won three consecutive MVP awards since Larry Bird in the mid-80s and with there being a very clear top-three in the NBA, the stars seem to be aligning for Luka Doncic to take home his first MVP award.
His stats speak for themselves, as he's averaged at least 27.7 points, 8.6 assists, and 8.0 rebounds in three consecutive seasons while shooting a career-high 35.3% from distance last season with a league-high 37.4% usage rate. He's posted win shares of at least 7.6 in three straight seasons and is fresh off of a trip to the Western Conference Finals, Doncic has all of the momentum entering the upcoming season. Having played the entire offseason in the Eurobasket tournament, we could finally see a season without his notoriously slow start given the fact that he's in shape. If the Mavericks can squeak out a top-four seed in the conference this season and Doncic takes even an incremental step forward defensively, he should be a shoo-in for this award.
Risk: 1 unit on Caesars to win 4.75 units.
Joel Embiid (PHI): +700, FanDuel (Rick)
Last season Joel Embiid averaged 30.6 points with 11.7 rebounds and a career-high 4.2 assists and the Sixers had a gaudy +11.7 net rating with Embiid on the court. A key to the jump was a career-low 3.1 turnovers per game on a career-high usage of 37.3%. With a full season of the lethal two-man game with James Harden, Embiid could increase his efficiency while not needing to carry quite as much of the offensive load, maybe limiting wear and tear or at least allowing him to increase the defensive focus. Once Harden joined the Sixers, Embiid's numbers ticked up to 32.6 points, 12.8 rebounds, and 3.5 assists, plus he increased his steal and block numbers.
With concerns around Boston and Brooklyn, the Mavs getting worse, and voter fatigue with the last two winners, it will be hard to deny Embiid if he has another season like the previous two and if Philadelphia can grab the one or two seed.
Risk: 1 unit on FanDuel to win 7 units.
Check out our Player Prop Finder to get the best odds on any NBA futures bet!
Mid-range Jumper
Jayson Tatum (BOS): +1300, FanDuel (Joe)
The mid-range is a rather unappealing range when it comes to MVP betting, so Jayson Tatum feels like the obvious choice after leading the Celtics to a finals berth last season. He set career-highs last season in points (26.9), rebounds (8.0), and assists (4.4) while leading the entire NBA in defensive win shares (4.6). Yes, he really did lead the entire NBA in defensive win shares.
An elite two-way player, Tatum will have the opportunity to build on last season's production on both sides of the ball, as the Celtics are suddenly facing more adversity than anticipated. With Head Coach Ime Udoka suspended for the season, defensive-minded center Robert Williams out for 8-12 weeks, and newly acquired wing Danilo Gallinari out for the season, there are certainly voids to fill. If the Celtics can finish atop the East given the current state of the franchise, the MVP narrative for Tatum will be louder than ever and he'd likely find himself atop the MVP odds board.
Risk: 0.5 units on FanDuel to win 6.5 units.
LeBron James (LAL): +2700, FanDuel (Rick)
The basis of the case for LeBron James is simple to understand but very difficult to execute, which is why he is in this tier and not his normal standing. James gets the ultimate narrative bump, but the question is what threshold do the Lakers need to get to for people to feel justified to vote him the MVP? Considering the expectations of being a play-in team, if the Lakers were a top-four seed in the West, that would have to make LeBron James a top contender for the award.
When healthy last season, James put up 30.8 points, 8.2 rebounds, and 6.2 assists with a 59.4 effective field goal percentage (eFG%) and a 61.9 true shooting percentage (TS%). Those numbers alone would put someone in contention for the MVP as James took the second most shots per game of his career last season. In a top-end scenario where the Lakers are good, the scoring may be down some because of not needing to take as many shots but the assists should be up. Last season, James recorded his fewest assists per game since 2006-07, when he shared the court with such luminaries as Larry Hughes, Boobie Gibson, Drew Gooden, and Sasha Pavlovic.
The Lakers being a top-four seed likely starts with Russell Westbrook coming off the bench. The other rub is Anthony Davis being healthy for long enough, not having to be the entire season, but enough. On a team with a net rating of -3.6, when James and Davis were on the court without Westbrook, they were only a -1.6. It is a slight chance but considering the lack of options in this range, it is worth a small roll of the dice.
Risk: 0.3 units on FanDuel to win 9 units.
Use our Futures Betting Odds Tool to find the best odds!
Three-Pointer
James Harden (PHI): +150000, PointsBet (Joe)
Typically, I am not a fan of betting on a 33-year-old guard on his third team in as many years to win MVP, but getting James Harden at 150/1 is absolutely ludicrous. In a "down" year between Brooklyn and Philadelphia last season, Harden still managed to post a 22.0/10.3/7.7 stat line. The underlying cause of the struggle seems to be attributed to a nagging hamstring injury. Are we writing the season off? Not necessarily, but there are reasons for optimism, especially at 150-to-1.
Harden is clearly a fit in Philadelphia, as lineups with Harden and Joel Embiid sharing the floor scored over 124 points per 100 possessions last season, and we saw Harden mesh well with Tyrese Maxey in the backcourt. His impact on a team and his skill are not what comes into question, however. It's his effort level that does. If this offseason is any indication, he appears to be bought in. After taking a pay cut to help Philadelphia build out their roster, Harden showed up to media day in what looked to be mid-season form, attributing his weight loss to dieting, among other things.
"100 pounds" 💀

James Harden on the weight he lost this offseason

(via @MrUram)pic.twitter.com/7GUxaBJ4Na

— Bleacher Report (@BleacherReport) September 26, 2022
If Harden can regain some of the pre-Brooklyn production we saw in Houston and propel the Sixers to a potential No. 1 seed in the East with some slight statistical regression from Embiid, this ticket would be incredibly live. At 150-1, this is a no-brainer to get a sprinkle on.
Risk: 0.1 unit on PointsBet to win 15 units.
Zion Williamson (NO): +4000, PointsBet (Rick)
While Zion Williamson does not meet some of the usual markers to win the MVP, he does feel like a special case. Looking at his play in 2020-21 when he played in 61 games, Williamson averaged 27.0 points on 17.0 shots, with 7.3 rebounds and 3.7 assists with an eye-popping 64.9 TS%. That shooting efficiency is especially noteworthy considering the supporting cast on the Pelicans is better than last time around. That should lead to more space for Williamson to bulldoze his way to the basket and better shooting around him for more efficiency in his passing converting to assists.
Then looking at the team factor, there is a lot of goodwill behind New Orleans with how they pushed the Suns in the playoffs. However, if you only look at the disastrous 3-16 start, the Pelicans only had the net rating of a 42-win team after that. If a big leap for New Orleans is in the offing, it puts them in contention to win the division, when most believe the Mavericks and Grizzlies got worse this offseason. With Williamson's return possibly coinciding with a step up from the team and the two main division foes taking a step back, a Zion Williamson MVP case where the Pelicans win the Southwest and are a top-three or top-four seed makes sense. Just keep those feet in one piece.
Risk: 0.1 unit on PointsBet to win 4 units.
---
This article is intended for entertainment purposes and adult users only. Call 1-800-GAMBLER if you have a gambling problem.