TJ's #Taek: Week 15 NFL DFS GPP Recap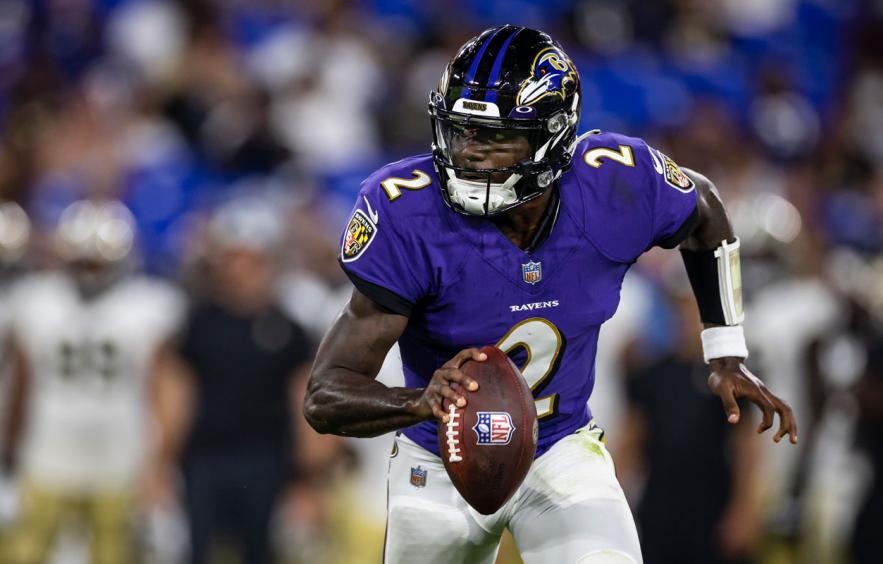 Scott Taetsch/Getty Images
Week 15's winning lineups from the biggest contests on FanDuel and DraftKings can be used to tease out lineup-building strategies and offer clues on how you could have landed on a similar team. Reviewing your hits and misses each week is imperative if you want to be a profitable DFS player but examining winning lineups is also a useful exercise in cultivating a winning approach.
---
More GPP Strategy: QB | RB | WR | TE | DEF
---
For today's review, we will simply look at a snapshot of how every winning lineup has been formulated this season in terms of overall ownership, salary allocation and stacks used.

DraftKings Week 15 Millionaire Winning Lineup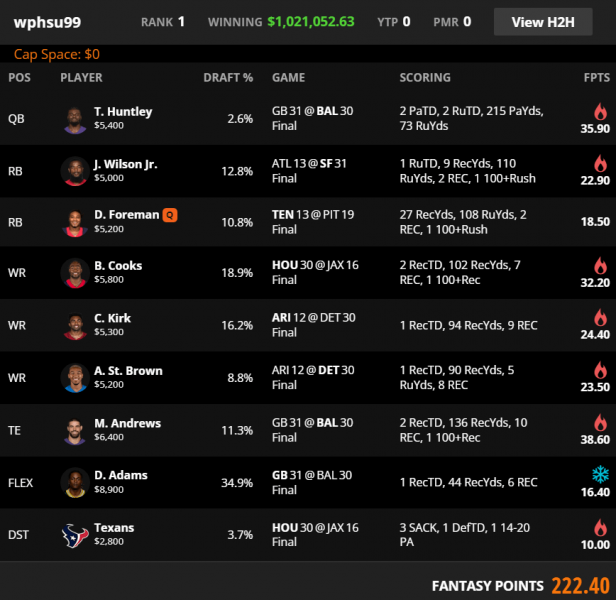 DraftKings Millionaire Winners Weekly Ownership, Weeks 1–15
| Week | QB | RB1 | RB2 | WR1 | WR2 | WR3 | TE | Flex | Flex Pos | DEF | Cumulative | Average |
| --- | --- | --- | --- | --- | --- | --- | --- | --- | --- | --- | --- | --- |
| 1 | 3.0% | 12.9% | 3.9% | 13.7% | 12.6% | 11.3% | 14.4% | 5.0% | WR | 1.3% | 78.1% | 8.7% |
| 2 | 13.4% | 7.0% | 4.8% | 20.3% | 8.6% | 4.7% | 17.8% | 2.4% | WR | 8.9% | 87.9% | 9.8% |
| 3 | 5.4% | 14.8% | 6.3% | 13.6% | 6.7% | 4.2% | 1.2% | 3.3% | WR | 16.8% | 72.3% | 8.0% |
| 4 | 6.8% | 20.2% | 6.7% | 17.7% | 10.1% | 9.9% | 9.6% | 2.5% | RB | 5.6% | 89.1% | 9.9% |
| 5 | 6.4% | 35.4% | 6.4% | 23.6% | 14.7% | 11.3% | 4.5% | 5.4% | WR | 8.1% | 115.8% | 12.9% |
| 6 | 1.7% | 25.1% | 15.0% | 5.6% | 5.3% | 0.8% | 21.9% | 2.7% | TE | 14.9% | 93.0% | 10.3% |
| 7 | 13.4% | 12.6% | 7.0% | 25.9% | 19.3% | 4.3% | 2.0% | 4.1% | WR | 2.8% | 91.4% | 10.2% |
| 8 | 8.0% | 11.0% | 6.0% | 26.4% | 24.6% | 14.6% | 4.5% | 14.5% | WR | 5.1% | 114.7% | 12.7% |
| 9 | 3.5% | 21.1% | 8.1% | 28.3% | 14.2% | 7.0% | 15.7% | 2.0% | RB | 3.0% | 102.9% | 11.4% |
| 10 | 9.7% | 48.4% | 26.2% | 10.4% | 8.5% | 8.0% | 4.0% | 3.3% | RB | 3.0% | 121.5% | 13.5% |
| 11 | 9.3% | 3.9% | 2.8% | 4.6% | 3.0% | 1.2% | 0.1% | 0.7% | RB | 2.4% | 28.0% | 3.1% |
| 12 | 3.5% | 14.2% | 11.8% | 8.5% | 6.4% | 3.4% | 36.4% | 3.6% | RB | 3.8% | 91.6% | 10.2% |
| 13 | 11.7% | 22.5% | 20.8% | 17.6% | 14.2% | 9.9% | 7.2% | 6.6% | TE | 5.8% | 116.3% | 12.9% |
| 14 | 9.6% | 13.3% | 2.3% | 14.0% | 10.7% | 9.7% | 7.2% | 1.6% | WR | 14.5% | 82.9% | 9.2% |
| 15 | 2.6% | 12.8% | 10.8% | 34.9% | 18.6% | 16.2% | 11.3% | 8.8% | WR | 3.7% | 119.7% | 13.3% |
| AVG | 7.2% | 18.3% | 9.3% | 17.7% | 11.8% | 7.8% | 10.5% | 4.4% | | 6.6% | 90.5% | 10.4% |
DraftKings Millionaire Winners Salary Allocation, Weeks 1–15
| Week | QB | RB1 | RB2 | WR1 | WR2 | WR3 | TE | Flex | Flex Pos | DEF | Total |
| --- | --- | --- | --- | --- | --- | --- | --- | --- | --- | --- | --- |
| 1 | $5,700 | $6,200 | $5,300 | $8,200 | $5,900 | $4,700 | $8,300 | $3,600 | WR | $2,100 | $50,000 |
| 2 | $6,900 | $8,300 | $5,100 | $7,200 | $6,000 | $4,700 | $4,700 | $4,000 | WR | $2,900 | $49,800 |
| 3 | $7,000 | $6,000 | $5,800 | $7,300 | $7,200 | $4,800 | $4,700 | $4,200 | WR | $3,000 | $50,000 |
| 4 | $6,700 | $6,700 | $5,800 | $6,600 | $6,500 | $5,000 | $3,400 | $4,900 | RB | $4,300 | $49,900 |
| 5 | $7,400 | $6,000 | $5,500 | $8,200 | $6,800 | $5,200 | $3,700 | $4,000 | WR | $3,000 | $49,800 |
| 6 | $5,900 | $6,600 | $6,400 | $6,500 | $5,800 | $3,500 | $7,000 | $4,800 | TE | $3,500 | $50,000 |
| 7 | $7,100 | $6,000 | $5,700 | $8,400 | $6,900 | $5,900 | $2,500 | $3,500 | WR | $4,000 | $50,000 |
| 8 | $5,700 | $5,400 | $4,900 | $9,000 | $6,900 | $6,400 | $3,600 | $5,300 | WR | $2,800 | $50,000 |
| 9 | $7,000 | $6,700 | $5,300 | $6,700 | $6,000 | $5,600 | $4,900 | $5,300 | RB | $2,500 | $50,000 |
| 10 | $7,900 | $4,700 | $4,500 | $7,500 | $7,000 | $7,000 | $4,100 | $4,500 | RB | $2,700 | $49,900 |
| 11 | $5,100 | $8,300 | $7,000 | $8,100 | $7,000 | $4,900 | $2,500 | $5,000 | RB | $2,100 | $50,000 |
| 12 | $7,100 | $7,500 | $6,800 | $5,900 | $5,000 | $4,700 | $4,400 | $5,800 | RB | $2,800 | $50,000 |
| 13 | $4,000 | $5,400 | $4,300 | $8,200 | $6,800 | $6,600 | $5,900 | $4,500 | TE | $4,000 | $49,700 |
| 14 | $7,800 | $6,000 | $4,800 | $6,900 | $6,100 | $5,000 | $5,900 | $4,300 | WR | $3,100 | $49,900 |
| 15 | $5,400 | $5,200 | $5,000 | $8,900 | $5,800 | $5,300 | $6,400 | $5,200 | WR | $2,800 | $50,000 |
| AVG | $6,447 | $6,333 | $5,480 | $7,573 | $6,380 | $5,287 | $4,800 | $4,593 | | $3,040 | $49,933 |
Stacks used by DraftKings Millionaire Winners, Weeks 1–15
| Week | Primary Stack | Secondary Stack | Third Stack | Correlated Players |
| --- | --- | --- | --- | --- |
| 1 | QB/WR/RB | WR/TE | | 5 |
| 2 | QB/RB/TE | RB/Opp WR | WR/DEF | 7 |
| 3 | QB/WR/WR/Opp TE | RB/WR/Opp WR | | 7 |
| 4 | QB/TE/Opp WR | | | 3 |
| 5 | QB/WR/WR | RB/DEF | | 5 |
| 6 | QB/WR | RB/DEF | | 4 |
| 7 | QB/WR/WR/Opp RB | WR/DEF | | 6 |
| 8 | QB/WR/Opp WR | | | 3 |
| 9 | QB/WR | RB/DEF | WR/TE | 6 |
| 10 | QB/WR | RB/Opp RB/Opp TE | | 5 |
| 11 | QB/TE/Opp WR | RB/DEF | | 5 |
| 12 | QB/RB/WR | RB/TE | WR/DEF/Opp WR | 8 |
| 13 | QB/TE | RB/DEF | RB/Opp WR | 6 |
| 14 | QB/WR | RB/DEF | | 4 |
| 15 | QB/TE/Opp WR | WR/Opp WR | WR/DEF | 7 |
FanDuel Week 15 Sunday Million Winning Lineup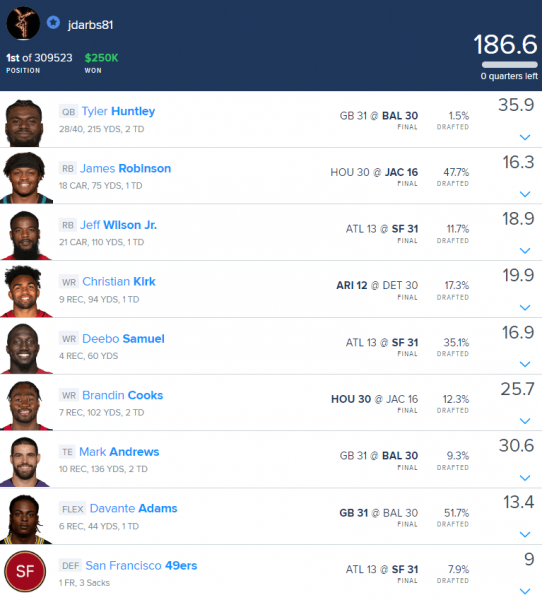 FanDuel Sunday Million Winners Weekly Ownership, Weeks 1–15
| Week | QB | RB1 | RB2 | WR1 | WR2 | WR3 | TE | Flex | Flex Pos | DEF | Cumulative | Average |
| --- | --- | --- | --- | --- | --- | --- | --- | --- | --- | --- | --- | --- |
| 1 | 12.5% | 11.2% | 1.6% | 15.4% | 14.8% | 8.0% | 3.9% | 5.2% | WR | 2.6% | 75.2% | 8.4% |
| 2 | 12.9% | 26.3% | 15.5% | 24.6% | 16.0% | 1.1% | 7.8% | 12.6% | RB | 7.1% | 123.9% | 13.8% |
| 3 | 6.4% | 32.6% | 19.6% | 30.2% | 17.7% | 11.0% | 19.8% | 8.7% | WR | 9.1% | 155.1% | 17.2% |
| 4 | 11.5% | 10.2% | 5.6% | 14.5% | 14.2% | 12.6% | 2.3% | 3.4% | WR | 12.3% | 86.6% | 9.6% |
| 5 | 3.6% | 12.7% | 4.1% | 33.0% | 11.3% | 9.5% | 3.8% | 3.9% | WR | 6.9% | 88.8% | 9.9% |
| 6 | 4.1% | 29.9% | 22.4% | 23.5% | 8.8% | 2.8% | 12.4% | 16.4% | RB | 16.2% | 136.5% | 15.2% |
| 7 | 3.0% | 11.4% | 9.4% | 21.0% | 11.5% | 10.3% | 5.7% | 3.3% | TE | 13.6% | 89.2% | 9.9% |
| 8 | 20.6% | 23.3% | 4.5% | 17.4% | 12.8% | 11.9% | 10.3% | 8.6% | WR | 3.3% | 112.7% | 12.5% |
| 9 | 16.1% | 22.7% | 11.9% | 26.7% | 21.4% | 14.2% | 0.2% | 3.8% | RB | 5.1% | 122.1% | 13.6% |
| 10 | 14.0% | 8.5% | 3.2% | 13.6% | 5.5% | 2.8% | 5.1% | 0.8% | RB | 3.6% | 57.1% | 6.3% |
| 11 | 1.2% | 23.1% | 6.3% | 5.1% | 2.3% | 2.1% | 4.8% | 4.3% | RB | 4.8% | 54.0% | 6.0% |
| 12 | 5.8% | 17.1% | 8.9% | 27.0% | 8.8% | 5.1% | 17.7% | 2.9% | WR | 10.5% | 103.8% | 11.5% |
| 13 | 19.2% | 39.8% | 16.8% | 19.0% | 17.3% | 13.7% | 14.6% | 6.3% | RB | 8.6% | 155.3% | 17.3% |
| 14 | 10.0% | 22.8% | 2.2% | 13.2% | 10.3% | 9.6% | 16.3% | 1.4% | WR | 6.0% | 91.8% | 10.2% |
| 15 | 1.5% | 47.7% | 11.7% | 51.7% | 35.1% | 17.3% | 9.3% | 12.3% | WR | 7.9% | 194.5% | 21.6% |
| AVG | 9.5% | 22.6% | 9.6% | 22.4% | 13.9% | 8.8% | 8.9% | 6.3% | | 7.8% | 91.5% | 12.2% |
FanDuel Sunday Million Winners Salary Allocation, Weeks 1–15
| Week | QB | RB1 | RB2 | WR1 | WR2 | WR3 | TE | Flex | Flex Pos | DEF | Total |
| --- | --- | --- | --- | --- | --- | --- | --- | --- | --- | --- | --- |
| 1 | $8,800 | $7,200 | $6,400 | $8,500 | $7,900 | $6,300 | $5,700 | $5,800 | WR | $3,400 | $60,000 |
| 2 | $8,700 | $8,000 | $7,000 | $7,200 | $6,200 | $4,900 | $5,500 | $6,100 | RB | $3,700 | $57,300 |
| 3 | $7,500 | $7,000 | $5,200 | $7,900 | $7,400 | $6,000 | $8,500 | $5,900 | WR | $4,600 | $60,000 |
| 4 | $8,700 | $6,900 | $6,400 | $8,200 | $6,900 | $6,000 | $6,000 | $5,900 | WR | $5,000 | $60,000 |
| 5 | $7,700 | $7,700 | $5,600 | $8,200 | $7,700 | $7,000 | $5,400 | $6,500 | WR | $4,000 | $59,800 |
| 6 | $8,100 | $7,500 | $7,300 | $8,200 | $7,200 | $7,000 | $5,000 | $5,500 | RB | $4,100 | $59,900 |
| 7 | $7,200 | $7,200 | $6,800 | $8,800 | $7,500 | $7,100 | $5,700 | $5,200 | TE | $4,400 | $59,900 |
| 8 | $8,800 | $7,600 | $5,700 | $7,600 | $7,200 | $6,900 | $5,900 | $6,100 | WR | $4,100 | $59,900 |
| 9 | $8,300 | $7,600 | $7,400 | $7,700 | $7,600 | $6,100 | $4,400 | $6,100 | RB | $4,800 | $60,000 |
| 10 | $8,700 | $9,000 | $7,500 | $7,900 | $6,200 | $5,700 | $5,400 | $5,400 | RB | $4,200 | $60,000 |
| 11 | $6,300 | $8,800 | $7,600 | $7,900 | $7,000 | $6,000 | $5,000 | $7,500 | RB | $3,900 | $60,000 |
| 12 | $7,400 | $8,400 | $7,100 | $8,000 | $7,200 | $6,200 | $6,500 | $5,800 | WR | $3,400 | $60,000 |
| 13 | $8,100 | $6,500 | $6,200 | $8,000 | $7,600 | $7,300 | $6,300 | $5,300 | RB | $4,500 | $59,800 |
| 14 | $8,200 | $9,000 | $5,300 | $7,700 | $7,300 | $5,500 | $7,100 | $5,200 | WR | $4,700 | $60,000 |
| 15 | $6,400 | $6,300 | $5,800 | $8,500 | $8,200 | $6,900 | $7,400 | $6,000 | WR | $4,300 | $59,800 |
| AVG | $7,927 | $7,647 | $6,487 | $8,020 | $7,273 | $6,327 | $5,987 | $5,887 | | $4,207 | $59,760 |
Stacks used by FanDuel Sunday Million Winners, Weeks 1–15
| Week | Primary Stack | Secondary Stack | Third Stack | Correlated Players |
| --- | --- | --- | --- | --- |
| 1 | QB/WR | RB/TE/Opp WR | | 5 |
| 2 | QB/WR | RB/Opp WR | | 4 |
| 3 | QB/RB/WR/Opp TE | RB/WR | | 6 |
| 4 | QB/WR/Opp TE | RB/WR | | 5 |
| 5 | QB/RB/WR | RB/DEF | WR/WR | 7 |
| 6 | QB/WR/DEF | RB/WR | | 5 |
| 7 | QB/RB/WR/TE | RB/TE | WR/DEF | 8 |
| 8 | QB/WR | RB/Opp RB | | 4 |
| 9 | QB/WR | RB/Opp RB | | 4 |
| 10 | QB/WR/Opp WR | RB/TE | | 5 |
| 11 | | | | 0 |
| 12 | | RB/TE | WR/Opp WR | 4 |
| 13 | QB/WR | | | 2 |
| 14 | QB/WR | RB/WR | | 4 |
| 15 | QB/TE/Opp WR | RB/Opp WR | RB/WR/DEF | 8 |