Using Positional Tiers to Dominate Your Fantasy Draft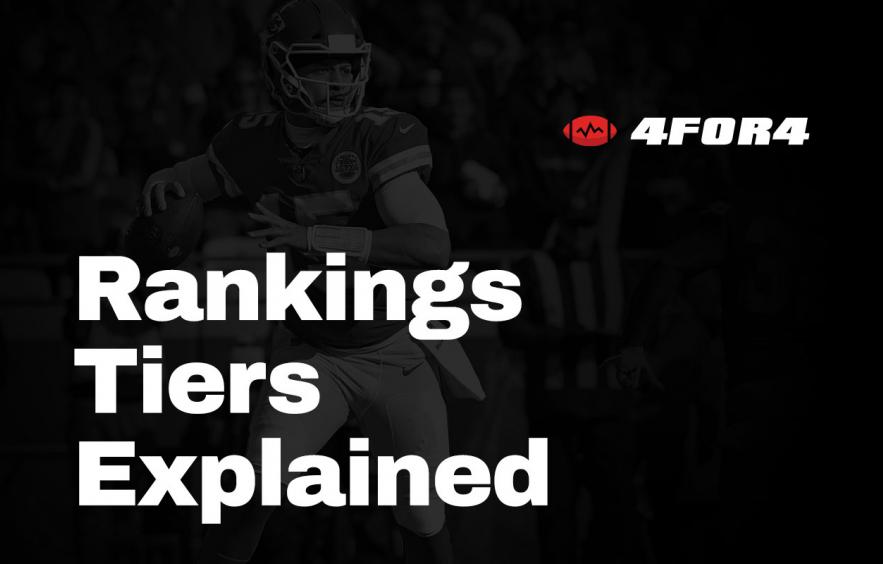 The first thing most fantasy football managers do to prepare for their draft is create rankings or maybe find an expert's rankings they agree with, such as John Paulsen's. While that is certainly an excellent exercise to get familiar with players and where they are generally viewed by the consensus, I would encourage you to take your rankings a step further. Invest in a tier-based ranking system for not only overall rankings but positional ones as well.
---
Tiered Rankings: Half PPR | Full PPR | Standard
---
What is Tier-Based Ranking All About?
When creating an overall tier-based ranking system, fantasy football managers should be grouping together players with similar fantasy values or expected output. This can be more difficult when making tiers across positions, but it's still a worthwhile exercise. While it is important to focus on drafting the best starting lineup you can, fantasy managers should always be on the lookout for value picks and players who have fallen in the draft further than they should. By using an overall tier-based ranking system, drafters can identify those players right away during their drafts. This can be especially helpful in the middle rounds where players start to slip through the cracks as other drafters start reaching.
Positional tiers are also extremely helpful and much easier to do than tiering all players together. That is because players' expected scoring output is being compared to their same position, which isn't the case with the overall rankings. Positional tiers are designed to group players at the same position together who have similar values and expected scoring outputs. A tier break would indicate a change in expected scoring output and can help drafters better evaluate the value left on the draft board at a particular position.
What Can Tiers Do For You?
Every fantasy football manager has been in that spot where they're on the clock trying to decide between a running back or a wide receiver they really like. It's an agonizing decision, but tier-based rankings can make the decision much more simple. Assuming both players are in the same overall tier, fantasy managers can look to their positional tiers. If the wide receiver's tier has eight more receivers in its tier compared to the running back who has only two, this could be the push you need to draft the running back because there are more similar receivers left on the board.
When completing our tier-based rankings, this is when fantasy managers determine who they like and who they dislike. Once the draft starts, our tier-based rankings can help us find value and avoid reaching for players. It's a two-part exercise because not only does the process of making your tier-based rankings help in evaluating players and their fantasy value leading up to the draft, but it is an immensely helpful tool once the draft starts.
Tiers also help in determining how to attack positional runs. Maybe you were planning to wait on your quarterback but a run starts and you're not up for another 16 picks. Positional tiers can help eliminate this potential problem by providing a quick snapshot of how likely you are to miss out on players that you like to a run in the draft. The flip side of these runs is just as important too. How often has a positional run started and when it comes time for you to make your decision, you're torn between getting in on the positional run or drafting another player you like better?
In this scenario, positional tiers are your best friend. They will help ensure you're not reaching when you shouldn't be. If a positional tier is about to be exhausted, it's time to get in on the run—if the tier is still plentiful, don't reach just because others are. The name of the game is gobbling up value. As fantasy managers, we don't want to let other teams dictate how we draft our own squad and positional tiers can help you avoid that problem.
Taking Your Positional Tiers to the Next Level
One of the things I love doing when I make my own positional tiers is identifying players whom I think could break out or disappoint. For example, right now Antonio Gibson may not yet qualify for the tier above him, which includes Ezekiel Elliott and Jonathan Taylor, but when I do my positional tiers, I'll identify him as a breakout player. These sorts of notes are also extremely helpful because we always want to target upside. While Gibson may be in the same tier as D'Andre Swift, his higher upside can be easily identified as a tie-breaking mechanism when drafting within that tier.
The same thing can be done with players who you might be more skeptical or cautious about. One such player might be Adam Thielen. He's been an excellent fantasy receiver for several years now, but he's 31 years old and coming off a season in which he was extremely touchdown-dependant. His question marks might make him someone you push down in a tier even if he has a slightly higher median projection as players grouped with him.
Other notes that are helpful to add to your positional tiers include things such as favorable and unfavorable playoff schedules. These are all just extra tidbits that even though two players might be in the same tier, can help you make a decision between the two.
Not every player needs an extra note either and this is an extra exercise fantasy managers don't need to do at all if it's too much work. Positional tiers are extremely helpful on their own, but if you're looking to spice yours up even more, these little extras are a great way in helping decide between players in the same tier.

Tiers Can Even Help in your Auction Drafts
Positional tiers can be extremely effective in auction drafts as well. After a few players have been drafted you're able to start putting a price point on certain tiers of players. For example, if D.J. Moore went for $25 it gives fantasy managers a starting point as to what the other receivers in his tier should cost. When bidding on similar players, it can help you avoid bidding too much.
On the flip side, it can also help you identify when you should be willing to spend a little more, even if it might be over market value. If there is only one player left in a particular tier at a position you have left to fill, you might be more willing to overspend to get that player on your team knowing there is a statistical drop-off from that player to the next tier. Ideally, you won't wait for the last stud in a tier.
If you're looking to build your own positional tiers, finding a set of rankings you can trust is crucial. Be sure to check out 4for4's rankings to get a head start on creating your positional tiers.