Ryan Fitzpatrick: The Legend Continues in Washington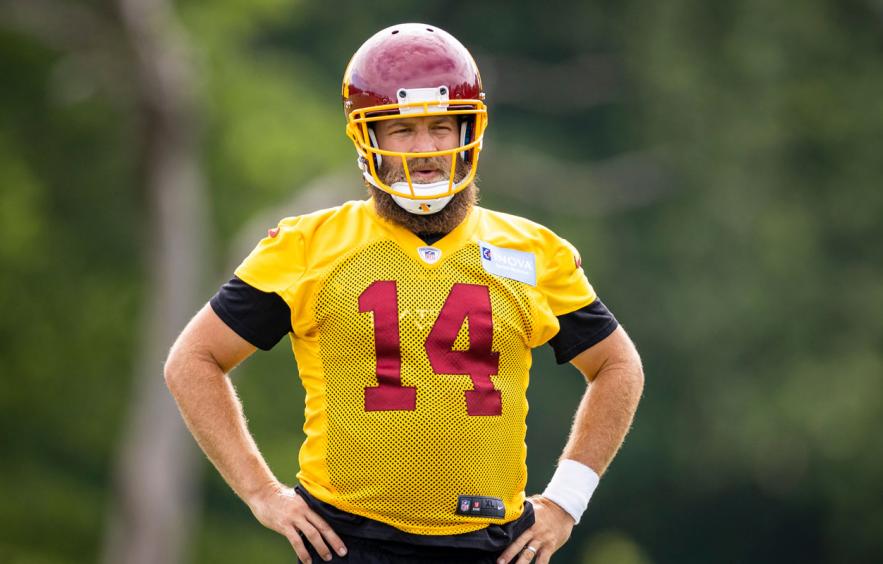 Scott Taetsch/Getty Images
I would like to present you with a challenge. Find me a player in the NFL cooler than Ryan Fitzpatrick of the Washington Football Team.
You will be sad to know that you in fact can't find a player cooler than Fitzpatrick. Whether it's his legendary beard, his swaggy post-game attire or the fact that we are just days removed from him turning a cicada caught in his beard into the coolest accessory ever, you can't deny the gems that Fitzpatrick has brought us over the years.
In addition to all of the great non-football moments Fitzpatrick has given us, he has also given us a bevy of great football moments. I will never forget where I was the day he completed a game-winning pass to Mack Hollins while getting his head ripped off, or that time he sent Buffalo into a frenzy in a long-awaited home win against the Patriots in 2011.
---
Editor's Note: Read more player profiles from the rest of the 4for4 staff!
---
Now headed into the twilight of his career with his ninth NFL team, Fitzpatrick could be in line to give us at least one more year of memorable moments and fantasy production.
The Lead Role
For three of the last four seasons, Fitzpatrick has served as a backup quarterback (2017 & 2018 in Tampa Bay) or a bridge to a promising rookie (2020 in Miami). In his last full season as a starter in 2019, Fitzpatrick, started 13 games with the Dolphins, throwing for 3,529/20/13 while leading the team in rushing (54/243/4). He finished the year as the QB17 in both overall points (241.5) and points per game (16.1 PPG) but closed out the year with seven top-12 finishes in his final 11 starts.
Over that 11 game span, Fitzpatrick averaged 23.4 PPG, looking like one of the best bargains in fantasy as the overall QB2.
He had a chance to run it back in 2020, despite the Dolphins drafting quarterback Tua Tagovailoa in the first round of the draft. Things looked promising for Fitzpatrick early, who got the Dolphins off to a 3-3 start while throwing for 1,535/10/7 and adding another 135/2 on the ground. His 22.5 PPG ranked as the QB13 as he posted four top-12 weeks in six games.
Ryan Fitzpatrick

2015-2020

| Year | Team | Atts | Comp% | Yards | TDs | INTs | Rushes | Yards | TDs | .5 PPR |
| --- | --- | --- | --- | --- | --- | --- | --- | --- | --- | --- |
| 2015 | NYJ | 562 | 60.0% | 3905 | 31 | 15 | 60 | 270 | 2 | 328.25 |
| 2016 | NYJ | 404 | 57.0% | 2709 | 12 | 17 | 33 | 130 | 0 | 162.45 |
| 2017 | TB | 163 | 59.0% | 1103 | 7 | 3 | 16 | 76 | 0 | 84.75 |
| 2018 | TB | 246 | 67.0% | 2366 | 17 | 12 | 36 | 152 | 2 | 191.50 |
| 2019 | MIA | 502 | 62.0% | 3529 | 20 | 13 | 53 | 243 | 4 | 280.75 |
| 2020 | MIA | 267 | 69.0% | 2091 | 13 | 8 | 30 | 151 | 2 | 174.65 |
Following the Dolphins' bye week, Fitzpatrick was relegated to a backup role behind Tagovailoa but was called upon to rescue the team late in-game with a postseason berth on the line. Despite his heroic efforts, the Dolphins ultimately fell short of the playoffs, but Fitzpatrick showed enough to suggest he still has something left to give in 2021.

A Star-Studded Cast
Heading into this season, Fitzpatrick should have the starting role all to himself. While postseason wunderkind Taylor Heinicke did sign a two-year, $4.75 million contract to remain with Washington this offseason, he is most likely to serve as the backup to Fitzpatrick.
Operating under the assumption that Fitzpatrick is the starter, it would be irresponsible to not touch on his supporting cast, which may be the explosive he's played with in quite some time.
Running Backs
Second-year running back Antonio Gibson returns for an encore to a promising rookie season that featured a late-season tragedy when he went down with a turf toe injury in Week 13 against the Steelers. Through the first 12 weeks of the season, Gibson showed the playmaking abilities that both Washington and fantasy managers hoped for when drafting him. His rushing line of 139/645/11 was padded with receiving upside in the form of 33 receptions and 233 receiving yards on 39 targets. Prior to his Week 13 injury, Gibson was averaging 15.1 PPG (RB8) in half-PPR formats.
Gibson's batterymate, J.D. McKissic contributed mightily in the passing game, securing 80 passes for 589 yards and two touchdowns on 110 targets while averaging 9.5 PPG (RB34).
Wide Receivers
For receivers, Fitzpatrick gets the pleasure of pairing with bonafide deep threat Terry McLaurin, and the newly signed offensive weapon in Curtis Samuel.
Through two seasons in the league, McLaurin has recorded per-game totals of 11.8 PPG on 5/70.2/0.4 receiving. His 2020 season featured a receiving line of 87/1,118/4 on 134 targets as he finished with 180.3 PPG, good for a WR21 season overall. Curtis Samuel enjoyed a career year in 2020 as well, as he racked up 173.6 PPG with the Panthers while going for 77/844/3 through the air and adding another 41/200/2 on the ground.
The addition of veteran Adam Humphries and rookie Dyami Brown should only add to what appears to be a talented receiving corps.
Tight Ends
Well-traveled tight end Logan Thomas found not only a home in Washington last season, but a key role.
The former quarterback turned tight end posted a career year in 2020, finishing in the top-10 in nearly every major statistical category. Thomas recorded a receiving line of 72/670/6 on 110 targets and averaged 8.8 PPG (TE9) while posting nine top-12 fantasy weeks.
By the start of the 2021 season, Thomas will have turned 30 years old, but there's no reason to think he can't enjoy another fantastic season. Another interesting tight end who could emerge this season, or in the near future, is rookie Sammis Reyes. At 6-foot-5, 260-pounds, Reyes posted a freakish pro day and signed with Washington shortly after.
While Reyes may be a year or two off from significant fantasy production, he's a fun player to mention, and at the very least a low-cost dynasty stash.
The Bottom Line
When it comes to Ryan Fitzpatrick, we are talking about a seasoned veteran who has given years of reliable fantasy production. You might even say he's gotten better with age as he enters his age 38 season. Over his last 20 starts, Fitzpatrick has posted 12 QB1 finishes. He has elite offensive weapons at his disposal, and should not face any threat to his starting job.
Depending on your roster build, whether in redraft or best ball, Fitzpatrick has the making of an excellent late-round QB..
With an Underdog Fantasy ADP of 150.2 (QB21), Fitzpatrick is almost free to acquire. Whether you're drafting him in the later rounds as a QB2 after investing early into an elite quarterback, or you're adding him as a QB3 after fading the position earlier in drafts to provide a safer floor, Fitzpatrick comes at the perfect price. While his down weeks shouldn't hurt your roster, his boom weeks could propel you in a big way.