Jarvis Landry is a Fantasy Fade in 2021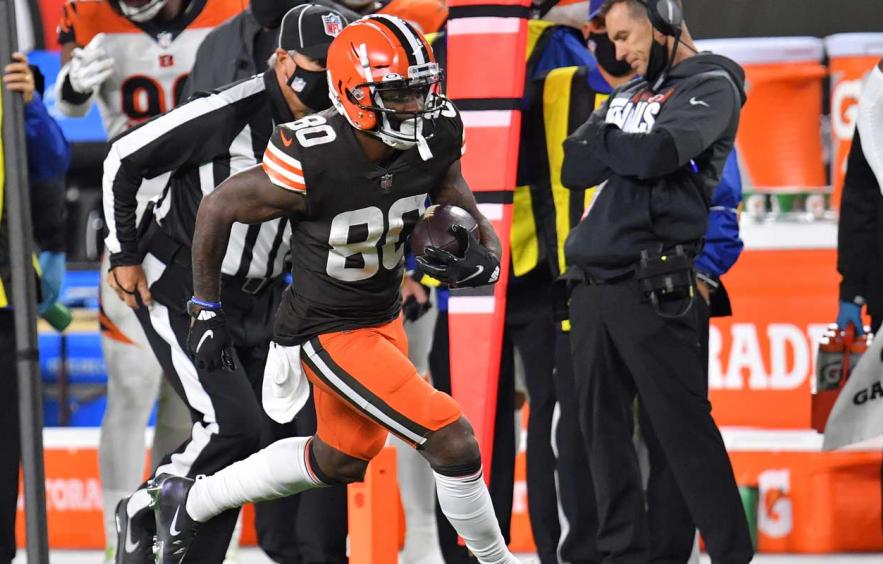 Jason Miller/Getty Images
What if I told you that one of the most productive wide receivers of the last half-decade, a man playing on probably the best team of his career, was going after nearly 50 other players at his position in best ball formats? You might be forgiven for instantly logging onto your Underdog app and drafting him as soon as possible, convinced that a bargain was waiting to be exploited. Well, I can reveal that one of the most productive wide receivers of the last half-decade is being taken at or around the WR50 area in best ball drafts on Underdog. But as to whether you would call Jarvis Landry a bargain at the moment, we need to take a closer look.
---
Editor's Note: Read more player profiles from the rest of the 4for4 staff!
---
Landry's Production in The Past
A member of the vaunted 2014 wide receiver class, Landry has racked up some serious numbers since being drafted by the Miami Dolphins with the 63rd overall selection in the NFL Draft. Landry has caught 637 passes for 7,023 yards in his seven NFL seasons, scoring 35 touchdowns. Only two wide receivers have caught more passes than Landry in this time. Only five players have more receiving yards. These numbers have made him quite a consistent fantasy performer, with his 1,85.8 points in half-PPR formats enough to make him the WR5 in that span.
As much as the 2020 campaign was a success for the Browns, their achievements came on the back of some disappointing numbers from Landry. He finished with a career-low 72 receptions. You have to go back to his rookie season for a year in which he posted fewer yards than the 840 he managed in 2020. Landry had never had a season with fewer than four touchdowns. He managed just three in 2020.
A Fantasy Dud in 2020
As a result of these poor numbers, Landry made little noise from a fantasy standpoint. He finished as a top-12 performer just once last season and posted just three weeks in which he finished as a WR2. In the other 11 games he played, he finished as a WR3 or worse in half-PPR formats. The splits between his 2019 production and last year's make for stark reading. In 2019, on a misfiring and slightly dysfunctional Browns team, Landry commanded 8.6 targets per game, reeling in 5.2 of them for 73.4 receiving yards and 12.2 fantasy points per game. Importantly, he was in on 93.6% of the Browns offensive snaps. Fast forward a year, and Landry's targets were down to 6.7, his receptions to 4.8 and his yardage total was a mere 56. His fantasy output was down to 10.2 points per game. His snaps played also saw a large drop, with Landry only appearing on 73.1% of the Browns' offensive plays.
Landry's numbers would probably have been worse still if his old mate from their days at LSU, Odell Beckham, hadn't missed most of the season with an injury. With Beckham in the lineup, Landry eeked out a living with a mere 5.5 targets, on which he delivered 4.1 receptions for 52 yards per game. These numbers saw him post a far from inspiring 7.3 fantasy points per game. After Beckham's injury, Landry saw 7.7 targets per outing, catching 5.4 but only for 59.1 yards. His falf-PPR output was now at 11.7 per game.
Landry's "real" season was a far better one than his fantasy one.

Landry's 2021 Outlook
At the moment, Landry is going off the board as the WR46 on Underdog. We are slightly more bullish on him, with Landry currently sitting as the WR38 in our half-PPR rankings. But is it worth getting him on your roster?
I would argue no. The Browns' method last season, by which they didn't force-feed Landry targets and indeed sat him down on almost 30% of their offensive plays, saw them have their best season in more than two decades. This method involves establishing the run, making use of their pair of talented backs in Nick Chubb and Kareem Hunt running behind an offensive line ranked as the best in the league, according to our own Justin Edwards. The Browns had the fifth-lowest pass-to-run ratio in neutral game situations a year ago, and it would take things going drastically wrong for them to deviate from this formula, especially if the Browns are as good as many expect them to be, and their schedule as favorable as expected. Based on the projected Vegas win totals of their opponents, the Browns are currently facing the second-easiest schedule in the NFL.
If and when the Browns have to pass the ball, Landry is almost certainly going to find himself behind Beckham in the pecking order when it comes to targets. The difference in Landry's splits in 2020 with and without Beckham certainly indicates as much. Indeed, Beckham has averaged 7.7 targets per game in his two seasons with the Browns. Isn't it ironic that this is the same number Landry averaged in games without Beckham a year ago? Mayfield has also formed partnerships with other Browns pass catchers that are much more efficient than his linkups with Landry. Mayfield averages 10.97 adjusted yards per attempt when targeting Rashard Higgins, for instance. I'm not saying Higgins will beat out Landry for targets throughout the season. But when a big play is needed, Mayfield has got them when looking for Higgins in the past. He may do so again.
Everyone is a Value Eventually, Right?
Landry is someone who is probably being taken at a fair draft spot in best ball formats. He provides a relatively stable, though thoroughly unspectacular, weekly floor, which is something you probably want from your WR4/5. But if you are shooting for upside, which when it comes to redraft you almost certainly are, Landry doesn't bring much to the table in 2021. Players like Darnell Mooney (WR49) and Corey Davis (WR51) are both secondary options in their passing attacks, like Landry, but are in situations in which their teams are forced to take to the air more often than the Browns, increasing their late-round fantasy appeal. Assuming all goes well for the Browns, their formula does not seem to suggest a large fantasy-friendly role for Landry.
The Bottom Line
Landry has been ridiculously productive since entering the NFL, but his numbers took a dramatic dip alongside his teams' success last season.
Landry will be competing for targets on a low-volume pass attack on a team that is steadfast in its commitment to running the ball.
Landry is currently being selected in drafts ahead of players who may see a similar role, but who play for teams that may have to get them the ball a lot more often than the Browns will look to get it to Landry.
While his ADP is fair, there is little room for upside in 2021, making Landry a floor play but not a league-winning pick.