2021 NCAA Tournament: March Madness Cinderella Teams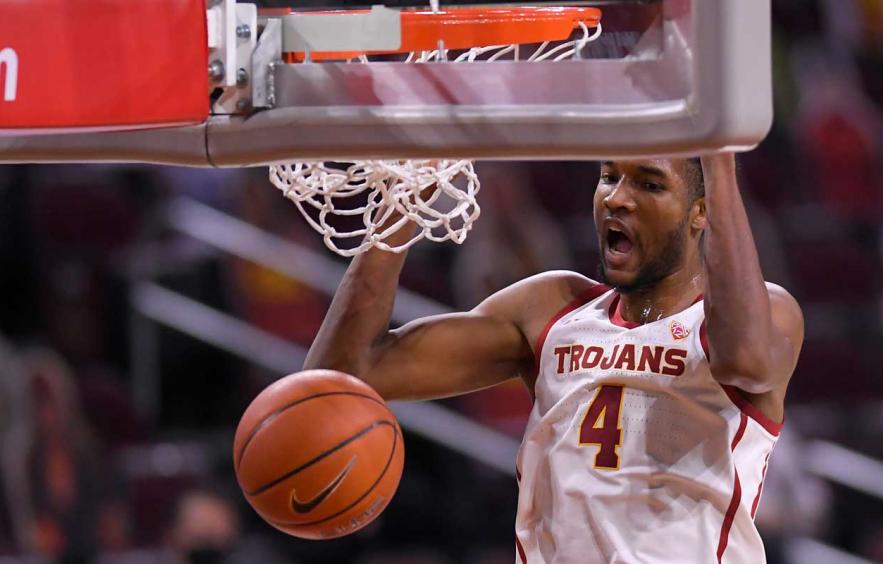 John McCoy/Getty Images
After a two-year waiting period, the NCAA Tournament has finally arrived. Robbed of March Madness last season, the 2021 bracket features a slew of promising teams and contenders. As the name March Madness suggests, Cinderella stories create the environment that makes the tournament so popular every season. This particular piece will look at teams capable of making a run deeper into the postseason. Make sure to also check out Connor Allen's March Madness Bracket Strategy: Part 1 and Part 2.
For house-keeping purposes, Cinderella teams will be defined as teams seeded six or below with legitimate paths to the Sweet 16. I've also pinpointed potential bracket busters. The NCAA uses quadrant wins to rank strength of schedule for these teams. A quadrant-one win is defined as home games against Rating Percentage Index (RPI) top-30 teams, neutral games against RPI top-50 teams, and away games against RPI top-75 teams. With all of that out of the way, let's dig into a few potential Cinderella teams in this year's March Madness pool.
2021 March Madness Cinderella Teams
USC (No. 6 Seed, West)
The USC Trojans finished the regular season with an impressive 22-7 record and a second-place finish in the PAC-12 regular season. After a double-overtime win against Utah in the first round of the PAC-12 tournament, USC lost a nail-biter to Colorado by two-points in the second round. Heading into the NCAA tournament, USC does not yet know their opponent as a six seed. They will draw the winner of the play-in game between Drake and Wichita State.
During the season, USC finished 3-4 in quadrant-one games, with victories over BYU and some of the PAC-12's top teams. They only suffered three double-digit losses all season, with two coming to Colorado. USC also demolished fellow No. 6 seed BYU by 16 in non-conference play but dropped a three-point game to UConn in their next appearance.
USC's primary strength comes inside, with the presence of Evan and Isaiah Mobley. Evan remains a future lottery pick, averaging 16.8 points per game. Isaiah also racks up nine points per game, while adding 7.4 rebounds. Both of USC's potential first-round opponents will struggle to defend the Mobley brothers. Drake ranks 167th in interior defense. Their tallest player, Darnell Brodie, only averages 23 minutes, creating a matchup nightmare for Drake. Meanwhile, Wichita State ranks 334th in rebounding with their tallest starter Morris Udeze (6-foot-8).
Beyond the first-round, USC draws the winner of Kansas (3) and Eastern Washington (14). Kansas enters the tournament down two starters to COVID-19 protocols and Eastern Washington played one quadrant-one opponent all season. With one of the softest draws in the tournament, USC looks capable of a deep postseason run here.
---
Want an edge in your March Madness contest? Since 2017, TeamRankings.com subscribers have won over $1.7 million in bracket pool prizes using their NCAA Bracket Picks. Here's an exclusive discount: Get 2021 Brackets »
---
Virginia Tech (No. 10 Seed, South)
One of the more volatile teams heading into March Madness, Virginia Tech finished the regular season with a 15-6 record. They also ended the regular season with a third-place finish in the ACC, only to be bounced by a surging North Carolina in the conference tournament.
Virginia Tech finished 2-1 in quadrant-one games, with their lone loss coming to Syracuse on the road. In that game, stud big-man Keve Aluma shot 1-10 and nearly fouled out in 24 minutes for the Hokies. Meanwhile, Virginia Tech had one of the more impressive victories with a non-conference win over a full-strength Villanova team in their second game.
In the first round, Virginia Tech draws a Florida team that limped their way into the postseason. Aside from a win over Vanderbilt, Florida dropped three of their last four games in the SEC. Virginia Tech holds the superior offensive and defensive efficiency metrics in the matchup, potentially contributing to the early line movement in the Hokies' direction.
Beyond the first round, Virginia Tech's path gets tricky. As a No. 10 seed, they appear poised to face Ohio State in the second round. Certain teams with strong big men gave Virginia Tech problems this year, including Syracuse and North Carolina. Ohio State poses a threat with E.J. Liddell, Kyle Young and Justice Sueing standing at least 6-feet-7. However, Virginia Tech possesses some size in Justyn Mutts and Aluma. The Hokies also returned one of the country's top rebounding guards in Tyrece Radford after a mid-season suspension. While the path looks difficult, Virginia Tech poses matchup problems for each of their potential opponents in the first two rounds.
Utah State (No. 11 Seed, South)
After a narrow loss to San Diego State in the Mountain West championship, Utah State enters the NCAA tournament as one of the more dangerous double-digit seeds. The Aggies finished the regular season with a 20-8 record but won each of their last six games before the conference championship. One of the unluckiest teams in the country, six of their eight losses came by double-digits.
After some predicted Utah State could miss the tournament, they drew Texas Tech in their first-round game. Texas Tech barely finished 500 in Big 12 play with a 9-8 conference record. A bit over-seeded, Texas Tech also matches up poorly against Utah State. The Red Raiders' tallest starter remains Marcus Santos-Silva at 6-foot-7. Santos-Silva also struggles to stay on the floor, routinely dealing with foul issues. Utah State big man Neemias Queta is 7-foot-0 and averages a double-double per game.
Beyond the first round, Utah State draws the winner of Colgate (14) and Arkansas (3). Another team that occasionally struggles with opposing big men, Arkansas ranks 211 in rebounding. Neither of the Razorbacks' big men in Connor Vanover or Jaylin Williams average north of 17 minutes per game. Perhaps an unpopular Sweet 16 pick, Utah State holds the star power and matchup advantages to make a run into the second weekend of the tournament.