La'Mical Perine: High-End Fantasy Handcuff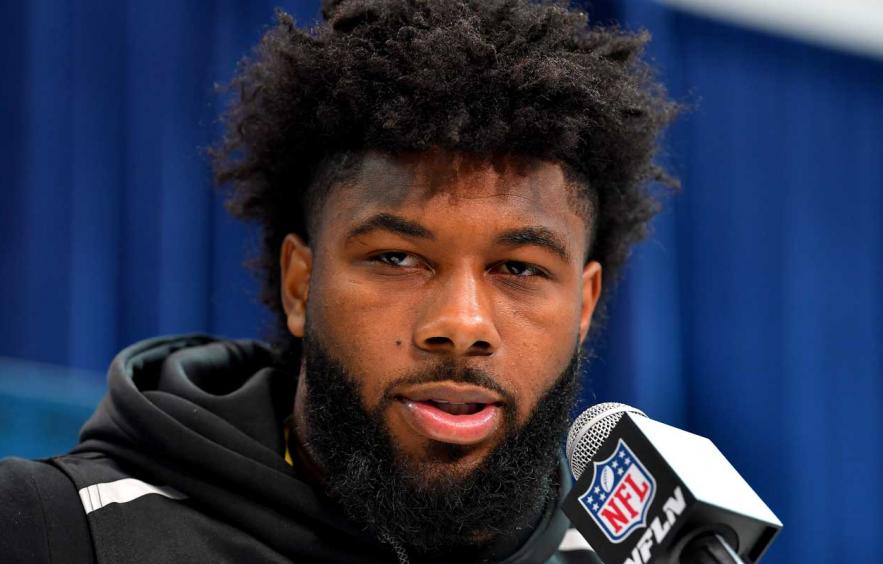 Alika Jenner/Getty Images
The New York Jets waited until Day 3 to draft a running back behind LeVeon Bell, but they wound up with a talented and versatile weapon in La'Mical Perine out of Florida. His role in New York is likely to be limited to change-of-pace and handcuff work in the short-term, but if Bell misses any time, Perine should be given every opportunity to show what he can do as a three-down back, and the future at the position.
La'Mical Perine

's Career at Florida

Perine led the Gators in carries last season, but he split time for much of his four-year college career. He really shined as a senior last year, averaging 5.1 yards per carry, catching 40 balls and finishing with a combined 938 yards and 11 touchdowns. Most impressively, he played well against good competition. His best game was on the national stage with 18 total touches, 181 yards and three touchdowns in an Orange Bowl victory over Virginia.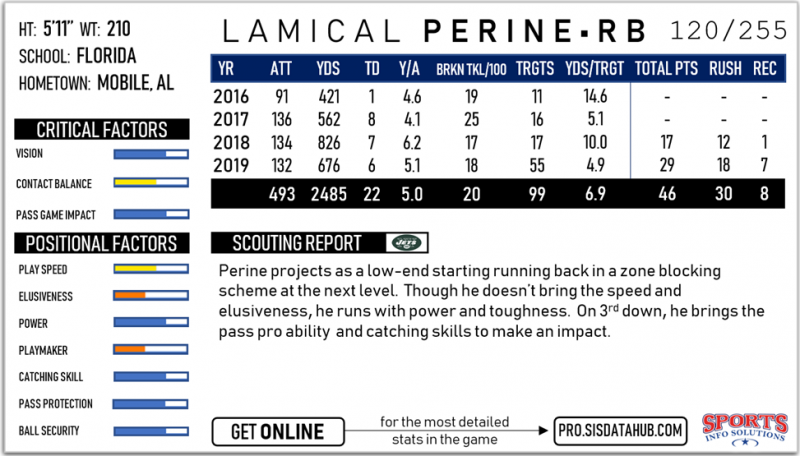 Perine doesn't rank highly in Kevin Zatloukal's rookie success model, with only an 18% chance at success in his first three years. Kevin said Perine scored low in his model primarily because he was only a fourth-round pick, and was not particularly fast (4.62 seconds in the 40-yard-dash) or quick (7.13 in the 3 Cone Drill), considering his 5-foot-11, 216 lbs frame.
I was a little more bullish on Perine as a prospect. I saw quickness on tape that didn't show up at the combine and I like that he keeps his legs churning on every play. One thing we all agree on is Perine's ability to catch the ball. He's good in pass protection and has the skill set to be a three-down back if he gets the opportunity. He oddly reminds me a little of Bell as a prospect. Bell was bigger and bulkier, but ran a 4.60 at the combine and was thought to lack explosiveness. He had a much better 3-Cone Drill time (6.75 seconds) than Perine, but his main asset was vision, something Perine has in spades. Perine is also a better receiver out of the backfield than Bell was coming out of Michigan State, though he's obviously become a fantastic receiving option as a pro.
Perine's Opportunity with the
Jets
For a fourth-round pick, there is potential opportunity for Perine to see the field, although largely in a supporting role in 2020. The recent signing of Frank Gore muddies the waters quite a bit, but the primary path for Perine to see playing time rests on the reliability—or lack thereof—of Bell.
Reliability isn't exactly a strong suit for the veteran. He's missed games for holdouts, injuries and suspensions throughout his seven-year career and he's coming off his worst playing season as a pro. He averaged a career-low 3.2 yards per carry last year and scored just four touchdowns. He's played at least 15 games only three times in his entire career, and his effectiveness and reliability are unlikely to improve as he enters his age-28 season.
We don't know for sure Bell is unhappy or that Head Coach Adam Gase doesn't like him, but it's worth noting Bell is the subject of trade rumors so frequently, Adam Schefter feels the need to tweet whenever he isn't traded.
Deadline has come and gone, and no trade for Trent Williams, nor Darius Slay, nor Jamal Adams, nor LeVeon Bell.

— Adam Schefter (@AdamSchefter) October 29, 2019
Barring injury, suspension or trade, Bell will enter the season as the starting running back for New York, and he should get the lion's share of touches. However, if he becomes unavailable for any of the myriad of reasons he's missed time over his career, Perine could be a valuable handcuff with long-term upside.
Also, I'm not saying Bell isn't on the roster past this season, but according to Over the Cap, New York will have 9.5 million reasons to cut him next year. I'm just saying.
Adam Gase and Running Backs
Gase has a spotty history with running backs, particularly as a head coach. He has a strong history of using multiple backs, which muddies the waters for fantasy owners but can provide late-round value for complementary players such as Perine. Only twice in Gase's seven years as a head coach or offensive coordinator has the starting running back received more than 57% of the team's running back carries—last year and in 2016 with the Dolphins.
*Jay Ajayi was traded mid-season to the Eagles **Next RB indicates the RB with the next most number of carries, generally the complementary back or backup​
Notable is 2018, when Frank Gore and Gase were both in Miami. Gore received the bulk of the carries but still wound up with just 49% of the running back attempts, with Kenyan Drake receiving 38%. There's little chance for Gore to supplant Bell as the primary runner in New York, but his presence definitely puts a cloud over Perine's potential to make an impact as a rookie. Gase seems to prefer a committee and bringing in Gore means all three backs could see touches. Gore hasn't been a great fantasy option during the latter part of his career, but he's definitely been a disrupter, siphoning off carries from the likes of Drake, Devin Singletary and Marlon Mack.
Optimistically, Gore's role as the complementary piece is likely to remain unchanged if Bell misses time however, with Perine's ability on third downs an asset Gase won't be able to ignore.
New York Offensive Improvements
Gase's offenses haven't ranked higher than 25th in rushing attempts over the past three seasons, but that's largely due to game situations. The teams he had in Denver and Chicago were better teams and played from behind less frequently. The Jets have a chance to improve offensively this season with a healthy Sam Darnold at quarterback and the additions of rookie Denzel Mims and journeyman Breshad Perriman at wide receiver. If the defense can keep them in games with the return of C.J. Mosley from injury and some progression from last year's first-round pick Quinnen Williams, the team should be able to run the ball a little more than last season.
The Jets made some noticeable additions on the offensive line as well. Connor McGovern should take over at center for Jonotthan Harrison, who ranked 108th among interior offensive linemen in run Blown Block Percentage (BB%), Sports Info Solutions' (SIS) metric for how often a player fails in an attempted block. McGovern ranked 71st with the Broncos last season. Most notably, they added OT George Fant (ranked second among tackles last season with at least 200 snaps in Run BB%) and massive OT Mekhi Becton in the first round of the draft.
If Darnold can progress at all, the wide receivers can be an upgrade over the inconsistent Robby Anderson and the offensive line gels quickly, the Jets' running game could dramatically improve. They almost have to, as they ranked dead last as a team in 2019, averaging just 3.3 yards per carry. If Perine gets touches, the pieces are in place for him to produce.
Bottom Line
Perine is kind of a late-round lottery ticket. There's a lot to like and a lot to be concerned about, but his path to playing time is better than that of most Day 3 rookies, and his skills—vision and contributions on passing downs—are made for the modern NFL. He's a high-upside flyer.
Perine could benefit from attrition, as LeVeon Bell is unreliable and Frank Gore is entering his age-37 season.
Perine's ADP is undrafted in most leagues right now, meaning he can be had for next to nothing. I'd rather have his upside as a handcuff and complementary piece than hope for Jaylen Samuels or Royce Freeman to earn a role, after failing to seize previous opportunities.
Perine has a good chance to earn the job in 2021 and beyond given the contract and age status of Bell and Gore.