Introduction to Monkey Knife Fight Contests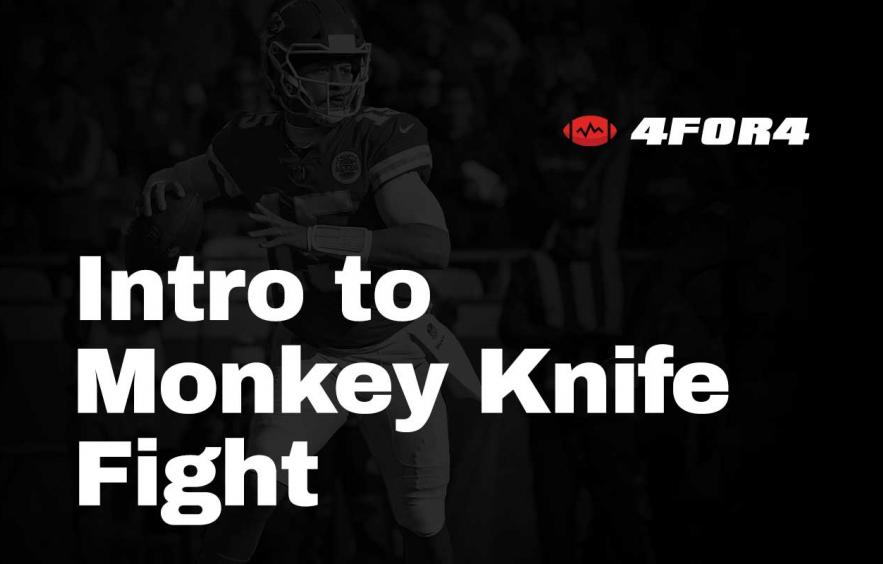 For those who haven't heard, 4for4 is partnering up with Monkey Knife Fight this season. I'll be leading the charge with the content and writing a weekly article breaking down my favorite plays.
Before Week 1 kicks off, it's important to understand the game itself. It sounds basic but it's vital to understand scoring and game selection prior to playing.
What is Monkey Knife Fight?
MKF is a gaming platform with great alternatives to daily fantasy and is a perfect segue into sports betting. There are multiple different contests that reflect a variety of preferences. Instead of punting money away against professional DFS players maxing every tournament you can focus on beating a specific set of scoring thresholds at Monkey Knife Fight.
There's no point of re-writing their descriptions, so here are their three major contest styles:
Stat Shootout - You will be choosing your team of players from the list that will accumulate the most of the stat type you have chosen to play, such as Touchdowns or fantasy points. Then choose a target goal for that stat and watch the players score live. If your team exceeds your chosen goal, you win the prize shown prior to entry.
Rapid Fire - You will be selecting your team by choosing the highest-scoring player in multiple head-to-head matchups in statistical categories. They will need to beat the unchosen players in their head-to-head matchups. If a player gets additional points added to their score in a matchup, they will be shown in green (ex: +14.5). Choose the coinciding posted number of matchups correctly to win the prize shown prior to entry.
More/Less - You will be drafting your team by choosing More or Less for a group of player statistics presented. You will be squaring off with your own predictions. Choose the coinciding number of tiers correctly to win the prize shown prior to entry.
If you are having a tough time conceptualizing how this works, you can sign up now and check it out for the NBA. I will update this article prior to Week 1 once some NFL props are posted.
Fantasy Scoring
Pass TD: 4
Pass Yard: .04
Interception: -1
Rush Yard: 0.1
Rush TD: 6
Reception: 1
Rec Yard: 0.1
Rec TD: 6
Return TD: 6
2 pt Conv: 2
Fumble Lost: -2
Basic Strategy
Having this many contest styles provides a good variety of options for people looking to attack props in a number of different ways. If you are just getting into betting, utilizing fantasy points in the "stat shootout" may be a great way to get started. MKF utilizes PPR scoring so most of you should already be familiar. If you are an avid sports bettor, taking advantage of bad lines in "more or less" contests with specific stats is probably a good approach.
Another strategy that's useful in these types of contests is correlation. If you can take a QB and WR from the same team to both go over or under a prop you are maximizing your chances. This is especially true with long-shot prop parlays where you will need up to eight different props to hit in order to cash. You need every leg of your bet to cash in order to win so optimizing your potential is crucial.
As we approach Week 1, I'll go more in-depth in my favorite plays at Monkey Knife Fight and how we can make some money.
Prepare for the season and sign up here!