3 NFL Draft Prop Long Shots: Team to Draft Player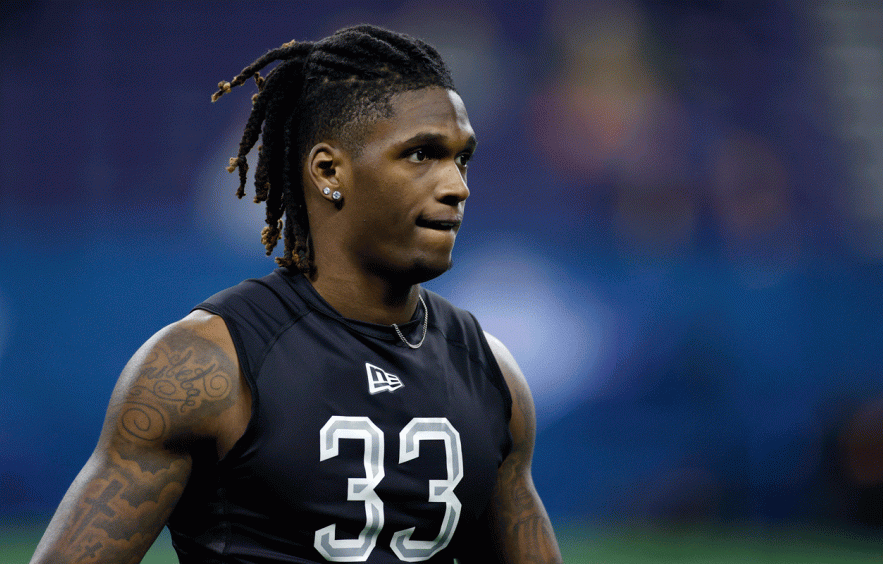 Joe Robbins/Getty Images
Draftkings Sportsbook offers props for landing spots for a lot of the draft's top players. These bets are hard. It's important to establish that right from the get-go. The further down the draft you go, the harder it is to get right. Obviously, it is not hard to get Joe Burrow and Chase Young going to the Bengals and Redskins respectively, but after that only Okaduh to the Lions is not at plus money. Taking a few long shots for partial units embraces the variance and if you get just one right, you will come out ahead. In the last two drafts, there have been 28 first-round trades so you never want to assume a team is picking where they are located pre-draft.
---
---
CeeDee Lamb

to

Broncos

+1000

Lamb has had line movement in his player prop over/under on DraftKings, moving from 13.5 to 12.5. This section of the draft is where it is widely expected for Lamb, Jerry Jeudy, and Henry Ruggs to fly off the board as they all have over/unders in the 12.5 to 14.5 range. The Jets, Raiders, and 49ers all pick between 11-13 and all have a massive need at receiver. The Broncos sit at 15 with are desperate for a wide receiver, far and away their biggest hole on offense at the moment. They are -278 to pick an offensive player and receiver is their most commonly mocked pick. Lamb rarely makes it to 15 in mocks, but trades throw a wrinkle into the mix. Last year alone, there were 12 trades in the first round. The Jets at pick 11 have more holes on their roster than swiss cheese and a trade back picking up would be very attractive to them while it would give the Broncos their pick of top receivers. Michael Lombardi reported that the Broncos are looking to move up to get their top receiver. There is also a chance a receiver slips to the Broncos and Lamb is the last man standing. This line should be closer to +600 than +1000 and is worth putting 0.1 units on it.
Henry Ruggs

III to

Eagles

+1400

The Eagles are one of the most complete teams in football with holes at WR, CB, and LB. They are currently -150 to draft a receiver with their first pick and I have already placed a one-unit bet they go WR first. When I look for teams that may trade down, it's at teams with holes in positions to leverage a position run. When I look for teams who might trade up, it's at teams with a loaded roster. The Eagles have one of the most complete rosters in the entire NFL. They have the best tight end combination and a burner like Ruggs would do wonders for the offense. DeSean Jackson is 33 years old and has been hurt the last two years and the Eagles have a history of drafting a year ahead of a need. They could move up for Ruggs and he could take the offense to the next level. In the last four years, the Eagles' first-round pick has been involved in a trade. If I had to bet on which receiver would be most likely to fall in the draft of the big three it would be Ruggs and if that's the case there is no way the Eagles pass on him. 0.1 units is worth the risk to win two full units.
---
Want in on the action? Get a sign-up bonus up to $1,000 with DraftKings!
---
Josh Jones Selected with
Jets

First Draft Pick +10000

Five bucks to win $500—that's what you get if the Jets were to select Josh Jones. Yes, it is a longshot, but the Jets have two massive needs on offense at receiver and tackle. Josh Jones is the consensus fifth-best tackle in the class and is best in pass protection. Of last year's 12 trades, all of them came after pick 10 while in 2018 picks 10, 12, 14, 15, 16, and 18 all changed hands. The point is to embrace the variance. With a bad team, adding more draft capital can be crucial in a rebuild and the Jets are in a position to move back to add assets picking as the first receiver needy team. If they trade back with the Broncos or the Eagles, all of a sudden Jones is in play. It is the definition of a long shot, but for 0.05 units if the variance hits you get a big payday.
Pick Summary
Note: All advice in this article is based on odds available on the date of publishing.