TJ's #Taek: Week 7 NFL DFS Recap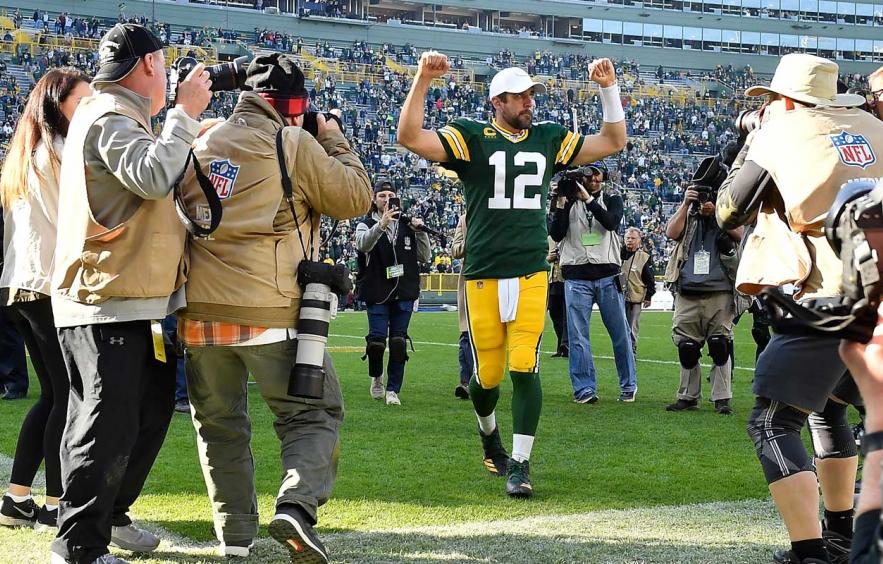 Quinn Harris/Getty Images
Week 7's winning lineups from the biggest contests on FanDuel and DraftKings can be used to tease out lineup-building strategies and offer clues on how you could have landed on a similar team. Reviewing your hits and misses each week is imperative if you want to be a profitable DFS player but examining winning lineups is also a useful exercise in cultivating a winning approach.
DraftKings Week 7 Millionaire Winning Lineup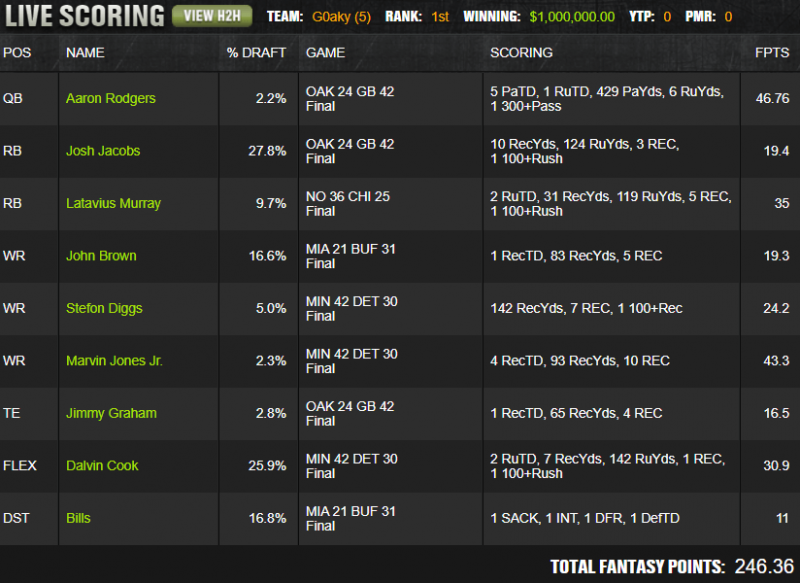 One point that has been hammered in in this space and in tournament content across 4for4 this year is the concept of building lineups in such a way you only have to "be right" a couple of times to win big. In other words, by focusing on select games and using a concentrated player pool, when a core hits, it hits big. G0aky took that concept to the extreme in the Week 7 Millionaire, using just one standalone player from a single game and two game stacks with three players. When those two games both combined for over 60 points, this lineup was off to the races.
What Were the Indicators for the Low-Owned Plays?
There were questions all week about who would actually catch passes for the Packers, which kept ownership suppressed across the board on a team going up against an Oakland secondary that went into the game allowing the fourth-most fantasy points per pass attempt. Jimmy Graham was ruled active early enough to confidently start him and it was still unclear how much each healthy wide receiver would play.
No matter the matchup, leveraging a popular play is often going to be a viable tournament strategy, especially if it helps you offset a popular play in your own lineup. By pairing Stefon Diggs with Dalvin Cook, G0aky hoped to corner as much of the Minnesota offense as possible. Marvin Jones entered Week 7 with a 15.4-yard average depth of target, the eighth-highest among players with at least 20 targets and those deep balls were sure to turn into a boom week. As it turned out, all the boom came against a Vikings secondary ranked 27th against wide receivers when adjusted for strength of schedule.
FanDuel Week 7 Sunday Million Winning Lineup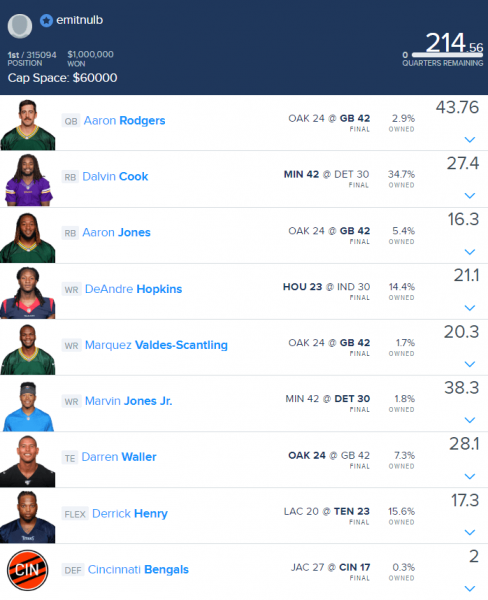 One great reason to target games and situations rather than a bunch of random dart throws is you don't have to be perfect as long as your strategy is unique. This Packers/Raiders game stack isn't the same one used in the DraftKings winning lineup but it still got the job done with four players who showed up in fewer than 10% of lineups.
The only logical explanation for playing the Bengals defense in this spot is as a leverage play against a heavily-owned Leonard Fournette. Though it isn't the strongest play in a vacuum, rostering a cheap play in a unique pricing tier is a fantastic strategy for making a build that won't be seen much.
TJ's Final #Taek
Adjusting to weekly injury news is sometimes as important as the entire weekly research process. Anticipating how the public will react to that news can swing fortunes, as we saw with the Packers game. The uncertainty regarding who would be catching balls from Aaron Rodgers and how much each receiver would play kept an entire team low-owned against one of the worst defenses in the league. Embracing that uncertainty is how you benefit in DFS.
Part of your GPP process each week should be dedicated to thinking about how groupthink will impact things such as lineup construction and popular salary ranges. Not only is taking on unclear situations going to get you to unpopular players but it will often lead to unique salary ranges. As chalk plays fall into place each week, many lineups will fall into similar types of builds. Owners who can shift their strategy after a week of hard research often stand to benefit.