Week 10 Picks For NFL Pick'em Contests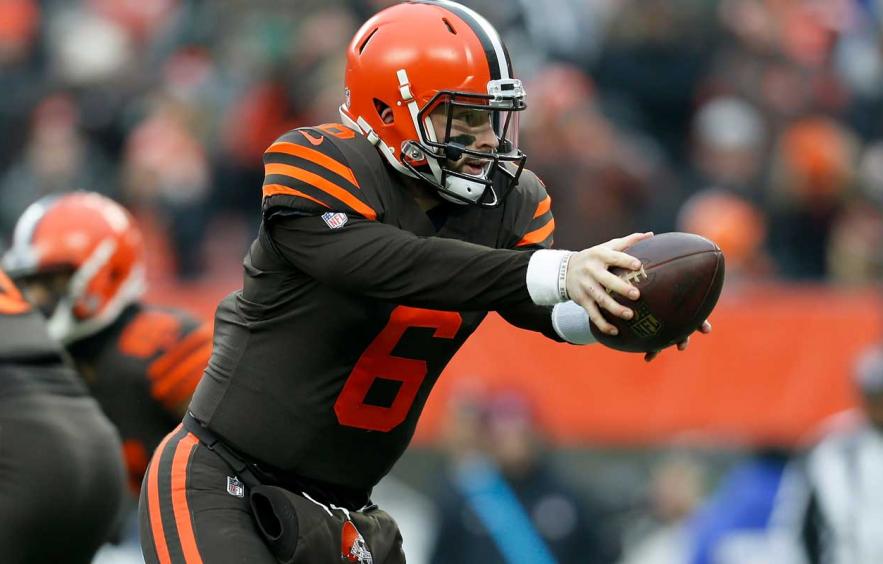 Kirk Irwin/Getty Images
This article was written by TeamRankings
This week we need to start with an important note: Now that we're entering the final stretch of the 2019 season, this will be our final weekly NFL pick'em article for 4for4. We hope you have enjoyed reading about our data-driven pick'em contest strategies.
If you'd like to get our recommended picks for your pool for the rest of the season, along with weekly writeups and access to data like public picking trends, we invite you to subscribe to our Football Pick'em Picks product. For a limited time, we're offering exclusive mid-season discounts for 4for4 readers.
With that, back to our regularly scheduled program...
Last week, the top two games we highlighted both paid off. The Steelers beat the Colts at home in a game they were a slight favorite in but were only being picked 24% of the time. The Chargers also handled the Packers in a game only 7% of the public picked. Overall, our five selected games went 3-2, with Cleveland and Jacksonville losing, and Oakland beating Detroit. Since most of those picks were extremely unpopular, the public only got 1.8 games right on average out of that group of five games, so three wins was a very positive result compared to the average pool entrant in Week 9.
Let's take a look at where the value lies in NFL Week 10 picks for pick'em contests and office pools. Just keep in mind that for our full pick recommendations, customized for your pool and using all the latest win odds and pick popularity data, check out our Football Pick'em Picks product.
Week 10 Value Picks For NFL Pick'em Contests
Below are five teams that float to the top of the value board for 2019 NFL Week 10. As a reminder, we are primarily looking at two factors here: a team's chance of winning, and how popular it is nationally as a pick.
This week's highlighted games feature two modest favorites coming at relative value, two underdogs in near-toss-up situations and unpopular, and one underdog with a realistic chance of winning, where very few entries are picking them.
Keep in mind we are not blindly recommending you make all of the picks below—the upset picks especially. Factors like your specific pool's size, rules and prize structure all impact how risky versus conservative you should be overall with your Week 10 picks. You should certainly think twice about picking against the favorites listed below because much better upset opportunities lie elsewhere.
(Note: Win odds and estimated national pick popularity data below may change between publication time and kickoff time. If you want to see the latest numbers, our product updates multiple times per day.)
No. 1: Cleveland
Browns

(vs. Buffalo

Bills

)

Win Odds: 57% (10th of 26 in Week 10)

Pick Popularity: 24% (19th of 26 in Week 10)

Cleveland certainly feels like a disaster at 2-6 and the Bills feel like a much safer pick at 6-2. But what if I told you that the difference between these teams is mostly schedule-driven?

Buffalo has five wins over the bottom five teams in our predictive power ratings, by an average of 8.8 points. Cleveland has played only one of those teams, beating the Jets by 20. Cleveland, meanwhile, has played four games against the top six teams in our power ratings (going 1-3) and also played Seattle, while the Bills have played only two teams in the top half of our power ratings, losing to both New England and Philadelphia at home.

That's why our ratings actually have the seemingly dysfunctional Browns slightly higher than the Bills (No. 21 versus No. 24), and why Cleveland, playing at home, is the 2.5-point favorite. The public, though, sees 6-2 versus 2-6 and take the Bills 76% of the time—a rate higher than a lot of teams that actually are the favorite, including the only undefeated team in the NFL. That means you can get the favored Browns in a great spot, where less than a quarter of the public is picking them.
No. 2: New York
Jets

(vs. New York

Giants

)

Win Odds: 45% (15th of 26 in Week 10)

Pick Popularity: 21% (20th of 26 in Week 10)

Sure, the Jets look like an embarrassment after losing to the Dolphins last week, but it's not like the Giants have been world-beaters. Our predictive power ratings have the Giants at -7.4 points and the Jets at -8.9 points, so the Giants should be the slight favorite in their shared stadium.

And the Giants are a slight favorite, at 2.5 points, with a 55% chance of victory. The public, though, is far more down on the Jets and is picking the Giants to win 75% of the time. That makes the Jets a decent value gamble in weekly contests in this battle of New York.
No. 3: San Francisco
49ers

(vs. Seattle

Seahawks

)

Win Odds: 72% (4th of 26 in Week 10)

Pick Popularity: 64% (10th of 26 in Week 10)

It's kind of surprising you can still get the NFL's only remaining undefeated team at value, but maybe the public has not fully bought in yet. San Francisco is a 6-point favorite over Seattle at home on Monday Night, with win odds of 72%. The public does love the plucky Seahawks, who are 7-2 overall and have the current leader for the MVP race in Russell Wilson. The 49ers are being picked 64% of the time here, but that is below their actual win odds. Nine other favorites have a higher pick popularity than San Francisco, even though they have the fourth-highest win odds.

While Seattle has won close games (6-1 in one-score games), the 49ers have dominated. The 49ers have played only three home games so far. They've won those games by an average of 23.3 points, and the value here is just taking the league's only undefeated team, at home where they have been dominant, while over one-third of pool entries are picking the upset.
No. 4: Tennessee
Titans

(vs. Kansas City

Chiefs

)

Win Odds: 35% (21st of 26 in Week 10)

Pick Popularity: 6% (23rd of 26 in Week 10)

Will Patrick Mahomes play or won't he? We still do not know, but the oddsmakers have released lines that put the Chiefs as a moderate 4-point favorite on the road. Even if Mahomes starts, that spread is not out of line with what you should expect. Our power ratings have the Chiefs at 6.1 points better on a neutral field, and this game is in Tennessee.

The public, meanwhile, is picking the Chiefs at an extremely high rate (94%). That would be a high rate to pick them on the road if we knew Mahomes was 100% healthy. It's slightly behind the three teams that are currently favored by double digits this week (New Orleans, Indianapolis and Baltimore).

Taking the Titans isn't the smartest play in all pool formats, but they are an attractive choice in large weekly pool contests where you have to take some chances to take down a prize. With only 6% of the public picking the Titans, but their win odds nearly six times that amount, you are getting some good "pot odds" in a large pool.
No. 5: Chicago
Bears

(vs. Detroit

Lions

)

Win Odds: 55% (11th of 26 in Week 10)

Pick Popularity: 50% (14th of 26 in Week 10)

This one is the battle of the completely resistible force against the entirely moveable object. The Bears have really struggled on offense, and if you were watching on Sunday, it was hard to miss criticism of just how poorly they look with Mitch Trubisky at quarterback. Here's a dirty little secret, though: Detroit's defense is not very good and has been squandering a great year from Matthew Stafford. Detroit is 31st in yards allowed.

Chicago is actually the higher rated team in our power ratings, (No. 15, at +0.9, versus No. 22 for Detroit at -1.5) and have the better point differential. Also, the game is in Chicago. Our models have the win odds at 55% for Chicago, while the public is treating it as a toss-up, taking the Bears just under half the time, so you can get the favorite here at a moderately good value.
Which Of These NFL Week 10 Picks Should You Make?
Once you know the best value opportunities of Week 10, you can often increase your odds to win your NFL pick'em pool by making some educated gambles on them.
Perhaps you bump up the number of confidence points you assign to a pick like Cleveland, or go with Jacksonville or the Chargers in an upset. But there are a lot of potential decisions to make, and not all of them will make sense for your specific pool.
We built technology to do all the number-crunching needed to make the smartest decisions. Our Football Pick'em Picks product recommends the best weekly picks for your pool based on all the strategic factors that matter, like your pool's size, rules and prize structure. You answer a few questions about your pool, and it recommends the Week 10 picks that maximize your edge.
If you have enjoyed our analysis and would like the pick'em pool tools in your corner for the rest of the season, please check out our exclusive discount offers to 4for4 readers. But whether you subscribe or not, thank you very much for reading this season. Best of luck (and skill) the rest of the way!
---
Picks & Tools From TeamRankings: Football Pick'em Picks | NFL Survivor Picks | Betting Picks