Tyler Lockett is Still Undervalued in 2019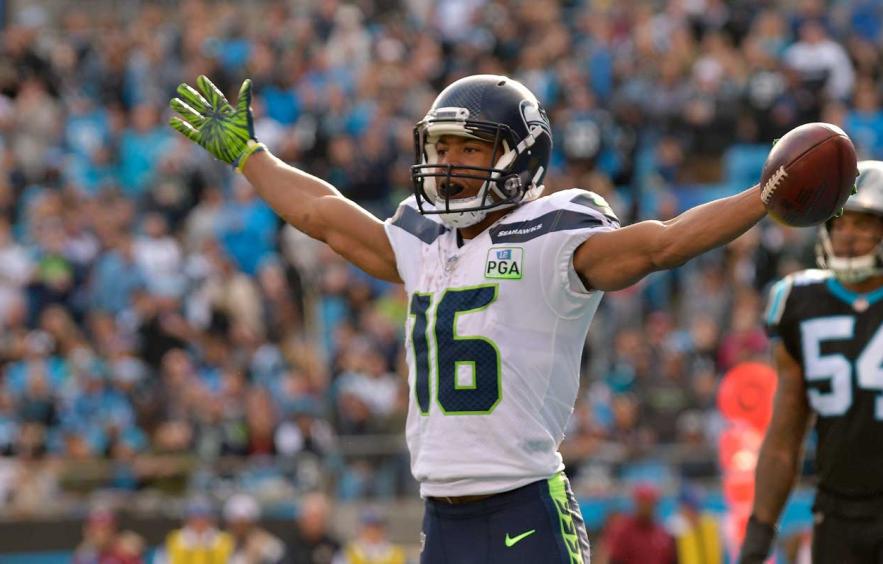 Grant Halverson/Getty Images
For those of us who had been pounding the table for Tyler Lockett for three years, our stubbornness finally paid off in 2018.
Lockett ended as WR17 in total PPR points, posting 965 receiving yards on 57 catches, with 10 trips to the end zone. He checked in with double-digit PPR points in 15 of 17 games in 2018, with an average of 13.8 per contest. The 26-year-old didn't drop one ball the entire season and his QB Russell Wilson had a perfect passer rating when targeting Lockett. According to NFL Football Operations, going back to 2002, no other WR had ever posted a perfect passer rating while being targeted more than 15 times—Lockett saw 70 balls last year.
All of this success was accomplished in the NFL's most run-heavy offense, as the Seahawks topped the league in rush attempts with 534, to only 427 pass attempts. What does all this mean for Lockett in 2019? Let's take a look.
Lockett's Chart-Melting Efficiency
Last season, his 81.4% catch rate was third among qualifying wideouts, behind only Michael Thomas and Ryan Switzer. The fourth-year WR averaged an impressive 13.79 yards per target last season, which was the highest for any pass-catcher with at least 65 targets in a season dating back to 1992, according to Pro Football Reference.
When looking at the 10 highest fantasy scorers among WRs in 2018, Tyreek Hill had the most PPR points per target with 2.39. Lockett blew that away with a whopping 3.10, over one point more per target than Deandre Hopkins, Julio Jones, Davante Adams, Antonio Brown, and well, you get the point.
Lockett's 71 targets last season only accounted for 18.57% of Seattle's balls and with that kind of success rate, his volume should be pumped up in 2019, even taking the Seahawks low-volume pass offense into consideration.
Doug Baldwin

is Trending Down

Once the pillar of consistency in the NFL, playing in all 16 games in six of seven seasons, Baldwin was on the injury report for most of last season and was sidelined for three contests due to various injuries. After undergoing two surgeries this offseason to repair both his shoulder and knee, the 30-year-old hit the operating table one more time to address a sports hernia earlier this month.

While the plan may be for Baldwin to resume duties as the WR1 in Seattle's offense, his durability is certainly a concern and it would seem entirely plausible for Lockett to emerge as the go-to guy for Wilson this season. Despite playing three fewer games than Lockett, Baldwin was the Seahawks' target leader with 73, but posted 78.6 fewer PPR points over the course of the season than his teammate. Another negative inclination for Baldwin is that his PPR points per game have dipped from his peak of 16.8 in 2015 to 13.7 last season, while Lockett's jumped from 9.7 to 13.7 in that same timeframe.

Lockett's ability to win out in both man and zone coverage makes him the perfect target for Wilson moving forward. I'm not saying to dismiss Baldwin completely, but 2019 is the time for Lockett to shine in Seattle's passing game.

*Update: Doug Baldwin was released by the Seahawks on May 9th after failing a physical.
Drafters are Scared of Brian Schottenheimer
I admittedly stayed away from Baldwin last year due to their OC, but did draft my fair share of Lockett because I've been a fan from the start. Sure, we've all made fun of the coaching staff's desire to establish the run, and yes it may have cost the Seahawks a playoff game. However, Pete Carroll has to have learned from their experiment in 2018, and paying Russell Wilson the most of any player in the league surely means he's prepared to use him properly in 2019, right? Let's hope so.
Wilson and Lockett obviously have crazy chemistry and building on that perfect passer rating should be a priority to ensure this duo's success for the future. Seattle will probably still be a run-heavy team in 2019, but the chance for more balance exists until we see differently. The volume should be there for Lockett this season and if he stays healthy, the fifth-year wideout could crack the top 10 in fantasy WRs, all for a pretty sweet price tag.
With an ADP in the mid-sixth round, Lockett is currently the 69th player coming off draft boards in 12-team, PPR leagues. He's the 28th WR being selected, and considering his WR17 finish last season, could present some really solid value come draft day.