Marvin Jones: The Most Valuable Detroit Lions Receiver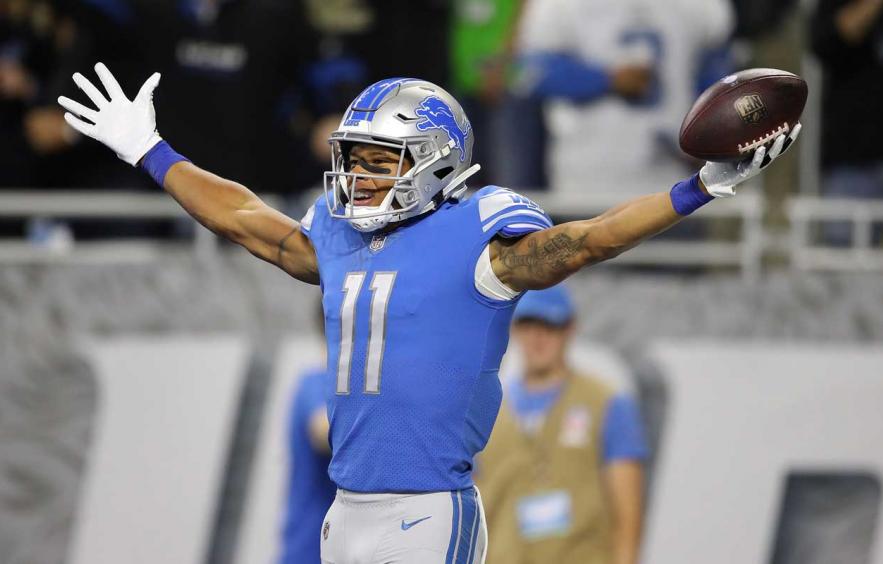 Gregory Shamus/Getty Images
We all want the next big thing.
Take the iPhone. Apple has launched more models of the popular phone than I can count and despite not having an insane amount of differences, seemingly everyone upgrades once the new one comes out. For instance, if you just purchased the iPhone 7 a few months ago but the iPhone 8 is set to launch, you are likely to pay the premium to get the newer, more exciting model.
Fantasy football is pretty similar. There are veteran players who get the job done but aren't as exciting (the iPhone 7) and the younger, newer guys (the iPhone 8). One of the best examples of this resides in Detroit's wide receiver group. Heading into the 2019 season, Kenny Golladay is the new iPhone. He's young, he's exciting and he's new. Marvin Jones, meanwhile, is the older model. He still gets the job done, is a little beat up but still holds value. As a result, Golladay is being drafted much, much higher than Jones, which has me wondering if the latter is just simply the much better value in fantasy football.
Who is
Matthew Stafford

's Guy?

Entering the 2019 season, the majority of people believe that Golladay is now the unquestioned number one receiver in Detroit. And while that may be the case at the end of the season, I'm not so sure that we have to go into the year believing that. He averaged nearly seven targets per game last year but in the first game after Golden Tate was traded, Jones saw eight targets, while seeing seven in the following week before suffering his season-ending knee injury. Golladay, meanwhile, only saw four targets in that first game but, of course, was a target hog the rest of the way, as the Lions had no one left at wide receiver. Jones has seen a solid 19% target share over the past two seasons, despite splitting plenty of work with Tate and then Golladay last year. Even in Matt Patricia's run-first scheme, the 29-year old Jones has the opportunity to be the number-one receiver in an offense for the first time in his career.

There is also some serious touchdown equity surrounding Jones, despite being in an offense that continues to transition into more of a run-oriented one. He scored nine touchdowns in 2017 and found the end zone five times before suffering the knee injury in Week 10. Prior to going down, Jones was also 27th among all wideouts in fantasy points and was on pace for over 900 yards and nine scores. Keep in mind that the majority of his 2018 production came with Tate on the field and while the Lions did bring in Danny Amendola, he won't command the same target share that Tate did during his Detroit tenure.

Why has Jones made plenty of trips to the end zone over the last two seasons? Well, because quarterback Matthew Stafford relies on him there. In 2018, no player in all of football posted a higher end zone target share than Jones (54.2%) when active. And in 2017, that number was at 42.9%, good for the fourth-highest number in the league. Also consider that Jones saw one more end zone target than Golladay in 2018, despite missing seven games. Stafford and Marv have developed quite a rapport when the Lions get in close and while we can rattle off advanced numbers forever, there is also a certain trust that comes between quarterback and wide receiver.
Big Play Ability
Don't get me wrong. Jones is not going to be an alpha and see 150 targets. Heck, he won't even reach 120, most likely. However, his targets are high-upside ones that are very valuable for fantasy purposes. In 2017, Jones averaged 10.3 yards per target, fifth-highest among wide receivers. That number dropped to 8.2 last year but we still have a full season of Jones ranking among the league's best in yards per target. Jones is also averaging a very healthy 16.5 yards per reception during his three seasons with the Lions.
Because so many of his targets come deep down the field or in the end zone. Jones is averaging nearly two fantasy points per target over the last two seasons, a rather healthy number. Jones has also finished inside the top-15 among qualified receivers in average depth of target in each of his three seasons with the Lions. Stafford, meanwhile, completed 42% of his deep passes a season ago (passes traveling 15 yards or more), which was good for the fifth-best mark among all signal callers. As a result, Jones has solid yardage upside, despite not being the most targeted wideout in football. In his 40 games with Detroit, Jones has recorded at least 50 receiving yards 27 times (68%).
New offensive coordinator Darrell Bevell is obviously known for pounding the rock in Seattle and that will continue in Detroit. However, he loves using that running game to set up play-action and take shots down the field. Earlier in the offseason, Bevell hinted towards his passing philosophy, saying "When we throw the ball, we want to be able to throw it down the field and get big plays." During Bevell's seven seasons as the offensive coordinator in Seattle, the Seahawks ranked inside the top-10 in yards per completion six different times. Look for Detroit to get running back Kerryon Johnson going and then take some deep shots down the field with Jones, who has been an above-average deep threat since joining the Lions.
Value
There is no denying that Golladay is the more explosive and (arguably) more talented player of the two. I get it. But because 99% of the public believes that, his draft-day price tag will be much, much higher than Jones's.
At the moment, Golladay is coming off the board at the end of the fourth round as the WR18. That isn't an egregiously high price tag or anything but when you consider that Jones is being drafted nearly four whole rounds later as the WR35, you begin to question whether Golladay is the smarter investment. I really don't see their numbers being that far apart, while Jones has to be the favorite to lead the team in touchdown receptions. Even if you believe that Golladay is the number one in this offense, it is highly unlikely that his target total is exponentially higher than Jones's at the end of the year. The discrepancy in ADP is too large and Jones is a value at WR35 when you consider that he's served as a WR2 in fantasy when on the field over the last two seasons.
It may seem more fun to get the shiny new iPhone but you will get more bang for your buck with the older version in 2019.