3 Reasons Calvin Ridley Will Beat Expectations in 2019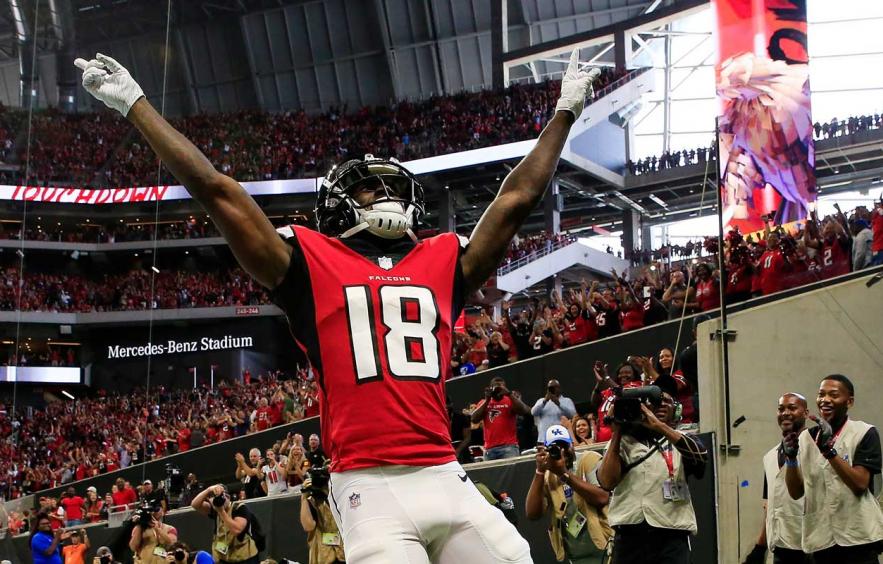 Daniel Shirey/Getty Images
Last year, Calvin Ridley finished his rookie season as a top-20 wide receiver in fantasy points scored. While it would be most reasonable to expect players to improve after getting their first year of NFL experience, Ridley enters the season ranked outside of the top 24 in consensus rankings. Here's why I think the consensus is too low on Ridley.
We're Underappreciating How Well Ridley Performed in 2018
Since 2010, an average of two rookie receivers per year have finished the season with 800 or more yards. Calvin Ridley, despite not seeing any targets in Week 1, finished with 821 yards. That was more than DeAndre Hopkins (803 yards) and Jarvis Landry (758 yards) in their rookie seasons.
Ridley finished tied for fifth in touchdowns amongst all receivers, with 10. While touchdowns often regress, note that this was the result of his usage near the endzone, not flukish efficiency. Indeed, for reasons I will discuss below, we should probably expect an increase in red zone usage next year, rather than a decrease.
Ridley's efficiency, as measured by his yards per target of 9.1, was 25th amongst all receivers with at least 50 targets. That puts him ahead of JuJu Smith-Schuster and Odell Beckham.
While Ridley falls in between his two teammates in this metric, with Julio Jones at 9.9 and Mohamed Sanu at 8.9 yards per target, the fact that all three were in the top third amongst receivers in yards per target, just highlights the overall efficiency of the Falcons passing offense. We should want to own a piece of their high-powered passing game.
We're Underapprecating How Well the
Falcons

Performed in 2018

2018 was Matt Ryan's second-best season of his career, behind only his MVP season. It was his second-best in passing yards, touchdowns, passer rating, and yards per attempt.

This happened in a season where the Falcons defense, ravaged by injury, was terrible. That put the offense in situations where efficiency measures usually suffer. Yet, the Falcons put up great numbers, with Ryan averaging 8.1 yards per pass attempt.

While Ryan and the Falcons certainly took a step back in 2017, after putting up career numbers and winning the MVP in 2016, they bounced back last year. And they are set up for a great 2019.
Ridley Has a High Floor
While the overall schedule in 2019 looks difficult for the Falcons, that is primarily due to the rushing defenses they face. In fact, the Falcons have a top-10 schedule for wide receivers, according to 4for4's schedule-adjusted fantasy points allowed. Furthermore, the fact that they took two offensive linemen in the first round of the NFL draft should help on offense. On defense, they have a group that is nearly certain to be healthier, which means fewer negative game flow situations.
The Falcons offense ranks third in yards per pass attempt over the last three seasons. Ryan has now had a yards per pass attempt of at least 7.5 (above average numbers) in five straight seasons. He has passed for at least 4,000 yards in eight straight seasons.
For all of those reasons, we can safely expect the Falcons offense to put up great passing numbers in 2019.
While Ridley has to compete with Jones for targets, he has already proven himself to be a more efficient passing target than Sanu. When it gets close to the red zone, Ridley arguably moves to the very top of the pecking order. Last season, he converted an expected 0.44 touchdowns per game based on target location into 0.63 actual touchdowns. Meanwhile, Julio Jones, a receiver now somewhat infamous for his dislike of touchdowns, received over 50% of all the team's expected touchdowns, at 0.97 per game, but turned those into just 0.37 actual touchdowns per game. As a result, we should expect Ridley to see more red zone targets next year, not fewer.
As mentioned above, Ridley sits in an elite group of receivers that put up over 800 yards in their rookie seasons. Of the 17 others to have done so, only one, Justin Blackmon, would be characterized as a bust in his later seasons, and in his case, that was for off-the-field reasons. Indeed, aside from Kelvin Benjamin, Jordan Matthews, and Mike Williams (Buccaneers) who still put up solid numbers in subsequent seasons, every one of the other receivers in this group is a genuine stud.
In summary, Ridley is likely the WR2 on one of the league's best passing offenses in 2019 and potentially their top red zone target. That, along with rookie production putting him in a cohort of receivers that were dependable WR3s at worst, gives him a high floor for next season.
Where To Target Him
Ridley is a low-end WR2 with a WR3 floor. He sits at 21st in our receiver rankings (in half PPR scoring), four spots ahead of the consensus. He is currently being drafted in the early sixth round. I'd consider him a value in the late fifth.