TJ's Take: Week 16 NFL DFS Recap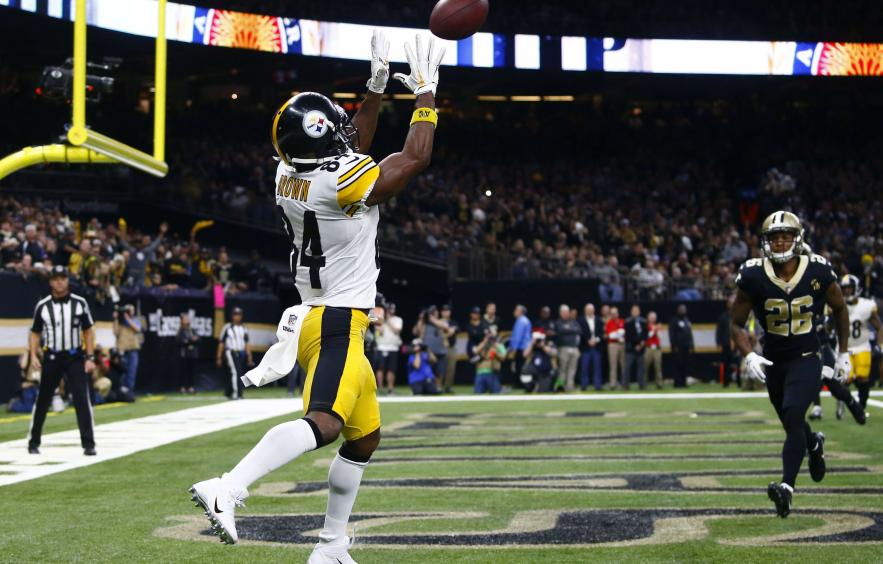 Week 16's winning lineups from the biggest contests in DFS can be used to tease out lineup-building strategies and offer clues on how you could have landed on a similar team. Reviewing your hits and misses each week is imperative if you want to be a profitable DFS player but examining winning lineups is also a useful exercise in cultivating a winning approach.
Yahoo continued the Million Dollar Baller last week, a contest that guarantees $250,000 in overlay with the chance to win $100,000. There simply isn't a better value in DFS than this tournament so for 2018's final installment of TJ's Takes, we will take one more look at how this amazing GPP was won.
Yahoo Week 16 Million Dollar Baller Winning Lineup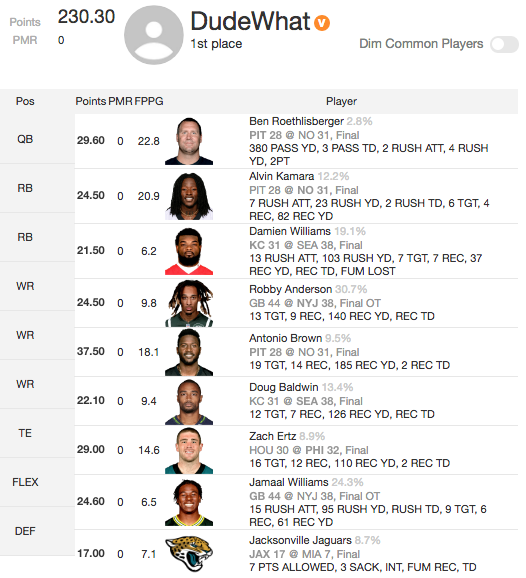 For a major DFS tournament, the Yahoo Baller has a relatively small field—there are 37,500 entries compared to 147,000 for this week's Millionaire on DraftKings and 137,000 for FanDuel's Sunday Million—which means a lineup doesn't have to be extremely contrarian to take down this GPP. The fact that it is a 10-max contest also keeps owners more conservative in their player selection, since they have limited bullets. DudeWhat was able to top the Week 16 field with four players who were owned in fewer than 10 percent of lineups and two of those were tight end and defense, positions which rarely draw huge ownership numbers.
As was the case last week, and has been the case on FanDuel all year, running backs dominate the flex position because of the scoring system—half PPR with no yardage bonuses. The Sunday night hammer is real and this week, DudeWhat caught the field by rostering opposing players form the Chiefs/Seahawks game. With the Sunday night game in play, planning for late swap to keep your winning chances alive is a layer of strategy that isn't present on the other sites.
What Were the Indicators for the Low-Owned Plays?
There were only two games on the slate with an over/under of at least 50 so it made sense to look to those spots for any potential game stacks. While the Saints were favored over the Steelers, Pittsburgh has been the most pass-heavy team in neutral game script since Week 10. In a potential shootout, getting Ben Roethlisberger at sub-five percent ownership was a great leverage play against a Saints offense that figured to be one of the most popular of the week (l). (Except for glaring differences in price, FanDuel ownership projections can be used as a proxy for Yahoo ownership.) With Big Ben priced the same as Patrick Mahomes, it was almost certain that the public would favor the Chiefs quarterback.
TJ's Final Take
Week 17 is a different animal. While some teams are still jockeying for playoff position, there are many more with nothing to play for. Some starters will play their normal run of snaps, but there are coaches who will want to see what they have deep on their roster. As important as data is for most of the season, Week 17 is akin to the preseason in terms of paying attention to news leading up to kickoff. For many games, matchups will go out the window with backups playing against each other while there may be spots where you will find ones playing against twos. Of course, there will be teams that say their starters will play a full game that suddenly change their mind mid game—the most common scenario for this is team's that start the week with a chance to improve their playoff standing only to find the team that they're chasing with a huge lead. Because of the uncertainty of the week, it's recommended to dial back action, especially in cash games.