TJ's Take: Week 9 NFL DFS Recap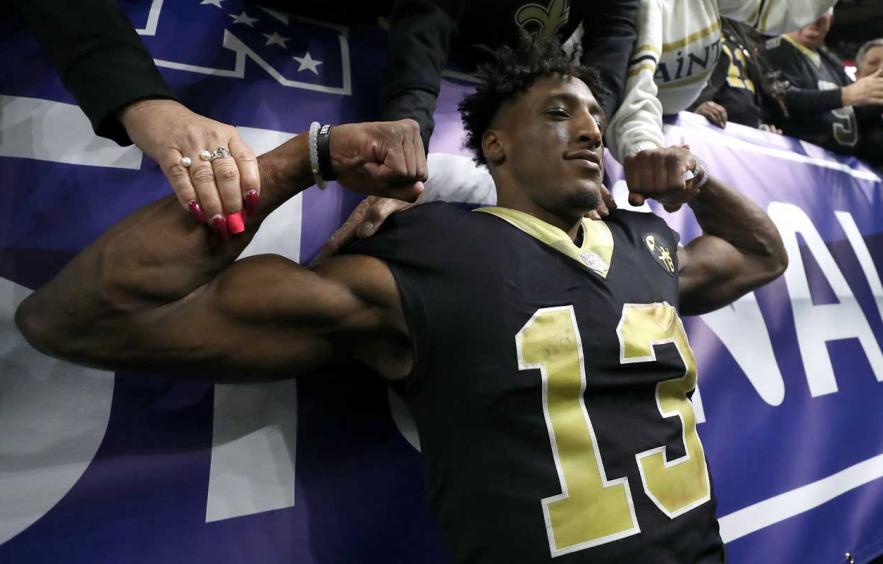 Week 9's winning lineups from the biggest contests on FanDuel and DraftKings can be used to tease out lineup-building strategies and offer clues on how you could have landed on a similar team. Reviewing your hits and misses each week is imperative if you want to be a profitable DFS player but examining winning lineups is also a useful exercise in cultivating a winning approach.
DraftKings Week 9 Millionaire Winning Lineup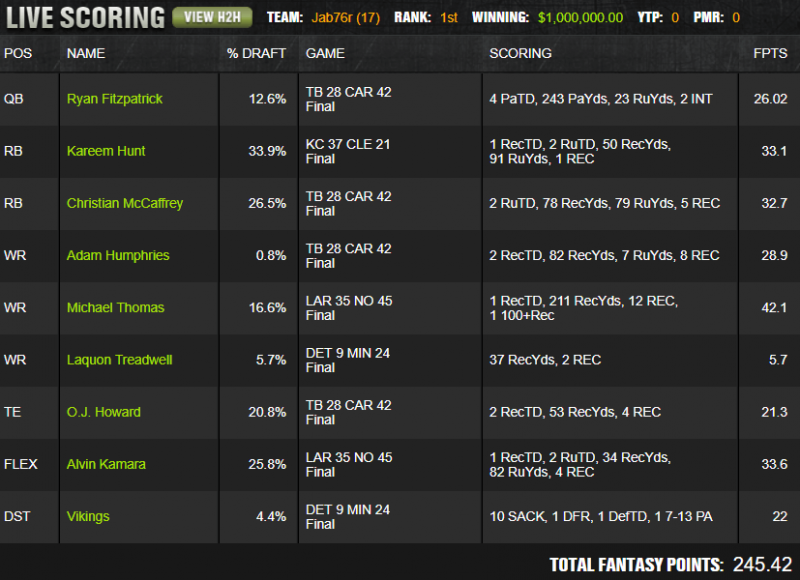 Jab76r continued the trend that was discussed in this space last week, paying up for high-owned, expensive running backs. The difference in this week's winning lineup is the use of a third top-tier back. By going with two true punt plays, Jab76r was able to overcome a dud from one of his cheap players because of the ceilings of his expensive ones. Game stacks have been much more popular in full-slate contests this year than in the past and this lineup implemented four players from the same game in addition to another pair of teammates.
What Were the Indicators for the Low-Owned Plays?
As mentioned above, Jab76r wasn't hurt by Laquon Treadwell's dud and the play made sense—with Stefon Diggs inactive, Treadwell was set to see an increase in snaps against a defense that was highlighted as one to target in the Week 9 Slate Breakdown. The salary savings alone were enough to offset the low point total.
By targeting one of the most popular games of the week to stack, a low-owned differentiator was needed and Adam Humphries provided just that. From Weeks 2–8, Humphries ranked second among Tampa Bay pass catchers in snaps and he was the only Buccaneers' receiver besides Mike Evans to play at least 80 percent of plays against the Panthers.
FanDuel Week 9 Sunday Million Winning Lineup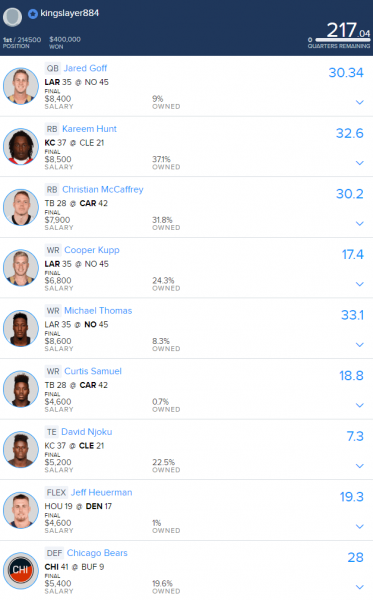 Like the winning DraftKings lineup, kingslayer884 used a pair of punt plays to pay up for five studs, including the defense, but this lineup used a tight end in the flex. This is the first time in 2018 that the winning Sunday Million lineup didn't use a third running back, but it was a much-needed differentiator with four players owned in over 20 percent of lineups and a defense that was one of the most popular of the season.
With the Panther's popularity, Curtis Samuel was a leverage play against the worst passing defense in the league. This was simply a dart throw, as Samuel hadn't played more than 40 percent of snaps in a game this year and did his damage playing just 27 percent of snaps on Sunday.
Coming into Week 9, Emmanuel Sanders was the only Broncos pass catcher playing more snaps than Jeff Heuerman. Once Demaryius Thomas was traded, Courtland Sutton became the most popular play of the week, so leveraging a different Denver pass catcher was a sharp play. Doing it with their tight end in the flex takes some truly out-of-the-box thinking.
TJ's Final Take
By this point in the season, the league looks very different than it did in Week 1, be it from injuries, shuffling of depth charts, or coaching changes. For that reason, it can sometimes be dangerous to rely on season-long data as the basis for our research. A window of 4–6 weeks is often sufficient to gauge a team's efficiency on either side of the ball while also keeping relevant team changes in context. Weighted against full-season data, we can get a more accurate representation of a team's strengths and weaknesses than our opponent's, that solely rely on readily available statistics. For that reason, much of my analysis moving forward will focus on relevant windows, whatever that may be for specific situations, rather than looking simply at stats from the entire season. Not coincidentally, this is the last week that we at 4for4 stop using early-season data in our most predictable metric, schedule-adjusted fantasy points allowed, for which we use a rolling 10-week window.
Photo by Chris Graythen/Getty Images.