IDP Waiver Wire: Week 1 Pickups and Matchup Plays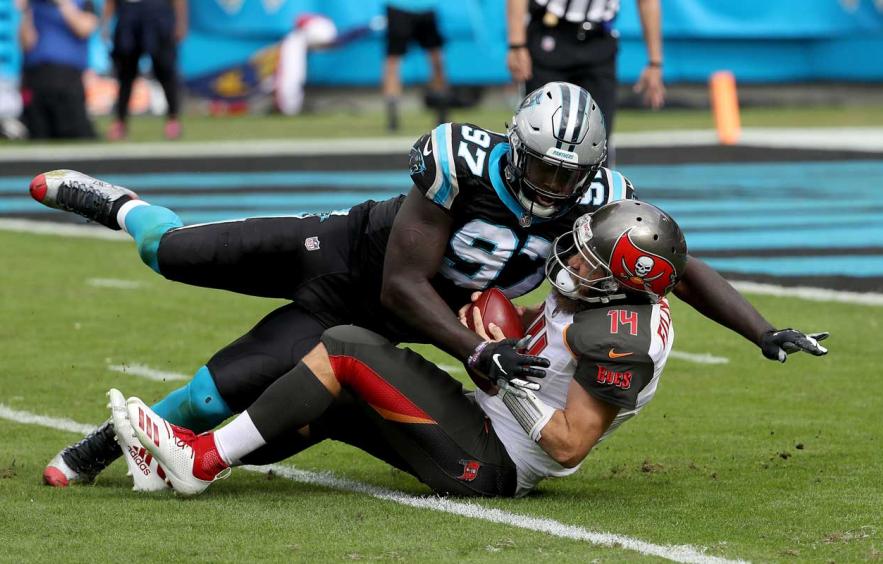 Week 1 of the NFL season is upon us. Roster cut downs are finished and we are ready to play some real football. It was a quiet preseason as the injury bug didn't hit too hard, but there were some position battles to keep a close eye on. Hopefully, you don't need to make too many roster moves heading into the first week, but here are some guys to keep an eye on. You can also reference my IDP Risers and Fallers article to get more names.
IDP Waiver Wire
Defensive Back
Vonn Bell, SS, New Orleans
Saints
Bell is going to fly under the radar as a top-15 DB this season. Bell produced a nice mix of tackles and big plays in 2017—83 tackles/4.5 sacks/2 INTs. In 2018, with Kenny Vacarro out of town, Bell is lining up at SS so his tackles could see an increase. He generated a 10.6 percent tackle rate in 2017, so if he can reach that 850 snap mark, he has the upside to hit the 90-tackle mark.
Erik Harris, SS, Oakland
Raiders
The Raiders defense is in flux. It appears they are going to bench Karl Joseph and they just traded away an elite pass rusher. Harris is in line for the starter snaps at strong safety, so it gives him streamer appeal this week.
Justin Evans, SS, Tampa Bay
Buccaneers
Evans established himself as a three-down player after Week 3 and an injury caused him to miss three games. He produced a 3:1 solo-to-assist ratio and notched 65 tackles over 716 defensive snaps. He'll be worth grabbing to see how Tampa uses him in the defense, as I think he's a much better player than Chris Conte.
Defensive Line
Mario Addison, DE, Carolina
Panthers
Don't let Addison sit on your waiver wire. If he's available, scoop him as a dependable DE2. He had six games of double-digit fantasy points and finished the 2017 season with sacks in six-straight games. Over his last two season, he's been extremly efficient with his pass rush snaps, generating a 14.7 perecnt pressure rate and producing 20.5 sacks.
Carl Lawson, DE, Cincinnati
Bengals
In some league formats, Lawson could be an LB, however, he's been converted to DE and should get the DE/DL designation soon, which would be a nice boost to his IDP value. His tackle numbers were abysmal, but it's tough to overlook his big-play potential. He'll see a boost in usage, and hopefully, tackle opportunities. Lawson had an outstanding preseason where he generated a 17.7 percent pressure rate and tallied 3.5 sacks (2.5 against Buffalo). Pick him as an LB and sneer at your leaguemates after the position-eligibility switch.
Bruce Irvin, DE, Oakland
Raiders
Irvin will have to carry the defensive load now that Khalil Mack has been moved to Chicago. Irvin should have DL/DE designation this season. Over the last two seasons, Irvin has produced an 11 percent pressure rate and converted 15 of those pressures into sacks. His burden is heavy in Oakland, but he should be owned in most league formats and is worth carrying as your DE3.
Markus Golden, DE, Arizona
Cardinals
Recently activated off PUP, Golden should be a full-go for Week 1. Golden is coming off an ACL tear that cost him most of the 2017 season but he had an incredible rookie year in 2016, registering 12.5 sacks and an 11.6 percent pressure rate. He's now made the switch from edge to hand-in-the-dirt DE, opposite Chandler Jones—there's a lot to like about Golden's game this season.
Update 09/09/18: He's out this week, but is still worth the pickup and stash.
Linebacker
Antonio Morrison, ILB, Green Bay
Packers
Morrison was acquired a few weeks ago and now looks to be in line to start and receive the majority of snaps alongside Blake Martinez in Week 1. Oren Burks was cementing himself into that role until a shoulder injury cracked the foundation. Morrison had a quiet preseason but turned in the quietest 100-tackle campaign of the 2017 season. He is capable of handling a high usage workload as he appeared in 811 defensive snaps. He'll be worth looking at as a deeper league Week 1 streamer.
Fred Warner, ILB, San Francisco
49ers
I touch on Warner more in the matchups section, but with Reuben Foster out for the next few games, Warner is in line for the start and will be on the field for the majority of snaps in Week 1.
Patrick Onwuasor, ILB, Baltimore
Ravens
An injury to Kenny Young may have opened the door for Onwausor to start Week 1 opposite CJ Mosley. If the injury is serious, it could keep Young on the shelf and Onwuasor on the field. He did have a solid second season and produced an efficient tackle rate of 13.6 percent on 647 snaps.
Shaquem Griffin, OLB, Seattle
Seahawks
If you're a KJ Wright owner, you might want to pick his handcuff up for Week 1—you could do a lot worse on your waiver depending who's available. Griffin was impressive in his preseason snaps as he generated a 16.6 percent tackle rate over 145 preseason snaps. I really like the matchup for the Seahawks here and Griffin is shaping up to be a solid LB3 in tackle-heavy formats.
Now that the waiver wire is out of the way, here are some favorable matchups I'm looking at for Week 1. If you have specific matchup questions, feel free to tweet at me. You can always refer to my ranks for start/sit tie-breakers.
---
IDP Matchup Plays Week 1
Defensive Line
Stephon Tuitt, DE, Pittsburgh
Steelers

vs. Chris Hubbard, Cleveland

Browns

Tuitt is one of the more under-rated ends in the league and should have a favorable matchup with the right side of Cleveland's line. They are still figuring things out and it looks like Tuitt will be matched up over his former teammate, Chris Hubbard, who was average in pass protection last season, allowing 32 total pressures at right tackle. Over 349 rush snaps, Tuitt was able to generate a near 12 percent pressure rate. I'm hoping to see more pressures converted to sacks in 2018.
Carlos Dunlap, DE, Cincinnati
Bengals

vs. Joe Haeg, Indianapolis

Colts

Dunlap is fresh off a huge extension, and it's well deserved, as he's been a beast edge rusher. Haeg struggled in pass protection in 2017. Over 595 pass block snaps, he was responsible for giving up 47 total pressures and 6 sacks. He could have his hands full with Dunlap. Dunlap has registered 15.5 sacks over the last two seasons while generating a 12.7 percent pressure rate. Dial Dunalp up as a DE1 this week.
Trey Flowers, DE, New England
Patriots

vs. Seantreal Henderson, Houston

Texans

Henderson has struggled with injuries over the last few seasons and looks to be the right tackle and has the unenvious task of trying to contain Trey Flowers. Henderson appeared in only a handful of snaps, but when he did play, he was below average in pass protection. In his last full season, 2014, he allowed 46 total pressures and 6 sacks over 663 pass blocking snaps. Flowers is adjusting to playing on the left side, so it's beneficial that he has a favorable matchup. Flowers led the Patriots in QB pressures and generated a 12.6 percent pressure, converting 6.5 to sacks.
Calais Campbell, DE, Jacksonville
Jaguars

vs. Ereck Flowers, New York

Giants

The Jaguars pass rush is going to be an issue for opposing offensive lines and Flowers has some rough sledding against Campbell. Over 600 pass block snaps last season, Flowers was responsible for six sacks and allowed 41 total QB pressures. Campbell enjoyed a career-year playing alongside Yannick Ngakouwe, generating a 14.3 percent pressure rate while converting 14.5 sacks. When Campbell kicks inside on nickel snaps, he should line up over Jon Halapio, who is converting to center from guard.
Akiem Hicks, DE, Chicago
Bears

vs. Justin McCay, Green Bay

Packers

The acquisition of Khalil Mack has really opened things up for Chicago's defense. Luckily for Hicks, Mack should line up on his side of the defense, meaning Bryan Bulaga will focus on containing Mack, while Justin McCay tries to hold off Hicks. McCay was responsible for five sacks and gave up an eight percent pressure rate. I like Hicks as a DL2 this week.
Linebacker
Zach Cunningham, ILB, Houston
Texans

vs. New England

Patriots

This game is going to be a shoot-out but the Patriots still represent a favorable matchup for Cunnigham, mainly because of potential game script. Last season, the Patriots allowed the 2nd most tackle opportunities, while yielding an average of 9 solo tackles per game (13 total) to opposing 3-4 ILBs. Cunningham is an up and comer and I like him as an LB2 for Week 1.
Alec Ogletree, ILB, New York
Giants

vs. Jacksonville

Jaguars

Ogletree carries LB1 upside this week in a game where the Jaguars are 3.5-point favorites on the road. The Jaguars will be a favorable matchup for linebackers because of their run game. Last season, the Jags averaged nearly 33 attempts per game and allowed the 3rd most tackle opportunities to opposing defenses. Ogletree produced a 10.3 percent tackle rate in 2017 and is really one of the few defenders on the Giants who'll have tackle opportunities outside of the corners. Jacksonville's offense yielded 13 total tackles per game to opposing ILB.
Tremaine Edmunds, MLB, Buffalo
Bills

vs. Baltimore

Ravens

I'm fully on board with starting the rookie in his first game. The Bills are road underdogs, so the game script favors the Ravens and the run game in this one. Edmunds is positioned in a friendly spot in the middle of Buffalo's defense and is going to find himself with plenty of solo tackle opportunities, especially if the Ravens decide to run in his direction. The Ravens allowed 10 solo tackles per game to opposing 4-3 MLB and yielded the 5th-most tackle opportunities. I've got Edmunds as an LB1 this week.
Anthony Hitchens, ILB, Kansas City
Chiefs

vs. Los Angeles

Chargers

Hitchens is another LB who finds himself in an IDP advantageous position with the Chiefs. Kansas City is a bad defense and Hitchens is one of the few defenders capable of making plays at the second level. Melvin Gordon has a high usage rate and the Chargers are a home favorite, so Gordon should see plenty of touches in this one. In 2017, Hitchens was a high-efficiency tackler, producing a 15.4 percent tackle rate on just 545 snaps. He enters the season as KC's signal caller, so he'll be in a three-down role. He's oozing with IDP upside this week and beyond.
Fred Warner, ILB, San Francisco 49'ers vs. Minnesota
Vikings
Keep Warner on your radar for Week 1. Reuben Foster is slated to miss the first two games of the season and Warner finds himself with a favorable matchup against the Vikings. The Vikes are a 5.5-point home favorite and with Dalvin Cook and Latavius Murray, there will be plenty of tackle opportunities for Warner. He appeared in 68 defensive snaps and produced a 14.7 percent tackle rate, resulting in 10 total tackles. Last season, the Vikings allowed the most tackle opportunities per game, while yielding nearly 15 total tackles per game to opposing ILBs.
Defensive Backs
Jacquiski Tartt, SS, San Francisco
49ers

vs. Minnesota

Vikings

Like Warner, Tartt finds himself in a favorable situation as SF's box safety. Tartt should be challenged to tackle Cook and cover Kyle Rudolph, so he should find himself with plenty of tackle opportunities. Tartt appeared in 9 games last season and produced a 9.1 percent tackle rate over 595 snaps. In 2017, the Vikings yielded 9 solo tackles/gm to opposing SS.
Bradley McDougald, SS, Seattle
Seahawks

vs. Denver

Broncos

Kam Chancellor retiring created the path to a full-time role for McDougald in 2018. McDougald was a part-time player in 2017, appearing in 675 snaps. He was a high-efficiency tackler, generating an 11.1 percent tackle rate. He has experience playing a full complement of snaps, appearing in over 1,000 snaps for the Buccaneers in 2016. It's expected that KJ Wright will miss Week 1, so McDougald should end up playing near the LOS for the majority of the game. The Broncos allowed the 4th-most tackle opportunities per game and 11 total tackles/gm to opposing safeties last season. don't have an issue firing up McDougald as a DB2 this week.
Marshon Lattimore, CB, New Orleans
Saints

vs. Tampa Bay

Buccaneers

Lattimore should see targets in a projected shadow against Mike Evans while the Bucs are starting Ryan Fitzpatrick. Lattimore was thrown at 68 times latst year, producing an INT every 13.6 targets. I could see Fitzpatrick targeting Evans at least 10 times, giving Lattimore plenty of upside for tackles and a few INT opportunities.
Budda Baker, SS, Arizona
Cardinals

vs. Washington Redskins

You can dial up Baker as a DB1 this week. Baker appeared in 71 preseason snaps and produced 9 tackles, resulting in a 12.7 percent tackle rate. The Redskins have a few targets Baker can focus on—Jordan Reed, Chris Thompson and Jamison Crowder. Baker was a liability in coverage, so the Redskins should be able to take advantage, allowing plenty of tackle opportunities. The Redskins allowed 10 solo tackles/gm to the S position in 2017.
Kentrell Brice, SS, Green Bay
Packers

vs. Chicago

Bears

Brice appears to have won the starting SS job in Green Bay, much to the chagrin of Josh Jones truthers (myself included). He'll get first crack at the snaps in Week 1 against the Bears. He played the majority of the snaps with the starters in the preseason (75) and with Oren Burks trending to miss the first week, Brice should see tackle opportunities against Jordan Howard and the Bears. The Packers are 7.5-point favorites, however, I think the game stays closer than that. Chicago allowed 10 solo tackles/gm, so Brice has DB2 upside this week.

Photo by Streeter/Lecka/Getty Images.