Raybon's Review: What We Learned From Week 4 DFS on FanDuel & DraftKings Analyzing the prior week's results is one of the most valuable investments of your time as a DFS player. In this space, I will deconstruct the winning lineups from FanDuel and DraftKings' biggest GPPs. I will also list general DFS takeaways from the past week.
DraftKings
Winning Week 4 Millionaire Maker Lineup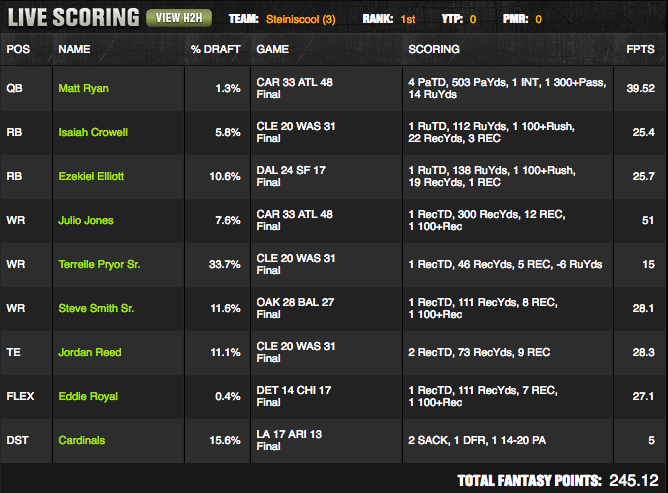 What a lineup.
We'll start off at QB, where rostering Matt Ryan at 1.3% supports my research that QB is the best position to go contrarian due to the plethora of options each week that will see a large workload.
Of course, he may have landed on Ryan due to rostering Julio Jones as his WR1 over more popular options such as Antonio Brown and DeAndre Hopkins. Julio was a great game theory play, surely to be low owned coming off an extremely poor game in a tough matchup, and going against what was perceived to be a tough matchup against Carolina. The Carolina matchup was probably overrated, as Carolina had faced only Trevor Siemian, Blaine Gabbert, and Sam Bradford to date, and obviously no WR of Julio's caliber. One of the reasons why we wait a few weeks before using aFPA is because early in the season, even schedule-adjusted metrics will contain a lot of noise in the first few weeks. aFPA was able to recognize Carolina was a middling QB matchup (14th), but failed to account for Carolina's potential weakness against a top-tier WR like Jones, as they were ranked third in WR aFPA after holding down a previously scorching Stefon Diggs to a 4-40 line in Week 3.
In general, I believe that as forecasters, we are solid at narrowing down to a pool of players who may potentially have a big game, but we are not as adept as predicting which of those players in our narrowed down pool will actually have the biggest game. Therefore, it makes sense to leverage ownership and increase your exposure to the lesser owned players in these scenarios, which could have gotten you off of someone like Brown and onto Jones.
I loved Isaiah Crowell as a leverage pivot off of Terrelle Pryor, but admittedly didn't combine the two. However, in hindsight it makes some sense, as you were getting a large chunk of the Browns' offensive production against what was a pretty suspect defense. (In this case, aFPA had it right, pegging the Redskins 31st against offenses as a whole.) This lineup also astutely combined the Crowell-Pryor stack with Jordan Reed; game stacks are something I still see too few DFS players employing.
Ezekiel Elliott was a nice play given his volume and the extra play volume he was likely to see playing the 49ers, who ranked first in situation-neutral pace coming into the game. Steve Smith had been seeing an uptick in targets, and finally broke off a long play after the catch to exceed value.
Eddie Royal was an interesting choice. The only way I could see arriving at Royal is thinking that many DFS players would be targeting Jordan Howard, Zach Miller, and to a lesser extent, Kevin White, so Royal would make a good leverage play. Beyond that, Royal seems to be of the dart-throw variety, averaging only five targets per game coming in. Despite Royal's 7-111-1 line, he actually played a season-low in snaps (52%). (For more on why dart throws usually do not make for good GPP plays, read my column on why you don't need to roster volatile players to win GPPs.)
FanDuel
Winning Week 4 FanDuel Sunday Million Lineup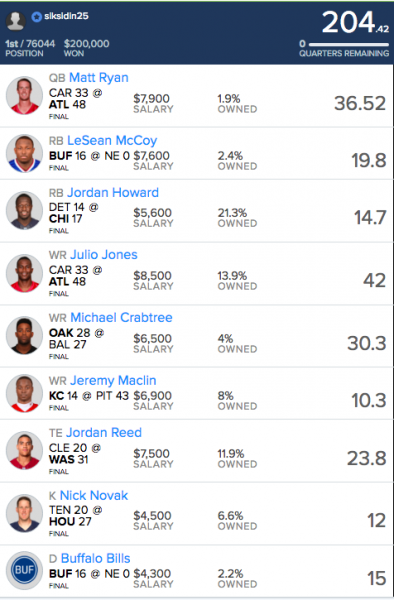 Here we see a LeSean McCoy-Bills correlated RB/DEF stack that paid dividends. We all assumed that after starting 3-0 despite digging deeper and deeper into their QB depth chart, the Patriots would easily dispatch of the Bills without Sammy Watkins. However, despite the 10-day rest, the Patriots essentially had no healthy QBs and ended up starting a banged-up third-stringer, which is obviously a good spot for a fantasy defense.
Crabtree was a sharp play this week. As Mike Woellert pointed out in his WR vs. CBs column, Crabtree had a major advantage going up against cornerback Shareece Wright.
Nick Novak was another one that aFPA got right, as it had the Titans ranked 27th in K aFPA.
Once again, we're reminded why you should seek some contrarian upside in GPPs. Because of the ceiling games for the Ryan-Jones-Crabtree-Reed combination, this lineup could afford Jeremy Maclin not hitting even cash game value.
Quick Hitters