Using Advanced Stats to Identify 7 Breakout Running Backs In my first year of professional hockey, I had a coach who was by far the most over-prepared individual I have ever been around. He used to fill multiple white boards with systems unique to each opponent and lay them all out for us in the locker room prior to each game. It must have taken him hours to complete. I respect what he did for us -- his care level was off the charts -- but as a rookie, it was a bit overwhelming at times.



I'm a big believer that some things are better off left to instinct. There are plenty of times that your sense will tell you to make a play that isn't necessarily something that was drawn up. The most successful players I ever encountered could play with structure without second guessing their instincts.



Don't get me wrong; game planning for your opponent is crucial at even the minor professional level. With the amount of trades, call-ups, free agent signings, and injuries that occur, it's rare that you dress the same lineup for even two games in succession. Everyone has to be on the same page to perform, but this coach took it to another level.



Picture this: It's game day, you park your vehicle in the player lot at 4:30 p.m. for a 7:00 p.m. game. In your suit and tie, you walk into the rink, headphones on, fresh coffee in hand (having a pre-game routine is something I'll miss the most about being an athlete). As soon as you walked into the dressing room this was waiting for you: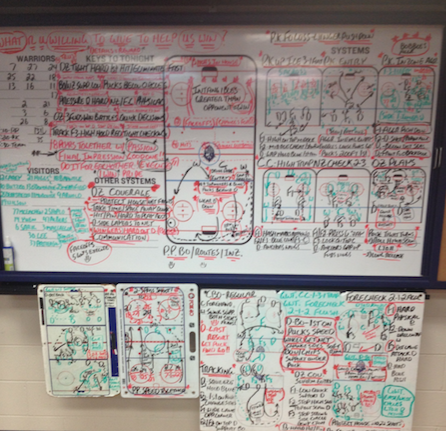 You don't have to know anything about hockey to realize that this was serious overkill, and so much of it was just noise surrounding important information.
Without getting into too much detail (my editor tells me being concise is important), green was our opponent, black was our game plan, and red was everything else. If you had a legitimate question about our system, there was a slim chance you could even find what you were looking for.
I specifically remember looking at the floor praying coach wouldn't ask me a question between periods. If I got the question wrong, I might as well put my suit back on and watch the rest of the game from the press box.
Fantasy football is a lot like that whiteboard. There is so much information out there that it tends to be overwhelming at times, when in reality, the majority of it is just noise.
What advanced stats really matter when identifying breakout players at the RB position? The most successful fantasy players are the ones that can balance the use of these advanced stats and their own instincts.
Advanced RB Stats: Success Rate & Adjusted Line Yards
It shouldn't come as a surprise that consistency is vital at the RB position in fantasy. A player that is not performing well could see his role diminish, especially for players who are purely volume-dependent for fantasy points.
One of the best ways to quantify consistency is through something called Success Rate (SR). This advanced stat measures the percentage of "successful" plays for an offense based on down and distance. It also takes into consideration if the team is ahead or behind in the fourth quarter.
This is a much better measure of efficiency than Yards Per Carry (YPC) because it doesn't penalize for short yardage situations like a 3-and-1 plunge or for running out the clock in the fourth quarter. The weaknesses of SR is RBs that make their living on big plays won't necessarily be rewarded with this metric, and it does not take into consideration Offensive Line (OL) play.
A great way to supplement analysis of SR is to examine a great stat available at Football Outsiders called Adjusted Line Yards (ALY). It attempts to separate RB play from OL play -- one of the hardest things to do in analytics. ALY essentially assigns a certain amount of yards per play to OL based on down, distance, situation, and opponent and than is normalized to a standard average NFL YPC scale.
RB Team Success Rate and the Adjusted Line Yards Correlation
Through a completely separate project, I was lead to an idea that provides a great amount of context to SR. Using NFL play-by-play data I was able to calculate Team Success Rate (TSR) dating back to 2000 for every NFL Team.
TSR data allows us to compare a team's rushing attack in relation to their OL play, instead of just doing so on a per-player basis. The following graph illustrates just how strong the relationship has been between TSR and ALY at the RB position: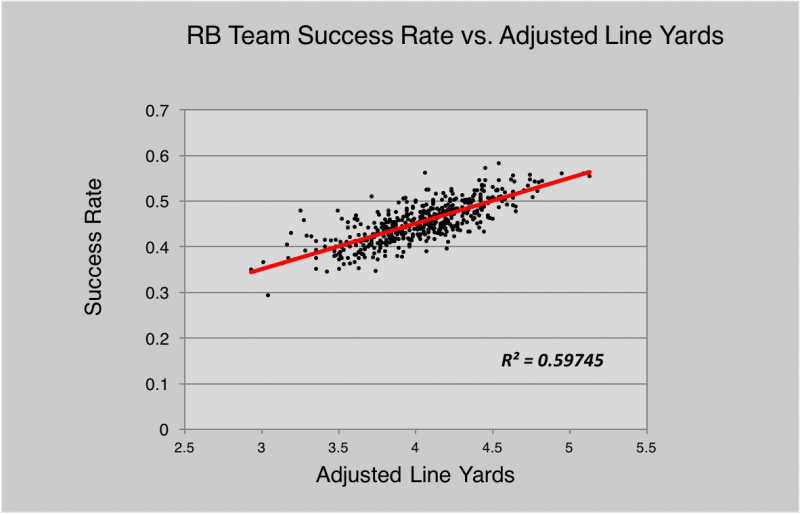 This visual representation explains that nearly 60% of the variation in TSR from 2000-2015 can be explained by the relationship with ALY.
Team Success Rate vs. Player Success Rate
Breakout players often have significantly higher individual SRs than their TSR. Intuitively, this makes perfect sense. Better players tend to outperform lesser players on their team, regardless of OL play. In committee or uncertain situations this ratio can provide clues as to the players that are deserving of more future opportunities.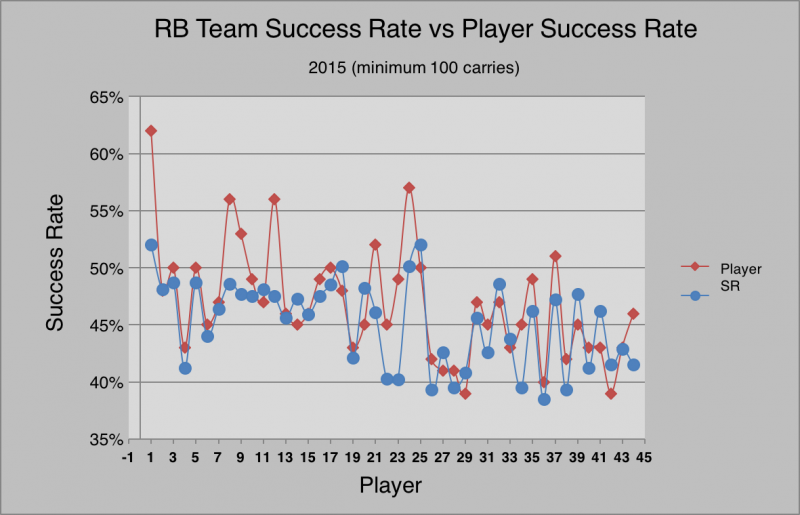 By examining SR versus TSR and using ALY to temper or intensify expectations, there are seven players I see as potential breakouts in 2016.
2016 RB Breakout Candidates
Carlos Hyde

,

49ers

(SR: 49%, TSR: 40%, ALY rank: 32nd)

The 49ers' lead RB may be the most criminally undervalued player in fantasy at the moment, as Hyde is currently going off the board in the fourth round. Last year, behind statistically the worst OL in the league in regards to ALY, he posted a 49% SR, which tied him for 12th place out of the 44 RBs with at least 100 carries. He finished 9% higher than the 49ers' TSR of 40%.

New offensive coordinator Chip Kelly has already publically stated he expects Hyde to have a much larger role in the passing game this year. Passing game involvement was a big knock on Hyde in the fantasy community after he collected just 23 receptions in his 21-game career. Pass catching is a key element in Kelly's up-tempo offense and the is looking for a guy who can be a three-down back. The 49ers will undoubtedly be playing from behind a ton, but Hyde definitely fits the mold of a player who can still contribute regardless of game script.
Thomas Rawls

,

Seahawks

(SR: 62%, TSR: 52%, ALY rank: 4th)

Though Rawls spent minicamp on the sideline, Head Coach Pete Carroll has said there would have to be "some issues that we can't foresee right now" for Rawls not to be available Week 1. The hype surrounding newly acquired C.J. Prosise has gone too far -- people are way too quick to dismiss what Rawls did for Seattle in 2015.

Before his season-ending ankle injury, Rawls finished first of all RBs (100+ carries) in SR, a full 10% ahead of the Seahawks' TSR. Seattle did boast the fourth-best ALY score, but a 62% SR cannot be ignored. That is the highest since Edgerrin James in 2005 (62%) -- and James did it behind a line that would have finished far and away the number-one ALY score in 2015.
Charles Sims

,

Buccaneers

(SR: 57%, TSR: 50%, ALY rank: 9th)

The Buccaneers gave Sims 107 carries in 2015, and he rewarded them with the 2nd best SR (57%) of all RBs outside of Rawls. In comparison, Doug Martin finished at 48%, below the Buccaneers' overall TSR.

For a team that will play from behind a lot as well, it is clear the Buccaneers would rather use Sims in passing situations. He out-targeted Martin 70-42 in 2015. Look for Sims to build on his successful sophomore campaign (and possibly eventually surpass Martin) if he continues to help the offense that much more.
Ryan Mathews

,

Eagles

(SR: 53%, TSR: 48%, ALY rank: 30th)

The best RB for the Eagles last season was not the one it signed to a five-year, $42 million contract. It was Ryan Mathews. While Mathews may have technically already broken out (he already had two 1,000-yard seasons with the Chargers), he spent last season as a backup, and is now primed to break back out having regained a starting role. The pace will slow down this year with new head coach Doug Peterson, and the West Coast offense that will be implemented favors Mathews's skill set.

A 53% SR is impressive behind a 30th-ranked OL, and good enough for fifth of all RBs with 100-plus carries in 2015. There is some risk involved due to Mathews's injury history, but if healthy, he should break out (again) in 2016.
LeGarrette Blount

,

Patriots

(SR: 52%, TSR: 46%, ALY rank: 2nd)

Full disclosure, my favorite talent in the Patriots backfield is still Dion Lewis. But behind this second-ranked OL and #AngryTom, there is no reason to predict that Blount will lack high-quality touches. Like Mathews, Blount may have already technically broken out, as he had 1,000 yards as a rookie in 2010. He hasn't had more than 781 since, however, and his 11th-round average draft position (ADP) predicts that people think his involvement may be limited. However, his ADP doesn't reflect the touchdown upside he has to win weeks for you.

Blount was extremely efficient with a 52% SR in 2015. That was fifth in the league and 6% higher than the Patriots' TSR. We know Blount will be used for specific game plans, especially in cold weather, but if an injury pushes him into a bigger role outside of those circumstances, look out.
Duke Johnson

,

Browns

(SR: 45%, TSR: 43%, ALY rank: 29th)

The Browns new head coach Hue Jackson is a positive for Johnson. The last four seasons that Jackson has been the head coach or offensive coordinator, his teams have finished in the top seven in rushing attempts. Cleveland ranked 27th in rushing attempts last year.

Johnson has done the majority of his damage in the passing game while being stuck in a committee with Isaiah Crowell. Johnson's SR numbers show that he can still be very effective between the tackles, however. Look for Johnson to get a bump in carries under Jackson and be a huge asset in PPR leagues. His total targets should most definitely inflate with the lack of proven assets in the passing game in Cleveland.
T.J. Yeldon

,

Jaguars

(SR: 42%, TSR: 39%, ALY rank: 16th)

Yeldon fits the same mold of the other RBs who are potential breakouts, outperforming his TSR, but his 42% SR was still lackluster. However, that figure is deceiving. Yeldon was battling a sprained MCL at the end of the season and it's possible that the addition of Chris Ivory was more about keeping Yeldon healthy than finding a feature back. He should hover around the 10-15 carry mark with a few targets each game, and his efficiency should increase.

Ivory is expected to get more carries on first and second down than Yeldon, but that doesn't mean Yeldon will be completely eliminated from early-down situations. Yeldon will dominate the passing-game shares, and for a bruiser, Ivory struggled in short yardage situations last season; I don't believe his role at the goal line is written in pen.
Final Thoughts
It goes without saying that there is a lot of noise out there in the fantasy football world. The challenge is identifying which advanced stats should be weighed more heavily than others. It is best to keep things simple; filling white boards with every stat or situation will more often than not just lead you to indecisiveness and a lack of clarity.
Editor's Note: Don't miss out on early bird rates for 4for4's Premium and DFS Subscriptions.
---
Related Articles