Playing in Leagues With Kickers Will Give You an Edge Kickers are probably the most hated position in fantasy football, and usually for good reason -- the position is seemingly impossible to predict, and losing because of a random 20-point game from the K-hole can seem downright outrageous. Because of this, there are a growing number of fantasy owners that advocate eliminating the position altogether. If you play in a league with 11 other fantasy experts, I'd agree, but the fact of the matter is that for 99 percent of fantasy football leagues, this isn't the case.
Any league with at least a few casual players should strongly consider keeping kickers on the roster.
Luck, Skill, and Trading Mistakes
The main argument against having kickers in fantasy football is that the position adds a huge element of luck to a game that's already full of variance. On a weekly level this might be true, but when we consider the potential upside that comes with rostering kickers in our casual leagues, it's probably worth it. This reasoning is probably best described by long-time poker pro, David Sklansky, in his book No Limit Hold 'Em Theory and Practice, where he discusses the concept of trading mistakes.
Sklansky explains that, in poker, a skilled player may be willing to make sub-optimal plays every now and again with the understanding that those small, infrequent mistakes will often lead to major blunders by his opponent. Maybe a player will check a strong hand when betting is the best option, in hopes that it induces a bet from an inferior holding.
For an experienced fantasy football owner, it might be a mistake to enter a league that rosters kickers because the perceived added weekly variance diminishes that owners' skill advantage over lesser competition. If a savvy fantasy football owner is in a league with casual opponents, though, that small mistake in league selection could lead to a much larger error by other owners who will draft a kicker before the last round.
Except for the few people that play in expert-only leagues, most fantasy owners can safely assume that at least a handful of owners will take kickers too early in their draft. Consider 2015 Apex Rookie Leagues -- of the 456 teams that drafted, 63 percent of owners picked a kicker before the final round, and 136 owners drafted a kicker before round 16. End-of-season scoring suggests that owners who didn't wait on kickers made a huge mistake.
An Inherent Advantage in Waiting on Kicker
Based on 2015 end-of-season point totals, there's evidence that simply waiting to draft your kicker is inherently advantageous.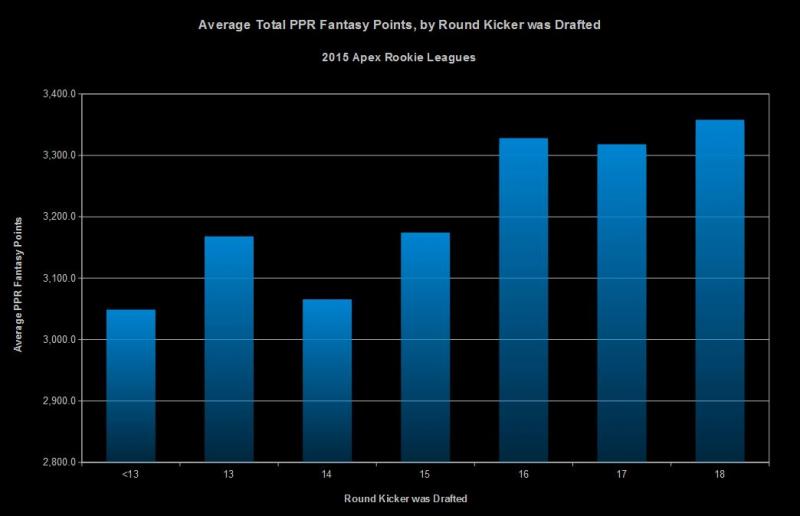 Teams that waited until the final round to draft their kicker in Apex leagues scored more points, on average, than teams that drafted kickers in any other round. Even more telling is the difference between teams that drafted a kicker in round 16 (the length of most standard drafts) or later and those that picked a kicker before round 16. Teams that waited until after round 16 to roster a kicker averaged 3334.9 total PPR fantasy points, while owners that picked a kicker earlier averaged just 3114.4 points.
One might argue that owners that don't know to wait on a kicker aren't very skilled at fantasy football, and therefore make mistakes beyond just drafting a kicker, but that's the point! Those owners aren't even giving themselves the chance to luck into a great pick.
Opportunity Cost: Drafting a Kicker Early Could Make You Miss Out on a League Winner
With every pick in a fantasy football draft, there is an opportunity cost associated with that pick. In fantasy terms, opportunity cost is simply the players that you don't select that you could have selected. Drafting a kicker before the last round, whether you are in a 16- or 18-round draft, has a potentially massive opportunity cost attached to it.
A review of players drafted in rounds 12 through 16 in 2015 uncovers some potential starters, and even league winners, that owners might have missed out on if they were drafting kickers instead. Now, no one is saying that any fantasy owner is going to nail these picks every time -- only eight starters came from a four round sample last year. The point is that you at least want the chance to draft one of these league winners, and as many of those chances as possible. Owners that aren't maximizing these chances are leaving league-winning picks on the table for the sharp fantasy player.
The Bottom Line
There's no doubting that kickers can cause some fluky things to happen in any given week of the fantasy football season. Given the choice, though, more advanced fantasy owners should strongly consider leaving kickers on the roster in more casual leagues.
In a league with kickers, more than one owner is probably going to draft one before the final round of the draft. The type of errors that accompany drafting kickers early will more than make up for the unlikely chance that a kicker you waited until the last round to draft ruins your week. By waiting, you'll give yourself the opportunity to stock up on potential league winners at other positions that might not be available later.
Eliminating the kicker position erases the chance of major draft-day gaffes by your opponents and increases the likelihood that they fall into a great pick that they might never have made otherwise.
Editor's Note: Don't miss out on early bird rates for 4for4's Premium and DFS Subscriptions.
---
Related Articles