Raptors vs. Sixers Odds & Picks: Defense Fights Back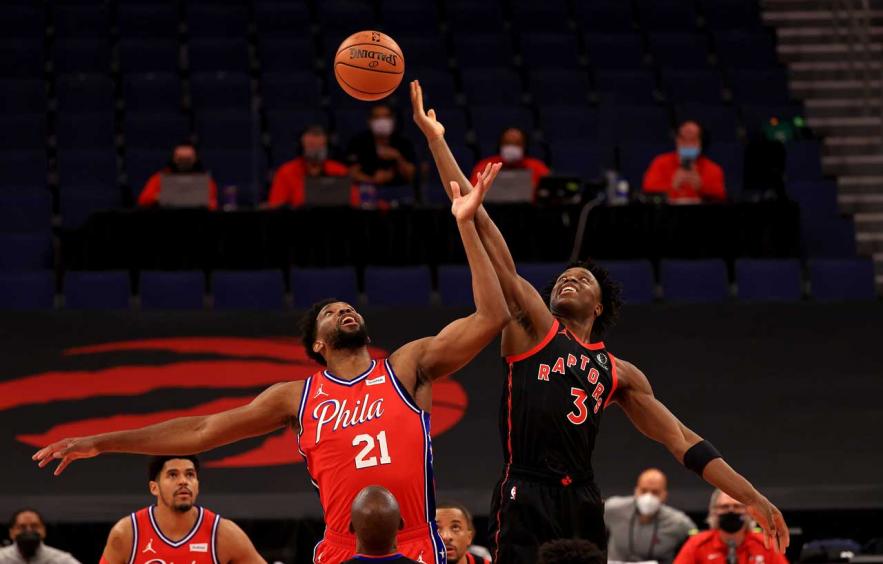 Mike Ehrmann/Getty Images
Game 2 is the first time we see any adjustments from the coaching staff as well as lineups thanks to injuries. Both of those should be very relevant to Toronto, with them having one of the most respected Xs and Os coaches in the league in Nick Nurse, plus they'll be missing a couple of rotation players due to injury in Game 1.
Before the playoffs started, the Raptors were the sexy upset pick of the first round but there seems to be a lot more hesitance after giving up a whopping 131 points to the Sixers in Game 1. Was it an aberration or a sign of things to come? It will certainly be must watch to find out.

Raptors vs. Sixers Betting Odds
| | Raptors | Sixers |
| --- | --- | --- |
| Spread | +7.5 | -7.5 |
| Moneyline | +270 | -330 |
| Total | Under 217 | Over 215.5 |
*Lines accurate at time of publication.
Raptors vs. Sixers Best Bets
Raptors vs. Sixers Game Total Under 217 Points (-110, Caesars)
The total on sportsbooks had to pop after a Game 1 where 242 points were scored, but there are clearly a lot of factors lending toward a significant drop in scoring. Game 1 had 90 possessions, which was the slowest Game 1 of any series. For perspective, the Mavericks had the slowest pace over the last month of the season—95.36 possessions per game.
Over the last month of the regular season, the Sixers had an offensive rating of 116.9 and the Raptors were at 116.0. If you adjust those ratings for a game with 90 possessions, the score would be 105.21-104.4. Admittedly, that is with minutes from players who will either not see the court at all or not see the court nearly as much in a non-blowout playoff setting.
Both teams shot the ball well on top of that. The Sixers shot 51.2% from the field, 50% from deep, and hit 29 free throws. Obviously, there is plenty of room for the Sixers' three-point shooting to come down, as they were the third-best shooting team from deep after the break at 39.5%, but that still takes a few off the board. Pair that with a 48.5% field goal rate average since the All-Star break and there is more room for the team percentage to come down.
On the player front, it seems safe to assume Tyrese Maxey will not be going nuclear and averaging 38 points on the series or shooting 66% from the field on high volume. Joel Embiid and James Harden are likely to gobble up some of those Maxey heat check attempts. Less Maxey pushing the pace also means an even slower game.
For Toronto, the biggest changes are due to injury. Scottie Barnes has already been ruled out. Gary Trent Jr. and Thaddeus Young are doubtful. Barnes has been a solid facilitator for a Raptors squad that has allowed their best scorers in Fred VanVleet and Pascal Siakam to look for their points. Not having him will result in a potential scorer having to be on ball more when they can be more of a threat off of it. Missing Trent Jr. would take a floor-spacer off the floor. He was only 2-7 from deep in Game 1, but the threat of him kept the lanes open for the big wings to drive. Needless to say, without them in the lineup, the offense becomes more of a taffy pull for Toronto.
Toronto did not shoot as well as Philadelphia but you could argue they shot more over their heads. The Raptors are the third-worst three-point shooting team since the break at 33.8% but shot 40% on 30 attempts in Game 1. Especially without Trent Jr. to shoot and Barnes to set up the others, the shooting from distance should regress.
While the drop from the Game 1 total to the Game 2 line is significant, it is justified and there is still some value on the under.
Risk: 1.1 units on Caesars to win 1 unit. (Playable to -116)
---
This article is intended for entertainment purposes and adult users only. Call 1-800-GAMBLER if you have a gambling problem.