FanDuel Bankroll Builder: Drew Bree$ Welcome to 4for4's FanDuel Bankroll Builder series. Many thanks to FanDuel and Josh Moore, who have staked me a $1,000 bankroll on FanDuel which I began playing with in Week 4. Throughout the season, I'll document all my gains, losses, and shower cries along the way. More importantly, I'll walk you through my thought process as far as bankroll management, game selection, player exposure, and my main cash game lineup(s) in hopes that we'll both learn valuable lessons from my successes and failures.
Editor's Note: The 4for4 Championship is still going strong in Week 5 - and now we're rolling out something special! This week's tournament still awards 5 Championship seats and $7,000 in cash prizes, but in Week 5 you can enter for only $5 (instead of $10) and you can also win a FREE VIP TRIP to Las Vegas for the World Fantasy Football Championship Event in December! The trip will include a hotel room and round trip flight, as well as access to FanDuel's exclusive parties the weekend of the event. This will be the weekend of a lifetime, and your best chance to get there is in the 4for4 Championship. Draft a team now!
Week 7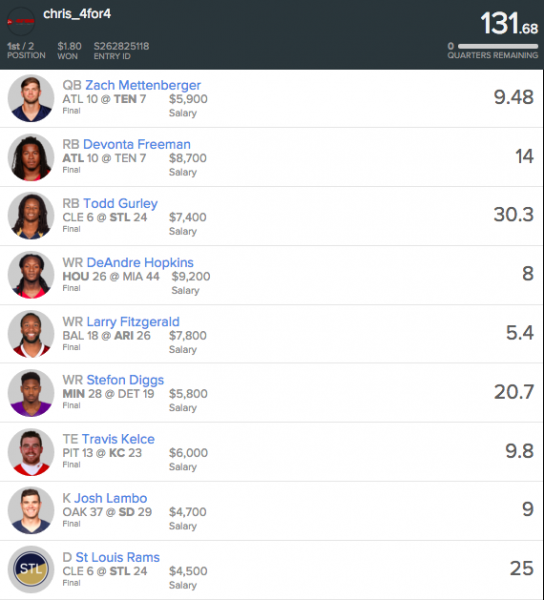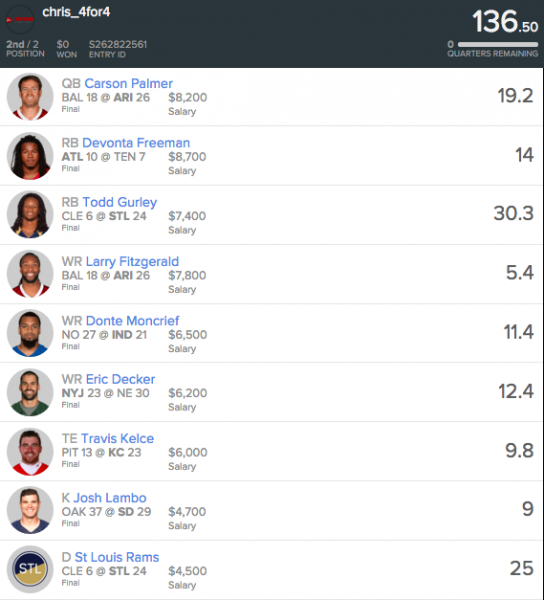 I went with two cash game lineups this week. In one of them, I chose to punt QB, and despite Mettenberger failing to crack double-digits, I was still able to post a 130, although that wasn't too impressive in what ended up as a very high-scoring week. Going in to the week, I thought there was a large discrepancy between the studs and the lower-cost options at RB and WR, so I wanted to free up enough salary to afford my preferred options. However, I didn't feel good enough about Mettenberger to insert him into 100 percent of my lineups, so I went with Carson Palmer and played some mid-tier WRs who I thought were good values as well. The lineups had three unique players so it wasn't a full-on diversification, but they both topped 130 and scored within five points, so overall I'm fine with that.
There were a couple of situations that still lacked clarity Sunday morning. The first was whether Stefon Diggs would start. From what I'd seen on tape of him, I didn't see how they could possibly bench him, despite the conflicting reports throughout the week. Diggs ended up starting and contributing a lot to my lineup. In a vacuum, it may have looked risky to start Diggs amidst questions about his role, but the lower a player's salary is, the more tolerant you can be of risk, even in cash games.
The other situation was the status of Antonio Gates. With a late kickoff, I chose to not take a chance with either Chargers TE. Whereas at least Diggs was confirmed as a starter, I felt I could not afford to take a zero if Gates was inactive, and there were enough options available that I didn't need to force Green without knowing if Gates would go. I ultimately went with Travis Kelce once the news that Jeremy Maclin was inactive broke.
I put the usual 20 percent of money in play, with 80 percent going into cash games and 20 percent into GPPs. With no GPP luck, I came out slightly below even, with $190 in entry fees winning $177 back. As I'm employing a somewhat risky strategy of entering 20 percent of my money in play into GPPs, I'm fine with this, as I'm essentially using cash games to stay afloat until I can hit some good GPP scores.
Week 8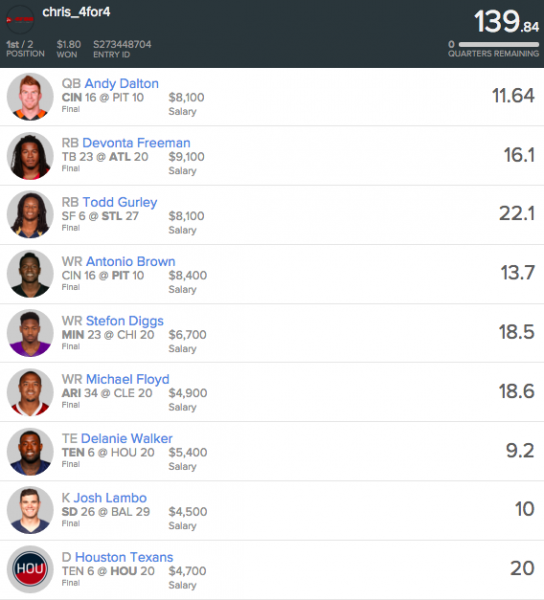 I initially had Ladarius Green and the Rams in this lineup, but with the news of Antonio Gates being active, I pivoted to Delenie Walker and the Texans. Walker had been posting consistent reception totals, and the Texans were at home facing a Titans team ranked 32nd in DEF aFPA. I wasn't concerned about the negative correlation between Walker and the Texans. In fact, it was likely that the better the Texans defense did, the more the Titans would have to throw to Walker. Michael Floyd was initially a tough sell for me, but when I saw early-morning reports that John Brown was "iffy", that news combined with head coach Bruce Arians suggesting they wanted to rest Brown gave me enough confidence to insert Floyd as his near minimum price tag, even though Brown was "active".
I posted some strong GPP scores this week, making more than seven times my GPP entry fees in profit. My best lineup is below: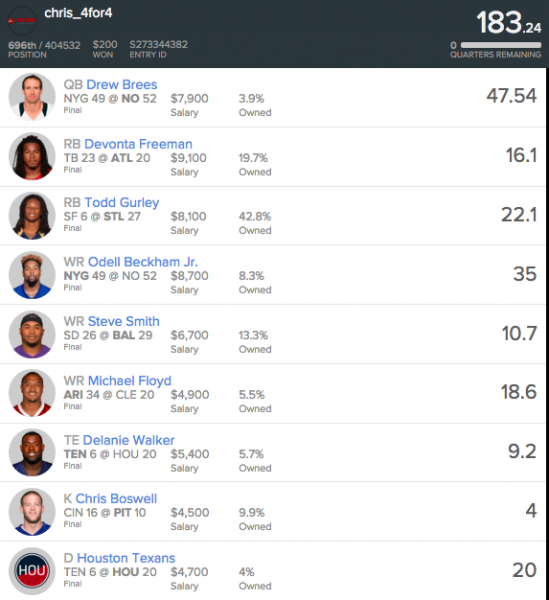 This lineup actually had me somewhat tilted, as I wanted to pivot to Watson but ran out of time. I also moved off Lambo to Boswell at kicker because I had a ton of Lambo exposure, which ultimately cost me six points as well. Fading Stefon Diggs for Steve L Smith at $6,700 was a calculated risk that didn't pan out. I thought Smith was actually in just as good of a spot as Justin Forsett, because the Ravens would likely give up a ton of points and the Chargers pass defense hadn't been good without Eric Weddle. Based on my Tournament Ownership Outlook column, I knew Smith's ownership would pale in comparison to Diggs's.
One key to this lineup was pairing Brees with Beckham. When one passing game goes off, it can have a synergistic effect on the opposite passing game, which is exactly what happened: a classic shootout. Another key was differentiating a bit by not stacking Gurley with the Rams defense. Normally I would try to stack my RB and defense, but this week a Rams-Gurley stack was such a chalk play that I thought I could gain a bit of an upper hand by leaving in Gurley (who I thought was tough to fade) but not playing him with the Rams.
YTD Results
|   | Entry Fees | Winnings | Net |
| --- | --- | --- | --- |
| H2H | 624 | 707.9 | +83.9 |
| Other Cash Games (Double Up, 50/50, etc.) | 240 | 294 | +54 |
| GPP | 212 | 457 | +245 |
| Total | 1076 | 1458.9 | +382.9 |
Week 7 Start

Week 8 Finish

Most Popular
There is no data to display.