The Training Room: Offseason Injuries, ACL edition
I'm happy to be back for another season with the all-star crew at 4for4 providing insight on injuries and how they affect our mindset when it comes to fantasy football. With training camps getting underway, it is a good opportunity to go over some notable names that had offseason surgery and what the implication is for this upcoming fantasy football season.
It almost seems inevitable that every year we discuss players who have had an ACL tear and are recovering from reconstructive surgery. In this column we are going to exclusively discuss the ACL, its role when it comes to stabilizing the knee, surgery, recovery and some players recovering from surgery heading into this season.
The Anterior 

Cruciate

 Ligament (ACL)

The anterior cruciate ligament (ACL) is one of the main ligaments (ligaments connect bone to bone) inside the knee that helps stabilize the thigh bone (femur) to the shin bone (tibia). Its main job is to resist the shin bone from rotation in during running, cutting, or twisting motions, and to also resist the shin bone from moving too far forward in front of the thigh bone. ACL tears can happen either from trauma directly to the knee, or when an athlete is attempting to change direction or decelerate while the leg is planted. Non-contact ACL tears are happening more frequently, with some statistics showing that 70% of ACL tears are of the non-contact variety, with the other 30% being from direct trauma.[1] There are a number of factors that play into why an ACL tear occurs, with more studies showing a correlation of fatigue causing altered mechanics when jumping or running.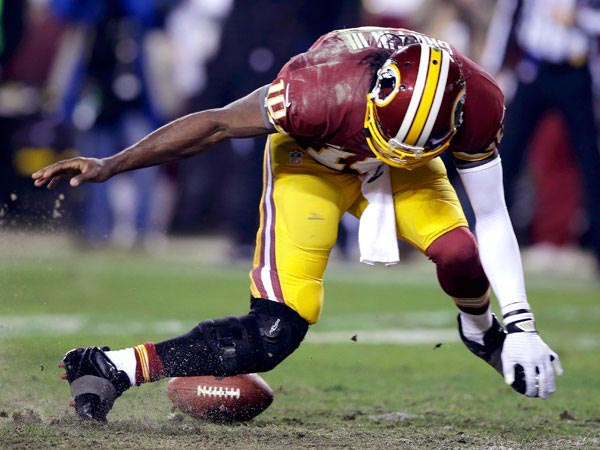 (This is a clear example of the lower leg is rotating in, but the body going out which led to RGIII's ACL tear. The main picture for this column shows a more subtle way Carson Palmer's shin bone twisted in as his body was going the other way, which led to his tear.)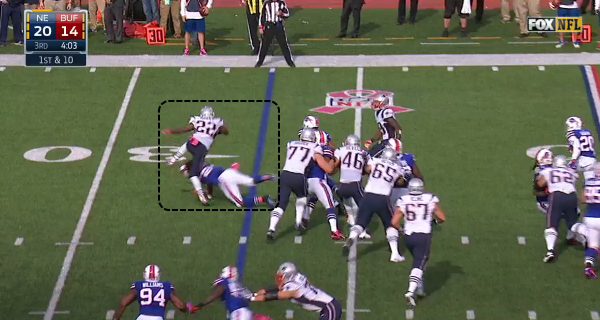 (Stevan Ridley's knee buckling in due to the direct force from Stephon Gilmore's tackle which tore both his ACL and MCL) 
After an ACL tear occurs, there may or may not be a significant amount of pain, with swelling that occurs and limits range of motion. Weakness in the leg could also cause the leg to buckle and feel unstable. If there are other surrounding tissues compromised as well, such as the medial collateral ligament (MCL) or medial meniscus, that could delay and prolong the recovery. Healthcare professionals such as athletic trainers, physical therapists and orthopedic surgeons can utilize certain tests to determine if the ACL is intact or if it indeed is torn. The gold standard to diagnose an ACL tear on the field is a Lachman's test, where you try and shift the shin bone forward while stabilizing the thigh bone to see if there is significant movement (which there shouldn't be). These tests are followed up with an MRI to confirm a tear.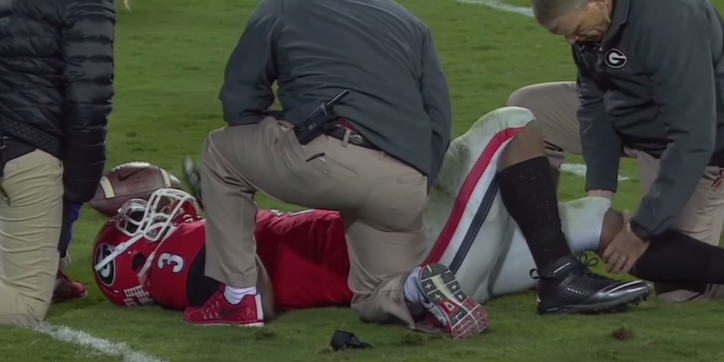 (Georgia's medical team assessing Todd Gurley's ACL by using the Lachman's test) 
Recovery & Return
Athletes who suffer an isolated ACL tear usually go through rehab prior to surgery to reduce swelling, restore range of motion as close to normal as possible, and work on strengthening to allow faster progression after the surgery. Prior to the surgery, surgeons will discuss with the athlete some options as to what type of tissue they can utilize to replace the ACL. They can use their own tissue (autograft) from another area of the body to use as the ACL, or they could use cadaver tissue (allograft) to replace it. Most surgeons will opt to use an athlete's own tissue due to the fact that it is more readily available and the strength of the tissue is often higher than that of a donor tissue.
Return rate to sport is fairly high after recovering from an ACL tear. Most athletes get back to playing within 10 to 12 months. An ACL that is repaired is at no greater risk of re-injury 12 months after surgery compared to a healthy ACL. Now that statement comes with a lot of variables, mainly the rehab portion, as some athletes heal more sloly and can have some complications that could delay the recovery timetable. However, it's generally stated across multiple media outlets that 12 months is the magic number because that's when the healthcare team and the athlete feel most comfortable with how the knee will handle game situations. Although the likelihood of re-injuring an ACL is low (some report the incidence of a re-tear as low as 12%[2]), there is still some risk. Carson Palmer and Sam Bradford are prime examples of that.
Coming off ACL Tears
Carson Palmer (ACL revision) – Palmer suffered a gruesome left knee injury back in 2006 basically tearing the majority of the ligaments in the knee. Unfortunately, he is one of the few people that suffered another tear to that same ACL due to direct trauma. Palmer's use of his own patellar tendon with the latest surgery should ensure good stability in the joint, with Palmer being able to utilize his legs to generate arm speed. As stated before, utilizing your own tissue for the ACL repair regardless if it's a first time tear or a revision is best to help minimize the risk of a re-tear.[3] Reports coming into training camp are that he's not really thinking about his surgically repaired knee, so that is encouraging. Because he's been through this situation before and has had success for many years after the first surgery, it has allowed him to progress quicker through his rehab. Look for Palmer to try to settle some unfinished business, as he was leading the Cardinals to an 8-1 record before getting injured last season.
Sam Bradford (ACL revision) – Bradford is in another familiar situation as he goes through back-to-back off-seasons of rehabbing his injured left knee. The Eagles must've felt comfortable enough with his medical records to take a shot on him though, so he comes into training camp in an offense similar to the one he ran in college with his good buddy Demarco Murray in the backfield again. Bradford has a lot to prove. He hasn't had the cleanest bill of health since being in the NFL, with the injury history going back to his days at Oklahoma. I'd feel more comfortable drafting Palmer over Bradford, even though Bradford is younger. Palmer offers more experience to avoid hits and pressure in the pocket. Even though the Eagles made some major changes on the offensive side of the ball letting Shady McCoy and Jeremy Maclin go, they still have ample talent to allow Bradford to be successful. We have Bradford ranked as the 18th quarterback in both standard and PPR leagues. Although Bradford and the Eagles state he will have no limitations during training camp, his health is something to clearly keep an eye on to make sure he doesn't suffer any setbacks. 
Todd Gurley  – Name me a rookie position player rehabbing an ACL surgery as he was being drafted in the 1st round? Gurley's situation is unique in that there aren't many players that have been in his shoes, so it's tough to know what to expect from him this upcoming season. The Rams are a young team, they have a young offensive line and they still have Tre Mason who is coming off a solid rookie year. Anyone who saw highlights from Gurley's time at Georgia salivates at his potential to be that player again, but I think expectations need to be tempered a bit, especially at the beginning of the season. He'll be 10 months removed from his surgery at the start of the season, so I can see the Rams easing him into the flow of the game and then letting him loose as the season gets into full swing. Even Coach Fisher stated that Gurley isn't close to playing in games. But if you can stay patient at the beginning of the season, there's a ton of upside with Gurley to show off his unique skill set.
Stevan Ridley  – Ridley suffered an ACL and MCL tear against the Bills in Week 6 last year when he took a hit directly to his knee by Bills defensive back Stephon Gilmore. He now finds himself with a new team in the Jets, but in a very crowded backfield alongside Chris Ivory, Bilal Powell, Zac Stacy and Daryl Richardson. Ridley is in the same situation as Gurley in that he will only be 10 months removed from ACL reconstruction, but the addition of the MCL repair could require Ridley to get in a little more work before he's fully deemed ready. It is tough to determine how much he will contribute when he is ready due to the situation he is currently in. With Ridley already being put on the active/PUP list for training camp, there's a chance the Jets could give him more time and put him on the reserve/PUP which would cost Ridley the first six games of the season. I can see the Jets not rushing him back due to all the running backs they currently have.
---
[1] Boden et al. Mechanisms of anterior cruciate ligament injury. Orthopedics. 2000 June; 23 (6): 573-8
[2] Salmon L, Russell V, et al. Incidence and risk factors of graft rupture and contralateral rupture after anterior cruciate ligament reconstruction. Arthroscopy. 2005 August; 21 (8): 948-57
[3] MARS Group. Effect of graft choice on the outcome of revision anterior cruciate ligament reconstruction in the Multicenter ACL Revision Study (MARS) Cohort. Am J Sports Med. 2014 Oct; 42 (10) 2301-10
We are your friend's secret weapon.
Get 4 FREE downloads
Receive breaking news alerts & analysis
BONUS: Learn how to play DFS.
Battle-Tested by 40,000+ fantasy football diehards since 1999.