Best Super Bowl 56 Prop Bets: 4for4 Experts Round Table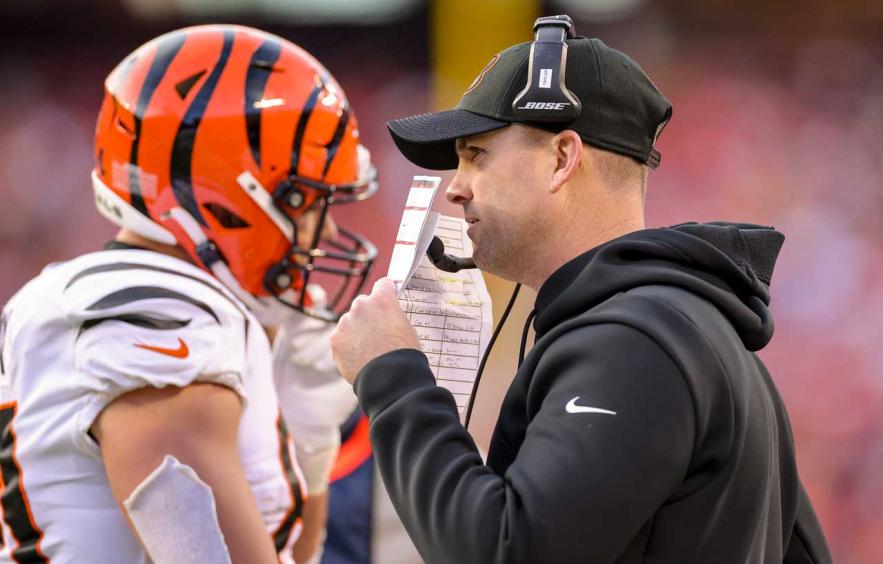 David Eulitt/Getty Images
The number of ways you can bet on a standard regular-season NFL game increases by the year. We spend a lot of time focusing on the player prop market here at 4for4 because betting NFL sides and totals is often a long-term losing proposition for most casual or even semi-casual bettors. We leverage our world-class weekly projections to exploit edges in the player prop market, and the Super Bowl offers an expanded betting menu that can be difficult to wrap your head around.
Do people actually bet on the coin toss?
Which Artist Will Perform First at Half Time?
What Color Will the First Liquid be Poured on the Game Winning Coach? Are you serious?
Yes. We're very serious.

Sportsbooks offer a wider array of what we'd consider the traditional game and player prop bets, and then also add a novelty prop section that gets as granular and off-the-wall as you can imagine. We've dedicated two Move The Line episodes to the prop market this week, and I highly recommend you check them out.
In the meantime, I've called on some of our staff to share their favorite Super Bowl LVI props with you today, along with the reasoning behind their selections. No one went completely 'off the board' with things like How Many Dogs Will Appear In Super Bowl Commercials, but there's always hope for next year. Here's what they shared.
4for4 Staff Roundtable Prop Bets
Time That the Final Play of the Game Will be Completed - 10:14:59 ET or Earlier (-108, BetRivers)
Welcome to some Super Bowl game time analysis. Since the game time on the Super Bowl is 6:30 PM ET, this essentially puts the over/under at 3:45. Dating back to 2005, there have only been three Super Bowls that have gone over this time. The Eagles/Patriots in Super Bowl 52—the highest-scoring Super Bowl in NFL history- that ended in 3:46—and Super Bowl 51 that went into overtime and finished at 3:47 game time. The third instance was the weird blackout during the Ravens/49ers Super Bowl, which lasted 4:14.
Clearly, these were all outliers and not the norm to be expected for a Super Bowl. In the other 13 games since 2005, the average game time was 3:33 and 8 seconds. The fact this line is -108 for the under is very interesting considering this, but the fact that two of the last five Super Bowls have gone over because of outlier performance makes this an amazing value. This honestly is probably my favorite play I've found this week so far. - Dalton Kates
Evan McPherson

Over 1.5 Field Goals Made (+105, PointsBet)

I'm sticking with what have been my favorite props to bet on lately—kicker props! Put simply, both Zac Taylor and Sean McVay are cowards. Taylor and McVay are two of the more conservative coaches when it comes to fourth-down decision-making, meaning they are more likely to kick than actually go for it. I'm riding with Evan McPherson over 1.5 field goals made on PointsBet at +105 because he's made multiple field goals in each of his last seven games and this is juiced more heavily towards the over at several other books.

If you want to get real spicy, DraftKings has a prop for both teams to make at least two field goals listed at +250, which is a value based on the odds of parlaying both kickers to make at least two field goals at some other books. Let's go, kickers! - Sam Hoppen
Cam Akers

Under 65.5 Rushing Yards (-110, FanDuel)

For the playoffs, Cam Akers has handled the second-most rushing attempts (54) but has only gained 151 yards, good for 2.8 yards per attempt. Akers also has a low breakaway rate—according to Pro Football Focus, just 9.9% of Akers runs have been charted as breakaways. During the playoffs, Akers has also failed to top 56 rushing yards in any of the three games. Our projections at 4for4 have Akers at 58 yards on 14 attempts. -Amr Gabr
Bengals

First Play — Pass (+104, FanDuel)

This might come as a surprise, considering how much of a coward Zac Taylor can be at times, but the Bengals have either passed or tried to pass on the first play in 15-of-19 (78%) games. Since these plays are scripted, I think this actually matters. Not to mention we are getting plus-money here. I like this up to -115. - Connor Allen
Super Bowl LVI Sportsbook Offers
BetMGM: Bet $10, Win $200 in Free Bets if Either Team Scores a TD
DraftKings: Bet $5, Win $280 in Free Bets if Either Team Wins the Super Bowl
FanDuel: Bet $5, Win $280 Cash if Either Team Wins the Super Bowl
SuperDraft: Deposit $20, Get a $100 Fanatics Gift Card (Promo Code: 4FOR4)
Caesars: Get up to $1,500 Free to Bet on the Super Bowl
---
This article is intended for entertainment purposes and adult users only. Call 1-800-GAMBLER if you have a gambling problem.