DraftKings Sports Betting in New York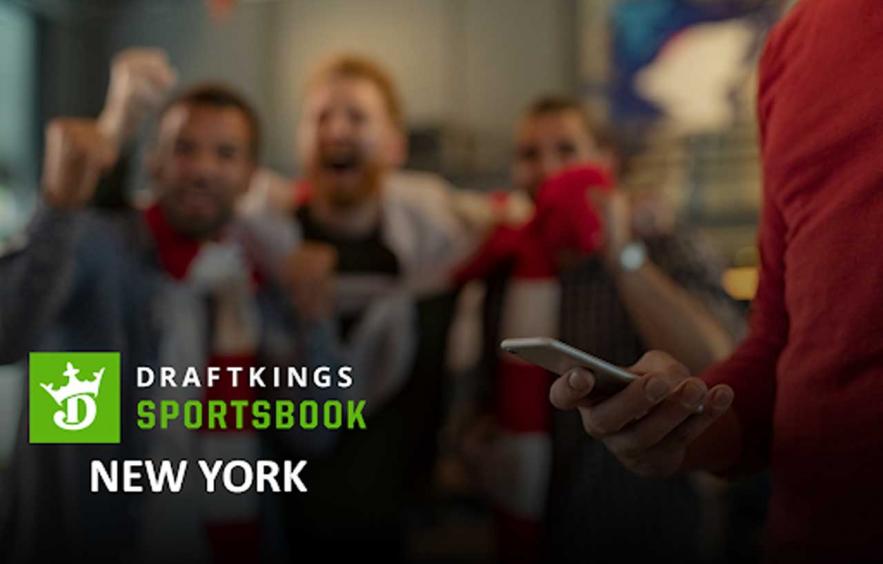 One of the earliest mobile sportsbooks to launch in New York is DraftKings Sportsbook. There will be a multitude of new sign-up offers coupled with the launch on January 8th at 9:00 AM EST.
See all of the launch details here along with the top DraftKings Promotions. Continue reading for reasons why DraftKings Sportsbook is a great place to start as you begin your sports betting journey in New York.
Current DraftKings Sportsbook Offers in New York
DraftKings Mobile Sportsbook Launch Information
While retail DraftKings Sportsbook locations have been live since 2019, DraftKings is among the first sportsbook operators to launch mobile sports betting in New York. Starting on January 6th, 2022, the pre-launch window for registration is open. With a pre-launch registration, users are eligible for $100 in site credit that can be used toward a bet. On Saturday, January 8th at 9 AM EST, DraftKings will officially launch their mobile app and open sports wagering for customers located in New York.
To go along with the launch, there are a flurry of promotions for new customers. The largest of which Is focused on a risk-free bet up to $1,000. In addition, bettors can capitalize on local games like the New York Knicks vs. Boston Celtics and New York Jets vs. Buffalo Bills.
DraftKings Pros and Cons for New York Players
Pros
Fantasy Betting Platform: DraftKings has one of the largest fantasy betting platforms in the industry. It has a sizable audience, as well as a good reputation among bettors. It's what gave the sportsbook its start and what allowed it to become a leader in the industry.
Good Bonus Offers Available: Bonus offers are always an enticing way for betting companies to attract an audience. DraftKings has a fair amount of good bonus offers available. These are for both existing and new bettors utilized by them to make their betting experience better.
Sleek, Simple and Stylish Layout: It is necessary for a reputed betting company to have a good, sleek and modern website layout and interface. This makes sure bettors enjoy the time they spend on the website while betting online and makes it easy for them to stay on for longer. The simplicity and minimalism of the interface are necessary if the bettors are to have an easy time betting around. DraftKings has a very sleek, modern and interactive interface that is both fun to use and efficient.
Betting Competitions: Having daily activities and contests on a betting platform is of utmost importance when it comes to having an active and engaging audience on a betting site. This makes sure bettors log in and check the betting site regularly. Additionally, for bettors, this is a great chance to win bonus money and make up extra winnings. DraftKings always has hundreds of ongoing fantasy betting contests that take place daily, making sure everyone can take full advantage and enjoy.
Instant Withdrawal Methods: DraftKings has efficient withdrawal methods in place for bettors to use. This ensures bettors can make withdrawals and enjoy their winnings in as little time as possible, with the fewest amount of issues and problems. Today's bettors are always looking for betting sites that provide efficient and swift takeout methods, and DraftKings has integrated them for their customers' convenience.
Cons
As impressive as the platform is, there are some limitations. These are likely to be improved but could be frustrating for some bettors:
Lack of Deposit Methods: DraftKings has efficient and fast withdrawal methods. However, the deposit methods available for bettors to fund their accounts leave something to be desired. In today's betting market, having good quality deposit methods is very important because bettors want to fund their accounts efficiently and quickly. This allows them to wager their money whenever they want.
Lack of Traditional eSports Wagering: While DraftKings has several types of wagers and activities available, the lack of classical old-fashioned eSports betting is a bummer for many bettors looking to use the platform.
Cleaner Format Needed: Another thing the DraftKings Sportsbook can improve upon is the distribution of information. It often displays too much information in too little space, resulting in a crowded atmosphere.
DraftKings Betting Markets
DraftKings operates in the U.S. and runs a casino as well as a daily fantasy platform. These are the sports currently offered:
Football (NFL, college)
Baseball (MLB and international leagues)
Basketball (NBA, CBA and other international leagues)
Soccer
Boxing
Hockey (NHL and others)
Golf
Darts
MMA
Motorsports
Cricket
While DraftKings currently lacks an eSports section, they are committed to entering this industry.
It's important to note not all betting options are available in all jurisdictions. For example, despite multiple attempts at changing the laws, New Jersey has strict regulations on college sports wagers. No betting is allowed on any New Jersey-based team, regardless of where the game is played. In addition, no college game played in the state, even if the two teams are not based in New Jersey, can be open to sports betting.
Frequently Asked Questions
Does DraftKings have casino games?
Yes. DraftKings has various casino games available in a designated section. They also develop some of their own software, exclusive to the DraftKings casino.
What is the biggest DraftKings Bonus?
The biggest bonus available on DraftKings is the $1,000 deposit bonus, mentioned earlier.
Is it easy to withdraw funds from DraftKings?
Yes. DraftKings has a number of accessible and fast withdrawal methods available for you to cash out winnings, such as PayPal, Visa, MasterCard and more.
Who can place bets on DraftKings?
Any U.S. or Canadian citizen or resident (where the sportsbook is licensed), provided the bettor is of legal age according to their state's laws.
Do you actually win money on DraftKings?
Yes. DraftKings is a legal and licensed site, setting odds and markets as a traditional sportsbook would. Much like making a winning wager that leads to winning money at a sportsbook, it is entirely possible to win money on the DraftKings Sportsbook.
How can I withdraw funds from DraftKings?
There are a number of prompt withdrawal methods available on the sportsbook, including PayPal, Visa, Discover and more.
How does DraftKings pay out?
All payouts at DraftKings are processed from 9 AM to 5 PM EST, from Monday to Friday. Bettors can use any applicable and widely accepted payout methods listed on the operator's website.