Underdog Fantasy Best Ball Weekly Winners Contest Strategy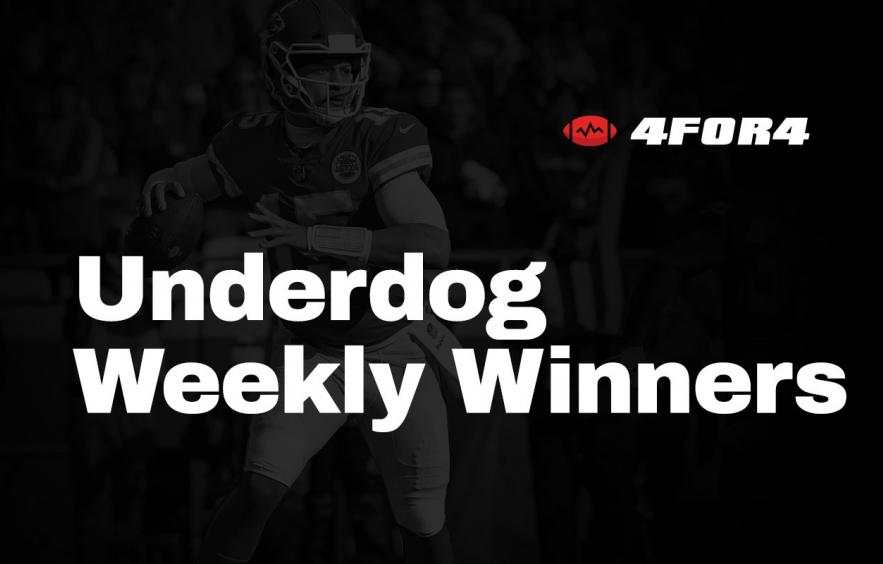 Imagine if Bestball and DFS had a baby. You would get this beautiful contest that has spawned for all of us best ball degenerates who can now have access to instant gratification on a weekly basis. Weekly Winners is like a normal best ball draft on Underdog that consists of 18 rounds and 0.5 PPR scoring setting. The roster will be the same construction as Underdog's premier contest Best Ball Mania IV however the twist is that the contest payouts will happen on a weekly basis (which means that Week 17 is not the only thing that matters) and you'll be competing against 261,000 people in this weekly tournament.
---
Best Ball Resources: Underdog Rankings | Underdog ADP | Roster Construction Tool | Advance Rate Explorer | 2023 Schedule Grid
---
Weekly Winners has a $3.5 Million dollar prize pool and the top place for each week is $20,000 dollars.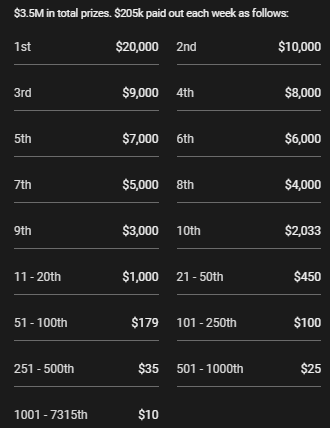 The most important thing for this contest is knowing the ins and outs of the schedule. Please have that handy while you draft.
Here are some initial strategies that have been kicking around in my head.
Divisional Stacking and Beyond
I find divisional stacking in this particular format highly enjoyable. While many emphasize the importance of stacking within a division, they often overlook the significance of the AFC/NFC divisions each team will compete against. By not only focusing on divisional stacking but also incorporating the other two divisions that each division encounters, you gain a significant advantage. This approach grants you a powerful edge, bolstering your overall strategy. I have attached a cheat sheet for all our fellow 4for4 subscribers to have if they are in a pinch.
2023 Division Matchups

| DIVISION OPP. | AFC EAST | AFC WEST | AFC NORTH | AFC SOUTH | NFC EAST | NFC WEST | NFC NORTH | NFC SOUTH |
| --- | --- | --- | --- | --- | --- | --- | --- | --- |
| 1 | AFC WEST | AFC EAST | AFC SOUTH | AFC NORTH | NFC WEST | NFC EAST | NFC SOUTH | NFC NORTH |
| 2 | NFC EAST | NFC NORTH | NFC WEST | NFC SOUTH | AFC EAST | AFC NORTH | AFC WEST | AFC SOUTH |
Bye Week Stacking
So you're telling me I can ignore one week and become supercharged for the rest of the 16 weeks? Yes, please!
2023 Bye Weeks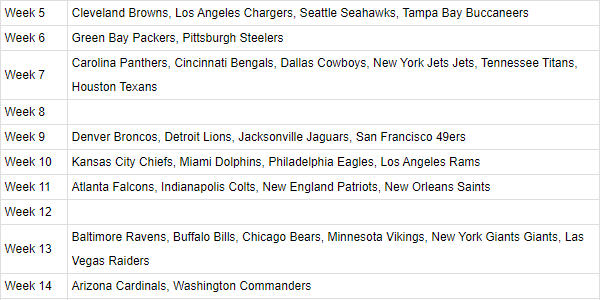 One interesting strategy involves stacking teams from Week 7 and Week 13, taking advantage of the substantial number of teams on bye during those weeks. This enables you to allocate your remaining team members for optimal performance throughout the entire season. However, allow me to propose an alternative approach.
Picture a Weekly Winners team composed of the Philadelphia Eagles, Miami Dolphins, and Kansas City Chiefs. While the key players from these teams will be absent during Week 10, it opens up the remaining 16 weeks for them to thrive. Furthermore, referring back to the divisional stacking cheat sheet, the Miami Dolphins have scheduled games against both the Chiefs and the Eagles. Additionally, a Week 11 rematch of the 2023 Super Bowl between the Eagles and Chiefs awaits, occurring after their respective bye weeks. By incorporating elements from the AFC East/West and NFC East divisions, you have the potential to construct a formidable team with exceptional upside on a weekly basis throughout the entire season.
Vegas Totals
Vegas currently provides team totals for every NFL game throughout the season, offering a valuable resource for gaining an edge on specific weeks. By focusing on totals (and team totals), you can analyze the expectations set by some of the sharpest bettors in Vegas. For example, in Week 1, the three highest totals are Lions vs Chiefs (54), Chargers vs Dolphins (50), and Bills vs Jets (47.5). These totals reflect the anticipated scoring outcomes for each game. Leveraging these long-standing systems utilized by Vegas for decades, before the rise of best ball, we now have an opportunity to utilize this information and gain a competitive advantage for this contest.
Example:

I went with a divisional stacking focus for this build and allowed myself to dig deep on a few guys that may be under-drafted in the tournament. As I've noted in the image above, my Seattle stack has correlations with the Rams, 49ers, Browns, Commanders, Eagles, and Bengals. In addition, after getting sniped on Matthew Stafford and Tyler Higbee I had to pivot to another stack in the NFC East by way of Sam Howell and the Commanders. All in all, this will be a very fun tournament, and be great to explore all the unique builds that will unfurl in this contest.