Kendre Miller Injury Update: Is The Rookie RB Still Draftable?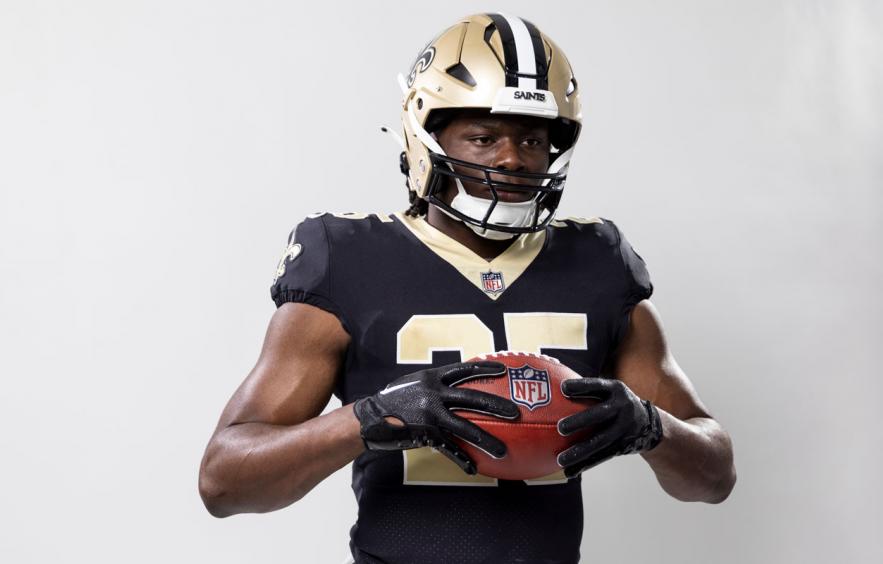 Michael Owens/Getty Images
News broke from New Orleans Saints on Tuesday that rookie running back Kendre Miller would not be available for the start of training camp. Miller is starting off on the Non-Football Injury or Illness (NFI) list to begin the preseason. The NFI is very similar to the Physically Unable to Perform (PUP), meaning if Miller is not activated by Week 1, he would be required to miss at least the first four games of the regular season. Currently, Miller is going toward the end of fantasy drafts but with this recent development is he still draftable?
---
Click here for more 2023 Player Profiles!
---
Kendre Miller

's Knee Injury

During the 2022 College Football Playoff Fiesta Bowl, Miller sustained a right knee injury against Michigan and was ruled out. The Horned Frogs left the door open for Miller to return in the National Championship game vs. Georgia, but it appears to have been all smoke and mirrors as Miller never played and had surgery to repair his MCL shortly there afterward. Although there was no specific surgery date given, it can be suspected it was early in 2023.
Can the 12.5-point underdogs @TCUFootball pull off a massive upset in the #nationalchampionship? They might have to do it without star RB Kendre Miller who suffered a knee injury during this play. Check out our Pro Doc's breakdown.https://t.co/I8OBzGuiJz pic.twitter.com/lWJ7LpWoro

— Sports Injury Central (@SICscore) January 9, 2023
The average return to play (RTP) for an MCL repair is about 4–4.5 months. As a result, Miller did not participate in the NFL Combine and it's possible that could have hurt his Draft stock. Nevertheless, Miller still was selected inside the top 100 at 71st overall. Given this RTP timeline, we would have expected Miller to be ready for most of the offseason, but he did not participate in OTAs and now he is apparently not ready for training camp.
The most recent update is that Miller is recovering from both MCL repair and a meniscus injury although the details are still unclear. There are multiple scenarios but there are three that are the most likely:
1. Nick Underhill (@nick_underhill) who covers the Saints reported Wednesday (7/19) that NOLA is not concerned about Miller and that being placed on the NFI was "not injury related." Nick is one of the best in the biz so I think this is a likely scenario but it is a bit of a head scratcher. It is possible the Saints are playing games after the mini-uproar Miller's placement on the NFI created on Tuesday.
RB Kendre Miller starting on the NFI list is something I'm told is "not a concern." It's not a medical issue.

— Nick Underhill (@nick_underhill) July 19, 2023
2. Miller had his meniscus repaired and that was never public knowledge. If this was the case, Miller's RTP timeline would shift from 4 to 6 months, meaning he should be able to participate in training camp depending on the surgery date (again, the exact date is unclear), unless he has not met RTP criteria. What is odd about this scenario is there is a video of Miller doing squats with weight towards the end of March (~13 weeks post-op).
#TCU RB Kendre Miller already squatting 300 lbs in his return from his MCL injury. He didn't work out today but had a lengthy convo with Bill Belichick and has a meeting with #Cowboys lined up. pic.twitter.com/PAIn4BHIF5

— Jane Slater (@SlaterNFL) March 30, 2023
I want to reiterate that I do not know Miller's exact surgery date but most protocols would not call for something like this until 16 weeks, suggesting that toward the end of March, Miller was right on schedule if not ahead.
3. Miller did not have surgery on the meniscus and he's dealing with some complications. This sounds like a bigger issue than it likely could be. If the meniscus is still causing problems for Miller, he could possibly have an arthroscopic produce. These are relatively quick and simple. NFL players on average return to play and return in about 4 weeks.
Scenario #1 seems the most plausible. RTP protocols are both equally time-based and criteria based. Just because Miller is six months post-op does not mean he will automatically be given the green light to return to football. He has to check specific markers regarding knee range, strength, proprioception/balance and biomechanics to be cleared. It's possible he is not there yet. Concerning? Yes. Time to panic? Not quite.
Drawing Comparisons to Miller's Injury
Since it's possible the knee injury is starting to spill over into the 2023 NFL season, it's important to examine NFL running backs who dealt with knee injuries during their rookie season. Eliminating players whose season ended with ACL surgery, on average these RBs missed two games, with a very low re-injury risk, a positive sign for Miller's potential outlook. I would get nervous about rookies who get off to a slow start due to injury. With the steep learning curve jumping from college to NFL, sometimes an injury completely derails a season.
Expanding the search to all RBs who sustained either an MCL or meniscus injury the results are a bit more concerning but nothing overly too extreme.
RBs with MCL or Meniscus Injury

| Avg. Time Missed | Fantasy Production Post-Injury (3 game sample) |
| --- | --- |
| 5 games | -9% |
Miller's Average Draft Position
Currently, in 12-team leagues, Miller is coming off the board in the 11th round per 4for4's multi-site ADP. In best ball leagues such as Underdog Fantasy, Miller is around the same slot but his ADP has slowly been falling since the beginning of June. The Kamara news has likely played a role in this change.
This seems like a good range for Miller and his ADP might continue to fall even with this recent development. It is surprising to note that Jamaal Williams was going three rounds before Miller even before this news—I planned to advocate for Williams but noticed his ADP was already well above Miller's.

Bottom Line
Starting on the NFI is a concerning sign for Kendre Miller, as it might indicate that his knee is not ready or like Nick Underhill reported - unrelated to his knee.
Miller is still worth a dart throw in the later rounds and his ADP could drop more with this recent news.
NFL RBs with similar injuries did see a dip in production but it was mild—on average they saw a 9% drop in fantasy points per game.
There is still a chance Miller could be ready in Week 1 but, to feel better about this projection, seeing him cleared for practice in early August would be ideal.