Week 6 NFL Odds: Lookahead Lines Report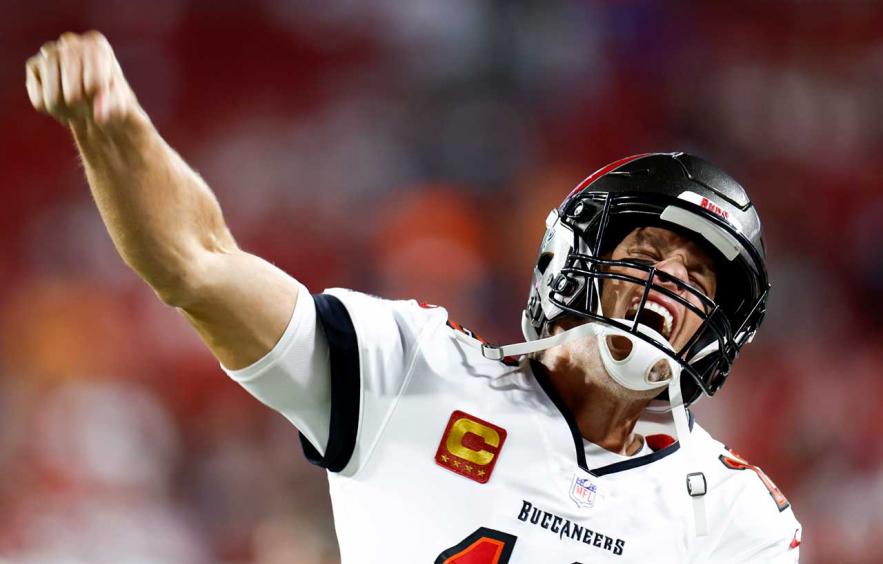 Douglas P. DeFelice/Getty Images
In last week's lookaheads, I was bullish on taking early action on the Eagles (moved from -4 to -6) and Chiefs (moved from -6.5 through -7) and called for the debut of Kenny Pickett in Pittsburgh. Week 6 brings a few more spots where early action will be helpful, along with the first set of bye weeks of the 2022 season.
Friends don't let friends bet NFL sides on game day. I understand the appeal of getting action down on a game about to kick off, but please, for the love of all things sacred, don't do it. I understand most casual bettors out there don't have time to comb through every news blurb and injury report the moment it comes out. It's difficult for most bettors to feel informed early in the week, or even more, right when next week's line is posted on Sunday evening for the following week's games.
In my opinion, the only way to consistently put yourself in a position to gain positive expected value (+EV) while betting on NFL sides is to beat the closing line. Sportsbooks gradually increase the limits they let bettors get down as the week progresses, indicating that the book feels they've priced the game correctly. Unless you're waiting later in the week because you're betting five-to-six figures on a side, you're +EV increases if you can get down on a number before it's sharpened by the whales.
---
Useful Betting Research Tools: NFL Player Stat Explorer | NFL Team Stat Explorer
---
Each week of the season, I provide a first glance at the upcoming NFL slate through the lens of lookahead lines. This brief lookahead window offers a sneak peek at how teams are valued by bookmakers before the start of the week. It's also an opportunity to act before the games are posted and sharpened on Sunday evening—after the previous week's games are complete. These lines are a true indicator of how bookmakers value each team, without the influence of the recency bias that comes after watching eight hours of football earlier in the day. Depending on the bookmaker, and bettor for that matter, you may or may not be able to get the type of action down you'd like, depending on your unit sizing. The key is understanding where the value is on the board in any given week, and that is easier to do once you know what the opening number is.
When I take a position on a lookahead line, I believe the current number will beat the closing line. It's an effort to get ahead of the market movement to land the best number. Basically, I'm parlaying my handicap. In essence, if I'm right in my Week 5 evaluation of the team and market, I will have an advantage in predicting where the line movement will come first in Week 6.
For reference, I'll use the initial odds released by Westgate back in May to show you how the game opened. Then, I'll note the consensus for each current Week 6 lookahead line, with the spread listed based on the home team:

Week 6 Lookahead Lines Takeaways
It matters less early in the season, but I'm always on the hunt for scheduling and travel advantages. For the most part, these things are already baked into the number, but I believe there are instances each week that aren't accurately accounted for in the market.
Bye Weeks: Detroit, Houston, Las Vegas, and Tennessee.
Commanders

@

Bears

(+1)

Seeing this Commanders team posted as a road favorite is stunning, but backing the Bears with any conviction right now is difficult. Just like in Week 5, we have a rookie head coach in play on Thursday Night Football. With the Week 5 matchup still pending, rookie head coaches are 8-17 (32%) against the spread on Thursday Night Football dating back to 2015. The thesis behind this trend is pretty straightforward. Coaching an NFL football team is difficult, and the short week is more likely to sneak up on and impact a first-year head coach than someone who's more experienced in their role.

Check out our Week 5 betting tracker before placing your Week 5 bets!
49ers

@

Falcons

(+6.5)

This is back-to-back NFC South road games for San Francisco, and I want to know their travel plans before making a move on this play. Flights from northern California to Charlotte (for Week 5's matchup against the Panthers) and then going back home to San Francisco, only to fly back across the country a few days later to play in Atlanta, is not ideal.
Jaguars

@

Colts

(-2.5)

Jonathan Taylor's status for this one is unknown, but I think it's critical for the Colts' chances here. They're extremely limited offensively, and without Taylor, it's even harder to see a path for them to move the ball consistently against this young and talented Jacksonville defense. If any book had a +3 out there, I'd take the Jaguars right now, but I don't think there's a need to rush on this at +2.5 without a clearer picture of Taylor's availability, though backing Jacksonville on the Moneyline is appealing.
Bengals

@

Saints

(PK)

This is back-to-back road games for the Bengals, this time on short rest after Week 5's Monday night tilt in Baltimore. Stylistically, this is an excellent spot for Joe Burrow and the Bengals' offense. The early season struggles for the Bengals' offense were attributed to a higher rate of zone defense, and two-high shell looks against them compared to what they saw last season. The Saints will mix in two-high shell, but they love to play man on the outside, and they do so at the highest rate in the league. I don't think there's a reason to jump on this early, but my initial handicap is encouraging for Joe Burrow's return to the Bayou.

Find the best odds for every Week 5 game in a matter of seconds.
Buccaneers

@

Steelers

(+6.5)

Tough sledding for Kenny Pickett to start his career. His first career start comes on the road against the Bills, who rank first in Football Outsiders' pass defense DVOA metric and second overall. His home debut as a starter comes here in Week 6 against Tom Brady and the Buccaneers, who rank fourth in total defensive DVOA and third against the pass. With the pass-catching core returning to full strength, I think the Buccaneers start to show us a different level of play than what we've seen to start the season, and this Steelers defense lacks teeth without T.J. Watt. Play the -6.5 because it won't last.
Ravens

@

Giants

(+5.5)

The Ravens are a road favorite on a short week, which is often an easy fade, but the travel from Baltimore to New York is negligible and, in my opinion, offset by the Giants' return from London in Week 5. This is crawling out to 6 at some books, but it's 5.5 on DraftKings, and I'm taking it. Schematically, this is a great spot for Lamar Jackson and the Ravens. They've thrived against man-heavy blitz-centric defenses like Miami and New England this season, and the Giants fit the bill. They're playing man coverage at the sixth-highest rate in the league while ranking second in the league in blitz rate at 40%. The Giants don't have the firepower to exploit Baltimore's struggling secondary. Lay the points.
Bills

@

Chiefs

(PK)

I don't have much to say here, other than thank you, Football Gods. This should be fun to watch.
---
This article is intended for entertainment purposes and adult users only. Call 1-800-GAMBLER if you have a gambling problem.