SharpClarke's Best Week 13 NFL Bet: NYJ @ MIN Matchup Spotlight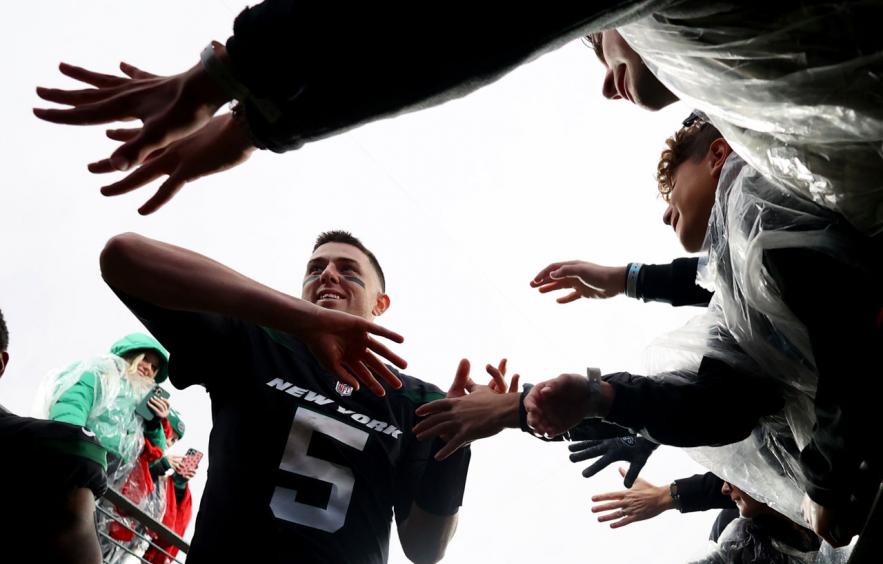 Mike Stobe/Getty Images
In this week's matchup, we head back to Minneapolis, the site of my strongest matchup breakdown of the season from two weeks ago when the Cowboys visited the Vikings.
This week, it's the plucky New York Jets visiting Minnesota, who find themselves squarely in the middle of the AFC playoff race with quarterback Mike White delivering a win in his first start. The market still does not believe in the Vikings, making them only 3-point favorites at home over the Jets, despite their imposing 9-2 record and strong home-field advantage. Let's dive in.

My Numbers
New York Jets: 17th (Offense: 27th, Defense: 7th)
Minnesota: 18th (Offense: 17th, Defense: 25th)
Baseline: MIN -1.5, -120 Moneyline
Matchup Breakdown
NYJ Offense vs. MIN Defense
Watching Zach Wilson was frustrating this year for Jets fans. When he played within structure he demonstrated his talent. But far too often he hesitated on his throws and tried to create plays out of the pocket. It didn't help that they faced a brutal stretch of defenses in the games he started. But he simply did not show growth from his rookie year in the key area of decision-making. Enter Mike White. White is exactly what this offense needed. Wilson's average time to throw on the season is over three seconds. In his first game, White averaged 2.38 seconds per dropback, per PFF. He wants to throw in rhythm and can do so accurately when the opportunity is there. Despite playing in the rain, he had tremendous success against a soft Bears defense that doesn't blitz often and plays a lot of zone. He even had a few shots downfield because he was able to process without too much pressure in his face. For a young quarterback still growing accustomed to the speed of the NFL game, this type of defense is ideal.
Stop me if you've heard this before: The Vikings and Bears play a similarly passive style on defense, inviting patient offenses to matriculate down the field with high-percentage, low-risk, positive plays. I would have called this a bad matchup for Wilson, who would find a way to get pressured regardless. But it's a plum matchup for White. With a full cupboard of weapons available with the return of a healthy Corey Davis and a re-engaged Elijah Moore, I expect more success for White in his second outing. His quick decision-making and accuracy in short-area passes will be a huge asset in this matchup. They also showcased a deep bench of running back talent. Even without Michael Carter, they should be able to run the ball successfully with James Robinson and Zonovan Knight. As we know, running back success is as much about scheme and blocking as it is about running back talent. They will be fine. I don't know if White has what it takes to be a full-time NFL starter at quarterback. But we can take it one game at a time. For at least this week, I predict another strong outing.
Check out my better tracker for the rest of my Week 13 bets!
MIN Offense vs. NYJ Defense
Kirk Cousins is coming off arguably his most impressive performance of the season last Thursday against New England. The Patriots' defensive backs struggled to contain Justin Jefferson, who got open all over the field. But compounding that defensive flaw, the Patriots devoted additional defenders to stopping Jefferson. This led to wide-open opportunities for the Vikings' secondary and tertiary receivers. When you give Cousins open players, he will hit them. That's what he brings to the table. By contrast, he has had his worst games against defenses that have the talent to guard Jefferson with just one player. His worst games, and the Vikings' worst offensive performances in general, came against Philadelphia, who have Darius Slay, Miami, who have Xavien Howard, and Dallas, who have Trevon Diggs. The Jets are hoping that Ahmad "Sauce" Gardner will live up to the hype in this matchup.
Now, it's rare for teams to actually shadow receivers in today's NFL. I do not expect Gardner to follow Jefferson and the Jets don't play a lot of man defense anyway. But the reason I like the matchup for the Jets' defense is that they do not need to change their identity to stop what the Vikings want to do. They can play cover-2 man or cover-2 zone and get pressure with the front four against an inferior offensive line. They can stop the run without devoting safeties to the box. They can leg Gardner matchup with Jefferson when Jefferson does line up on his side, without sacrificing coverage elsewhere. I won't be fading Jefferson in the prop market but that's not how to evaluate whether an offense will be more or less successful than anticipated. The Vikings have shown little ability to overcome a good defense that matches up well, as we saw in embarrassing blowout losses to Philadelphia and Dallas. I expect Cousins and Dalvin Cook will get something going here, but nothing consistent.
Best Bets
NYJ +3 (-110) (DraftKings)
NYJ ML (+130) (BetMGM)
If you enjoyed this matchup breakdown, you can access all my picks with detailed write-ups for every play with a 4for4.com Betting Subscription. Sign up using the Promo Code SharpClarke for 10% off and get every bet I make in real-time. For the most up-to-date picks check out my Twitter and subscribe to our Discord. This sheet from Dan Rivera tracks all my betting picks (and those from the rest of the betting staff) on the year. Just click on the tab with my name on it for the results.
---
This article is intended for entertainment purposes and adult users only. Call 1-800-GAMBLER if you have a gambling problem.