Week 12 NFL Odds: Lookahead Lines Report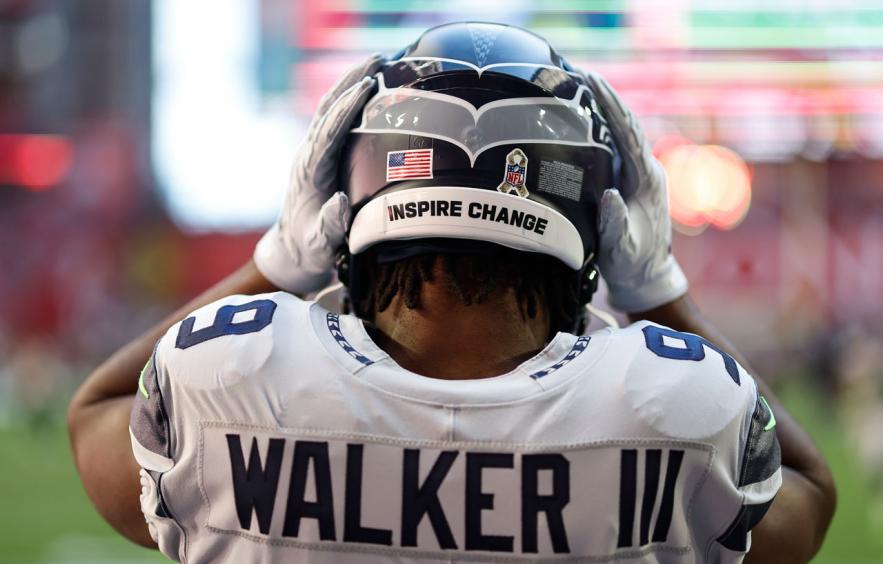 Michael Owens/Getty Images
It's Thanksgiving next week! Don't fret about what dish you'll bring to your family's dinner. Just make sure you show up with closing line value.
When I take a position on a lookahead line, I believe the current number will beat the closing line. It's an effort to get ahead of the market movement to land the best number. Basically, I'm parlaying my handicap. In essence, if I'm right in my Week 11 evaluation of the team and market, I will have an advantage in predicting where the line movement will come first in Week 12.
Friends don't let friends bet NFL sides on game day. I understand the appeal of getting action down on a game about to kick off, but please, for the love of all things sacred, don't do it. I understand that most casual bettors out there don't have time to comb through every news blurb and injury report the moment it comes out. It's difficult for most bettors to feel informed early in the week, or even more, right when next week's line is posted on Sunday evening for the following week's games.
In my opinion, the only way to consistently put yourself in a position to gain positive expected value (+EV) while betting on NFL sides is to beat the closing line. Sportsbooks gradually increase the limits they let bettors get down as the week progresses, indicating that the book feels they've priced the game correctly. So unless you're waiting later in the week because you're betting five-to-six figures on a side, you're +EV increases if you can get down on a number before it's sharpened by the whales.
Each week of the season, I'll provide a first glance at the upcoming NFL slate through the lens of lookahead lines. This brief lookahead window offers a sneak peek at how teams are valued by bookmakers before the start of the week. It's also an opportunity to act before the games are posted and sharpened on Sunday evening—after the previous week's games are complete. These lines are a true indicator of how bookmakers value each team, without the influence of the recency bias that comes after watching eight hours of football earlier in the day. Depending on the bookmaker, and bettor for that matter, you may or may not be able to get the type of action down you'd like, depending on your unit sizing. The key is understanding where the value is on the board in any given week, and that is easier to do once you know what the opening number is.
For reference, I'll use the initial odds released by Westgate back in May to show you how the game opened. Then, I'll note the consensus for each current Week 12 lookahead line, with the spread listed based on the home team:
Week 12 Lookahead Lines Takeaways
I'm always on the hunt for scheduling and travel advantages. These things are mostly already baked into the number, but there are instances each week that aren't accurately accounted for in the market.
Bye weeks: None
Bills

@

Lions

(+10)

After a couple of uneven performances in October and the likelihood of 'Thundersnow' in Week 11, a trip to Detroit is a great way for this Bills offense to get its groove back. This number likely kicks around both sides of 10, and I've seen a 10.5 already, but it'll likely settle at 10. The Bills have three straight in the division after this one, so the timing of the mini-bye is crucial.

Check out our Week 11 betting tracker before placing your Week 11 bets!
Giants

@

Cowboys

(-7)

A Week 11 Giants win against the Lions, paired with a Cowboys loss in Minnesota, could bring this down below -7, but this is the right number heading into the week. I'd make this 7.5, but I think bettors would swoop in and grab the hook quickly, so I understand why it's -7. I'll be a buyer if the scenario above comes to play and this moves to -6 or -6.5.
Patriots

@

Vikings

(-3.5)

The Thanksgiving nightcap is in Minnesota, and I think the Week 11 results could impact this number. The Vikings are home dogs against Dallas this week, and per ESPN Stats and Info, it would be the first time since 1976 that a team 8-1 or better (that started its regular quarterback) was a home underdog. The Patriots host the Jets, who they dominated over the past decade and beat decisively just a few weeks ago. Different iterations of Week 11's results could move this down below -3 or up as high as -5.5.
Bengals

@

Titans

(+2)

This is a rematch of last season's divisional round playoff matchup, and both clubs have aspirations of returning to mid-January football and are positioned to do so with a strong finish. The Titans get a small rest advantage here, while the Bengals are holding out hope that Ja'Marr Chase can return to the lineup here. Regardless of what happens in Week 11, positive Chase news would swing this toward the Bengals, though it's tough to act on this now without a clearer understanding of how viable that truly is. The Bengals have the league's toughest schedule from this point forward, and defensive tackle D.J. Reader's status is as critical as Chase's is in this matchup against Derrick Henry.

Find the best odds for every Week 11 game in a matter of seconds.
Falcons

@

Commanders

(-3)

This feels light, given the Commanders' recent win in Philadelphia. It also feels light, given the matchup and how these two teams want to play. The Falcons have shown a willingness to pass a bit more of late, but they still skew run-first with the league's lowest pass rate over expectation. A ground-heavy game plan here is problematic, with the Commanders a clear pass funnel, due in large part to their second-ranked run defense according to Football Outsiders' DVOA metric. I think this -3 dries up before books re-open on Sunday night.

Ravens

@

Jaguars

(+3.5)

The Ravens feel like a team that's about to take off. They'll come off of their Week 10 bye with a soft matchup against Baker Mayfield and the Panthers in Week 11, and they have the league's easiest strength of schedule down the stretch. This number feels right, and with the Jaguars on a bye this week, it's unlikely to move much, if at all.
Raiders

@

Seahawks

(-3.5)

I'd make this Seattle -5.5, which isn't a huge difference since we're still batting around between 3 and 6. There is a scenario where this moves to -3, though, if Las Vegas can win on the road in Denver in Week 11. Even though the flights aren't across the country, this is back-to-back road games for the Raiders, and they'll get a rested Seahawks team coming off of a bye. No need to fire early, but I like Seattle here.
---
This article is intended for entertainment purposes and adult users only. Call 1-800-GAMBLER if you have a gambling problem.