SharpClarke's Best Week 11 NFL Bet: DAL @ MIN Matchup Spotlight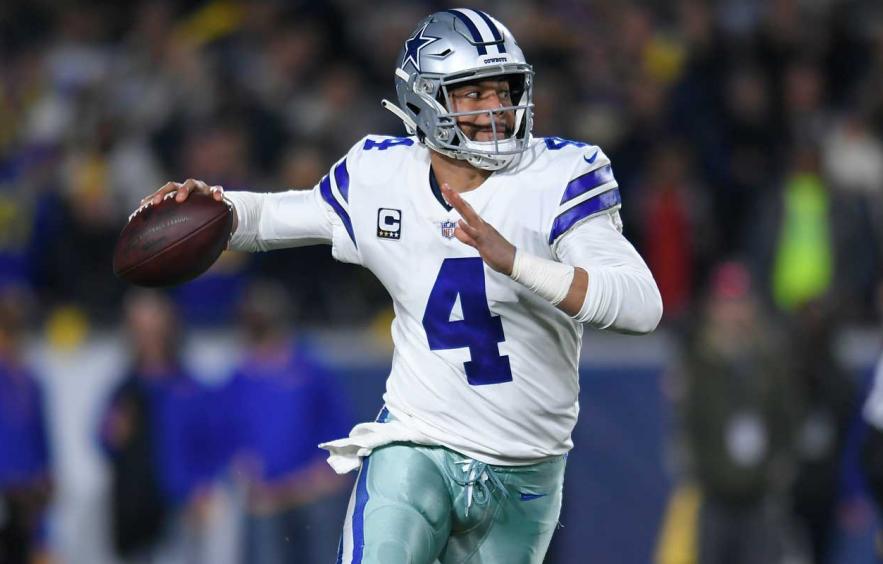 John McCoy/Getty Images
This week's matchup spotlight breaks down a high-profile game between two NFC Super Bowl hopefuls in the Dallas Cowboys and Minnesota Vikings. I expect this will be a heavily bet game on both sides, as strong angles favor each team, at least on the surface. But this is one of my strongest plays of the season so far, because I think the better team here has some specific matchup edges to boot. Let's dive in.
Prep your Week 11 Betting Card!
My Numbers
Minnesota: 15th (Offense: 11th, Defense: 21st)
Dallas: 6th (Offense: 14th, Defense: 2nd)
Baseline: DAL -2.5, -130 Moneyline
Matchup Breakdown
DAL Offense vs. MIN Defense
The Vikings' defense has a distinct identity. They did their homework on the NFL's best offenses and recognized that stopping big passing plays is key to success in today's NFL. They run a ton of 2-high zones and hardly ever stack the box. They want to force you to matriculate down the field with nominal gains in the run game or high-percentage short passes without much yards after the catch. Their aim is to frustrate impatient quarterbacks into making mistakes and get home with the pass rush frequently enough to force a long third down. This approach is generally fine. But it's passive.
The Cowboys are a nightmare matchup for the Vikings' defense. They are happy to do whatever it takes to move the ball. They will run with both Ezekiel Elliott and Tony Pollard and they will capitalize over the soft middle with tight ends and CeeDee Lamb in the slot. Kellen Moore's greatest attribute is that he helps his offense take what the defense gives. In this case, the Vikings are happy to give their opponents short to intermediate gains, and that's what the Cowboys will take. Dak Prescott is a high-IQ quarterback who can be patient, accurate, and consistent. The last time the Cowboys faced a defense with a similar style (albeit less talented), they put up 49 points on the Bears. I certainly wouldn't project 49 points here, but I do project an offensive performance from the Cowboys that is better than you would expect from simply matching up the quality of the offense with the quality of the defense. That's where betting edges lie.

MIN Offense vs. DAL Defense
The Vikings also have a clear offensive identity. They want to pass the ball because, once again, the coaching staff did its homework and learned how much more effective an offense can be that passes the ball a lot. They have one of the best receivers in the league and an accurate quarterback who can get him the ball pretty much anywhere on the field. But two things really concern me here for the Vikings' offense. First, the Cowboys' defensive weakness is on the ground. Teams that run the ball a lot and run the ball effectively can bully the Cowboys' front and take away the Cowboys' advantages in the pass rush and coverage. So, as a team that has a high pass rate over expectation, the Vikings actually play into the Cowboys' strengths on defense. This could lead to a subpar performance by the Vikings' offense, relative to expectation.
Second, Cousins is at his best against zone defenses. Against zone, you need timing, quick decision-making, and accuracy. Cousins has that. But against a man defense, which the Cowboys like to run, the Vikings only really have one receiver who can consistently win at this point (Adam Thielen is a perenially underrated player but he's 32 now). And Justin Jefferson will be matched up against Trevon Diggs, who, for all his flaws, is a solid instinctual player who can make plays. It won't be smooth sailing for Jefferson and it might take a few seconds for players to get open. Those few seconds are key, because Micah Parsons and the Cowboys' pass rush can be lethal. If there's something that will hold the Vikings back on offense, it's Kirk Cousins under pressure.
They might be able to get Dalvin Cook going in this one. Perhaps they shed their typical identity and opt for a more run-heavy approach. But even that is less optimal by default and will represent a below-average version of this Vikings' offense. For that reason, I expect the Vikings to struggle here.
Prediction
The Cowboys are simply the better team on both sides of the ball. Their success on first- and second-down means fewer third downs overall and shorter third downs when they get them. The Vikings struggle on early downs and, although they convert some great third downs to Jefferson, they punt or turn it over two or three times too many. Late in the game, facing a relentless pass rush, Cousins is unable to deliver another miracle win.
Final Score Prediction: DAL 30, MIN 17
Market Evaluation
There is some strong support for both teams here. The game opened right around where it is now, with the Cowboys as short 1.5-point favorites. There are many angles favoring the Vikings on the surface. They have a historically strong home-field advantage with Cousins. They just beat the best team in the NFL on the road. They are tied for the best record in the league and have a lot going for them. I can understand why they are appealing in this matchup, at home, against a Cowboys team that just lost to a bad Packers squad. I believe that a move all the way to DAL -3 would cause too much money to come in on the Vikings, so books are happy with this position. But honestly, based on my breakdown of the game, I would not be shocked to see this rise to DAL -2.5 or even a cheap DAL -3 by kickoff. The Vikings' win last week was a bit of a mirage, representative of their season to date. The Cowboys are legitimate contenders.
Best Bets
DAL -1.5 (-110) (DraftKings)
DAL -9.5 (+270) (BetMGM)
If you enjoyed this matchup breakdown, you can access all my picks with detailed write-ups for every play with a 4for4.com Betting Subscription. Sign up using the Promo Code SharpClarke for 10% off and get every bet I make in real-time. For the most up-to-date picks check out my Twitter and subscribe to our Discord. This sheet from Dan Rivera tracks all my betting picks (and those from the rest of the betting staff) on the year. Just click on the tab with my name on it for the results.
---
This article is intended for entertainment purposes and adult users only. Call 1-800-GAMBLER if you have a gambling problem.