4for4 Betting Recap: Week 12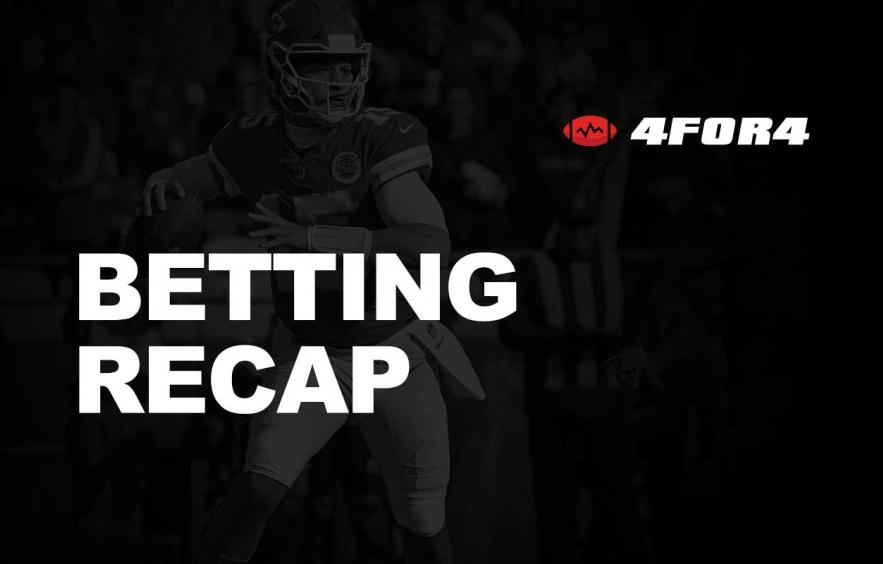 4for4 Illustrations
Welcome to the 4for4 football betting recap. My name is Dan Rivera and I am in charge of tracking bets from Connor Allen, Ryan Noonan, Sam Hoppen, Greg Smith, Anthony Stalter, TJ Calkins and Dalton Kates. Each week, I track their bets and provide feedback after the Monday Night Football game ends. If you have not found it, I track them all here in this 4for4 Tracker. Make sure you switch to the right person and sport.
When you look at anyone in the 2021 NFL, you will see some yellow blocks. There are two points you need to know:
You will see a weekly tracker; this just lets you look at anyone on any given week. This is what I like to call the micro tracker.
The big yellow box has most of the plays broken down by position, prop type, totals, spreads, etc. The total units won or lost will differ from this deep dive version because certain plays didn't fit into the deep dive. For example, Ryan Noonan bet the Patriots to make the playoffs. It doesn't fit into any of the weekly bets during the NFL season.
Why do I do this? When tracking NFL bets, 99% of all bets anyone makes are working juice (meaning you have to lay more money down than you would win). This tracker is far superior compared to other trackers. Other trackers don't have bets broken down by type, it is just simply a tracker. To me, that isn't helpful. I want the data (picks) to tell a story so I can help whoever is making the picks win more. With the juice, you are better off avoiding losers than you are winning. My goal is to help anyone I track to avoid losers or have them attack successful areas. When you look at the deep dive table, be careful if one area looks good or bad. The sample size is key to that deep dive table and a small sample can get very skewed in one direction.
Ninety-nine percent of all plays tracked are to win 1 unit or 0.5 units. You will get maybe one, max two plays from any one bet to win more than 1 unit.
With that being said, let's look at Week 12—one of the most frustrating weeks we have had at 4for4 since tracking so many people this year.
Skewed Stats Alert: Connor, Ryan and Sam all hit a 37-1 bet in Week 8, skewing their props up for the year. The year-to-date records will include it. All three of them risked 0.25 units to win 9.25 units. The prop was Elijah Mitchell to lead the league in rushing yards for Sunday games only.
Ryan Noonan
Week 12: 8-9, 47.06%, -2.28 units
YTD: 117-104-1 52.70%, 17.03 units
Dan's Analysis: Ryan has been hit hard with bad variance this entire month. He was very close to a good week but had the most gut-punching loss I have tracked this year. Ryan gave out Tony Pollard over 36.5 rush yards and it should have cashed but if you missed that flag fest, this play lost. Tony Pollard was over this line and was sitting at 41 yards. The Cowboys had a miscue on the offensive line and the right tackle didn't block properly, resulting in a five-yard loss at the 11:20 mark of the third quarter for the Cowboys back. Pollard didn't have another carry the rest of the game. I was stunned this play lost.
Ryan also had Brandin Cooks to go over 57.5 receiving yards. Even though Cooks recorded a 40-yard touchdown pass, he still failed to go over this line. Another bad result is Rashod Bateman to go over 36.5 receiving yards—a good play except Lamar Jackson couldn't stop throwing interceptions. All these little things added up to a losing week. If two of these plays go his way, Ryan has a winning week. Variance sucks sometimes.
The good news is November is done and he can move on from his gambling month from hell. Ryan continues to do well in WR props, moving to 38-26 (59.38%), up 9.09 units on the year.
Connor Allen
Week 12: 12-10, 54.55%, 2.87 units
YTD: 111-88, 55.78%, 26.75 units
Dan's Analysis: Connor finishes the month of November on a very strong note with nine straight profitable weeks. Connor, like Ryan, suffered from Lamar Jackson's four interceptions. He had Mark Andrews over 4.5 receptions and Rashod Bateman over 36.5 receiving yards, both looking fantastic midway through the third quarter, but Jackson couldn't get it home. The Ravens signal-caller was intercepted four times, all on Mark Andrews targets, who saw 10 targets in the game. Jackson is one of five quarterbacks to accomplish this feat, via Sam Hoppen.
Since 1999, there are 4 other players who were targeted on a play that resulted in an INT 4 times in a game:
*Steve Smith: 2009, Week 1
*Braylon Edwards: 2009, Week 6
*Hakeem Nicks: 2013, Week 15
*Jermaine Kearse: 2014, NFC Championship

One more and Andrews has the record! https://t.co/PX6VN40rDq

— Sam Hoppen (@SamHoppen) November 29, 2021
QB and WR props continue to do well for Connor. QB props are sitting at 57.14% for 7.87 units, while WR props sit at an unsustainable rate of 66.20%, up 21.96 units. Connor is slowly getting his RB props back to 50%, as they currently are 31-34 for 47.69%. The RB props are profitable when you keep the Elijah Mitchell longshot in from Week 8 but down 7.65 units when you take that prop out.

Dalton Kates
Dan's Analysis: Dalton is the Weekend Specialist at 4for4 and actually the one who tipped everyone off to the Elijah Mitchell most rushing yards Sunday only bet from Week 8. If you look at his name on the tracker, you will notice a lot of long shots, an area he has done well this year. If you didn't read his Week 10 article, Dalton has hit some specials already but he wasn't "technically" giving out 4for4 picks yet so you will be seeing me reiterate each week his tracked record versus actual record is going to be different in the tracker. Using his Week 10 article, Dalton started at 16.8 units just betting specials only.
What you don't see, for now, is normal weekly props you see others give out. I left those out on purpose until next week because Dalton will have a ton of volume and it will be a frustrating betting experience, but I want to make others aware of what is going on. Dalton will have a lot of losses in the tracker because he is working with so many long shots. The flip side is when you hit on one or two, it is some of the most fun betting you will be a part of because long shots are fun. (Remember to bet responsibly, though.)
Sam Hoppen
Week 12: 1-0, 100%, 1.00 unit
YTD: 32-22, 59.26%, 17.28 units
Dan's Analysis: Sam was off this week; he had no article and just pick. I don't have much for Sam this week besides that QB props are doing well for him and he doesn't have a losing category, looking at units, even when you take out the long shot Elijah Mitchell hit.
Greg Smith
Week 12: 2-4, 33.33%, -1.38 units
YTD: 56-59, 52.38%, 4.34 units
Dan's Analysis: Greg is working in some of the most efficient gambling markets out there. What I mean is that a half-point to a full point is the difference between having a winning weekend versus a losing weekend. With totals, you will see 1- or 2-point swings, but both of these markets are by far the hardest to win in the long term. For example, in Week 3, Greg had such bad beats on Raiders -3.5 and under 45.5. If the Raiders do their job and don't allow the Dolphins to score in the end, he goes 4-4 instead of 2-6. That series had a net swing of 4.2 units that cost him 2.2 units.
Another 4for4 handicapper with a light week with a total of six picks. Greg lost only 1.38 units because two of his four losses were to win half units instead of to win one unit. Greg got lucky that two of these losses were smaller. Greg took a hit against the spread this week, dropping to 27-22 but totals seem to be his weak link, particularly overs. Greg did hit his lone total this week, over 48 in the Vikings-49ers game.
Anthony Stalter
Week 12: 1-3, 33.33%, -2.24 units
YTD: 20-17, 54.05%, 2.36 units
TJ Calkins
Week 12: 1-2, 10-18%, -1.2 units
YTD: 11-20, 35.48%, -11 units
Dan's Analysis: Both Anthony and TJ suffer from small sample sizes. I just wanted them in the article as the entire 4for4 crew for NFL is being tracked by me. The record will speak for both because deep-diving them wouldn't yield much analysis.