Emmanuel Sanders to Buffalo: Fantasy's Newest Wingman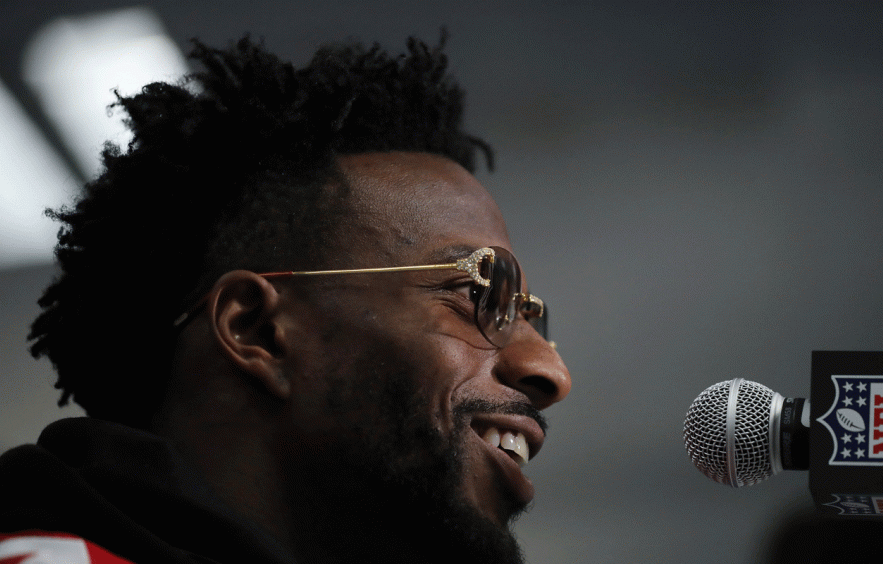 Michael Reaves/Getty Images
After a one-year stint in New Orleans, Emmanuel Sanders officially inked another single-season deal with Buffalo on Friday, March 19th, worth $6 million. Let's take a look at what to expect from Sanders fantasy-wise, along with the rest of a Buffalo offense that's already plastered with talent.
Solid (As a Rock)
*Ashford & Simpson for you young folks
The former Steeler, Bronco, Niner and Saint played in 31 games in just two seasons (17 games in 2019) after tearing his Achilles tendon, which is pretty impressive for a player north of 30 years old.
He posted three-straight 1000-yard seasons, all with the Denver Broncos. Two of those were passes thrown by Peyton Manning, but Sanders also managed to put up an impressive 79-1,032-5 line with Trevor Siemian under center in 2016.
The Mile High City is where his fantasy upside really commenced, functioning primarily as a fantasy WR2, with one WR1 season and a few years where he landed as a WR4, all measured by half-PPR points per game.
While he hasn't necessarily been a high-volume guy in a few seasons, Sanders makes up for it with efficiency. His 74.4% catch rate in 2020 was the eighth-highest among wideouts with at least 80 targets, and the 34-year old's true catch rate, which measures total receptions against catchable targets, was tops in the NFL at a whopping 110.9% last year.
The question remains, will the 11-year veteran see enough volume this year in Buffalo to showcase some of the best hands in the league?
---
Editor's Note: Read more free agent player profiles from the rest of the 4for4 staff.
---
Sanders May Fit the Bill(s)
Wideout John Brown was let go and subsequently became a Raider, and now Sanders profiles to fill his shoes in the Bills' offense. Brown flashed WR2 upside opposite Stefon Diggs last year but disappeared due to injury and finished the season having played only nine games. If Brian Daboll goes with the same pass-heavy approach as he did in 2020—and why wouldn't he with Josh Allen at QB—then we're looking at a top-11 offense in terms of passes per game (37.3) and bottom 15 in rushing plays per contest (25.7).
With those kinds of numbers, there should be enough volume for Diggs, Sanders and Cole Beasley in the slot, with Gabriel Davis rotating with Sanders in three-WR sets on the perimeter. As far as QB goes, the presence of Sanders is a value-add for Allen in 2021, but his fantasy projection was already sky-high as the overall QB2, so nothing changes there.
So much for Dawson Knox becoming a fantasy thing because the Bills also signed former Seahawk Jacob Hollister, who actually played with Josh Allen at Wyoming. The two collaborated on 32 receptions for 515 yards and seven touchdowns during Hollister's final year, and there's potential for his success in this pass-happy offense. Hollister's presence shouldn't impact Sanders in any way though, as this offensive machine is geared towards the wideout position.
Last year, Allen threw 75% of his passes to his receivers, which led the league, and his TEs only saw a combined 67 balls between four players. Sadly, RBs didn't fare much better when it came to the passing game, as Devin Singletary, Zach Moss, T.J. Yeldon and Taiwan Jones only amassed 74 targets together in 2020.
While it's exciting to add another talented wideout to this already powerful passing offense, we must remember that 2021 Sanders is not what he used to be, and we can't head into the season expecting 16 full games of fantasy goodness. He'll have some decent contests, but until we see the 34-year old's usage share with Davis and Beasley, it's tough to count on him as a starter on any roster.
Bottom Line