EURO 2020 Final Betting Preview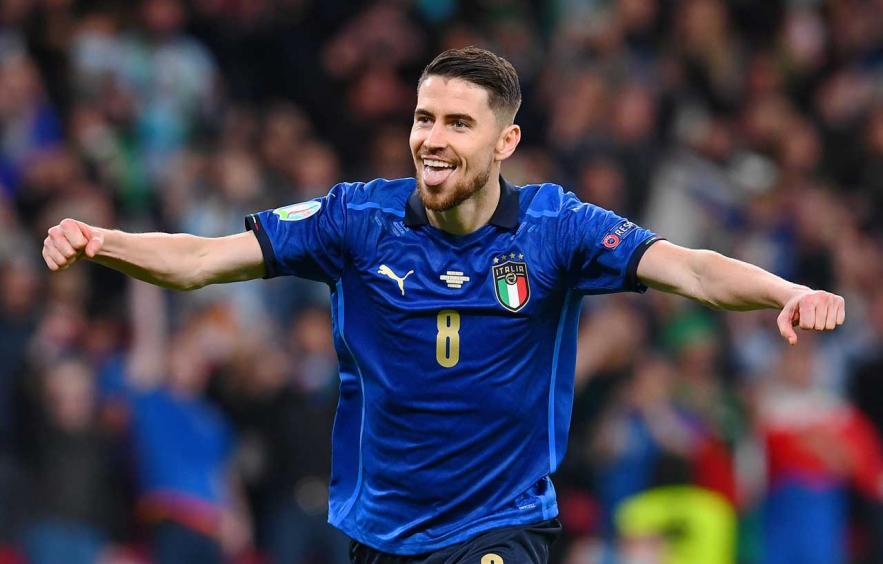 Claudio Villa/Getty Images
The EURO 2020 Championship matchup is here to cap off what's been an exciting tournament. Italy and England have been the two most impressive teams in this tournament, so it's only fitting they'll battle to become champions of Europe. Both sides went through grueling matches in the semi-finals, with the Italians surviving a Spanish onslaught and the English taming a feisty Danish underdog. Both teams are evenly matched, setting up what's likely to be an exciting final. In this article, I'll take a look at my favorite bets for Sunday's match, using odds courtesy of Bet365.
---
More 4for4 Betting Content & Tools: Picks | Glossary | Move the Line Podcast
---
England vs. Italy Euro Cup 2020 Final Preview
England (-125) is favored to lift the trophy over Italy (+100). A result in regulation of either England (+162) or Italy (+200) is pretty evenly priced with a Draw (+200). The total for the match is set at 2.5 goals, with the Over (+150) priced as the less likely outcome compared to the Under (-188). This is no surprise considering how stout both sides have been defensively throughout this tournament. There are some props to take advantage of here as well, as Italian forward Giacomo Raspadori (+300) is oddly priced the same as Raheem Sterling (+300) as a goal scorer. This is despite the fact Raspadori hasn't appeared in a game throughout this tournament. There's also terrific value on Jorginho (+2000) to win Man of the Match. Let's take a look at my five favorite bets for the final.

Best 2020 Euro Cup Final Bets
Both Teams to Score: No (-150)
We're likely to see a low-scoring affair for two reasons. For one, it's the finals, so both teams will play a bit more conservatively, at least in the early stages of the game, as they try to feel out the opposing side. Secondly, both teams have been stout defensively. Italy has only conceded three goals in six games—one on a penalty, one late in extra time and another in the 80th minute. England has only allowed one goal, coming on a spectacular free kick by Denmark's Mikael Damsgaard. This line is highly-priced for good reason, as we're likely looking at a tightly contested 1-0 game here.
Half Time Correct Score: 0-0 (+125)
I really think the first half will be about both teams feeling each other out. You'll likely see a conservative approach with both sides playing not to make a mistake, at least in the early going. We've also seen the way England manager Gareth Southgate prefers to bring on some of his firepower options like Jack Grealish and Phil Foden in the second half. There's some solid value on a scoreless first half.
Full-Time Result: Draw (+200)
We're also getting good value on a draw after full time, especially given how strong both teams have been defensively throughout this tournament. Both semi-final matches went to extra time, and given how evenly matched these two teams are, I expect the same to occur here in the finals.
Man of the Match: Jorginho (+2000)
Italy's strength lies within their midfield, led by the terrific trio of Marco Verratti, Nicolo Barella and Jorginho. Jorginho is the key cog in this engine. Maurizio Sarri, Jorginho's manager at Chelsea, called him a candidate for Ballon d'Or due to the way he "makes everything seem easy." Jorginho won the Champions League with Chelsea and now has a chance to secure the European Championship in the same year. He completed 98.6% of his passes in the quarter-final victory over Belgium. I expect Italy to control possession much more often against England than Spain, so Jorginho will have more opportunities to make an impact. He's a phenomenal value at +2000 here.
To Lift the Trophy: Italy (+100)
The English have the home field advantage at Wembley, but the Italians have been the more impressive team throughout this tournament. This is a team that has been unbeaten in their last 33 games under Roberto Mancini. They have shown cohesiveness as a unit with impressive chemistry. We saw their resiliency when they conceded an equalizer to Alvaro Morata in the 80th minute of the semi-final match against Spain. The Spaniards dominated possession and looked to have the upper hand, but the Italians were able to withstand this attack and win in penalties.
Italy should be able to control more possession with their superior midfield here. Gareth Southgate really should start Jack Grealish in this one to take advantage of an Italian wing that has been weakened with the loss of fullback Leonardo Spinazzola, who had been one of the emerging stars of the tournament prior to his devastating Achilles injury in the quarter-finals against Belgium. Southgate's insistence to leave some of that star power on the bench could be his undoing in this one.
Bottom Line
It's been an exciting tournament, especially in the knockout stages with fantastic matches between Italy and Spain as well as England and Denmark. Both teams are deserving of making the finals and we can expect a fantastic match to finish up the tournament. I bet on Italy (+800) to win the tournament before it started. I also took England (+350) to make it to the finals. I've had a good feel for the matches here and I really believe the Italians will extend their unbeaten streak to 34 games and bring the European championship back to Rome.
---
This article is intended for entertainment purposes and adult users only. Call 1-800-GAMBLER if you have a gambling problem.