2021 NCAA Tournament Sweet 16 Bets: Day 2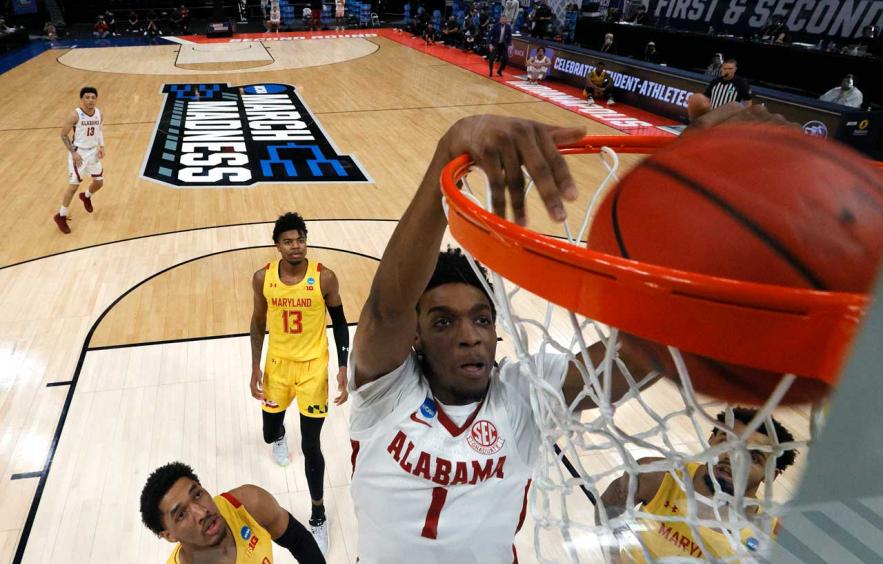 Sarah Stier/Getty Images
After an exciting start to March Madness, college basketball makes its return this Sunday for Day 2 of the Sweet 16. With highly competitive contests across the board, betting markets remain exploitable, even at this time of year.
With every team playing twice except Oregon, the market remains ripe for over-correction. Certain Cinderella teams can benefit from a quick turnaround in the opening rounds of the tournament. However, with nearly a full week for these teams to prepare, regression looms as the Sweet 16 approaches. With that said, here are a few notable trends worth exploiting on Sunday's slate of games.
2021 NCAA Tournament Sweet 16: Day 2
Alabama (2) vs. UCLA (11)
Alabama -6.5 (-110 at FanDuel)
Rinse and repeat with the Crimson Tide. Despite finishing first in the SEC regular season and winning their conference tournament, Alabama continues to provide value in the betting markets. After rolling Iona and Maryland in their first two games, the Crimson Tide draw a play-in opponent in UCLA. After taking down the 11-seed over Michigan State, UCLA made quite the run with wins over BYU and Abilene Christian for the privilege to face the Crimson Tide as 6.5-point underdogs.
Even with the positive run down the stretch, UCLA faces significant obstacles here. Much has been made of the strength of the PAC-12 this season, but UCLA dropped four straight games and six of their last 10 games prior to the NCAA tournament. Having faced an easier slate of competition to arrive at the Sweet 16, UCLA now faces their toughest opponent of the entire tournament.
Looking at both teams, Alabama holds advantages across the board. The Crimson Tide rank 71st and 17th in offensive and defensive efficiency, respectively. On the other side, UCLA ranks 30th in offensive efficiency, but 173rd in defensive efficiency. This weakness shows up across the court as well. UCLA ranks 158th in interior defense, while ranking 199th when it comes to defending the three-point line.
Meanwhile, Alabama also presents a stylistic conundrum for the Bruins. Alabama plays at a fast pace, averaging 76.5 possessions per game. UCLA prefers slower basketball and could struggle against a hyper-athletic Alabama team ranked 31st in creating turnovers. Alabama also possesses a rare size advantage with Jalen Hill still away from UCLA's team. Cody Riley does stand 6-foot-9, but he averages only 22.8 minutes per game. Conversely, Alabama possesses versatile 6-foot-8 starter Herbert Jones, while rotating their other big men in and out of the starting lineup.
Positively, Joshua Primo also returned from an MCL sprain in Alabama's last contest and played 23 minutes. Now fielding a healthy roster with numerous advantages over UCLA, Alabama still presents value even as 6.5-point favorites in the betting markets.
Risk: 1.1 units on Alabama -6.5 points on FanDuel to win 1 unit.
---
March Madness Sportsbook Promos
BetMGM: Bet $1 on any team, win $100 if they hit a 3-pointer
PointsBet: Bet $20 on any team, win $150 if they score 16 points or if they hit a 3-pointer
FanDuel: Bet $5 on any team, win $150 if they win
William Hill: Get a $2,021 risk-free bet for March Madness
DraftKings: Bet $1, win $100 on any team to win
BetRivers: Get $250 in free bets on the tournament
Unibet: Get a $1,000 risk-free bet, plus $40 in free bets
---
Michigan (1) vs. Florida State (4)
Florida State +2.5 (-116 at FanDuel)
After falling to Georgia Tech in the ACC Tournament, Florida State quickly righted the ship with wins over UNC-Greensboro and Colorado to open the NCAA tournament. Meanwhile, Michigan overcame Texas Southern and a highly competitive matchup against LSU for the right to take on Florida State. Currently, Michigan remains a 2.5-point favorite in a game with a 143.5-point total.
The big story with Michigan remains the absence of Isaiah Livers. Michigan ranks 10th in offensive efficiency and 58th in defensive efficiency, with Livers contributing significantly to those marks. On the other side, Florida State holds its own with the 27th-ranked offense and 77th-ranked defense in terms of efficiency. More troublesome yet, Michigan started to show the effects of Livers's absence, allowing LSU to score 78 points in their most recent tournament game.
Aside from Livers, Florida State holds additional paths to victory in this spot. Michigan's defense ranks 112th against opposing three-point shots. Florida State shoots 38.2% from three, which ranks 17th in the country. LSU just took advantage of this matchup with Cameron Thomas and Javonte Smart scoring 30 and 27 points, respectively. Running one of the deepest 10-man rotations in the country, Florida State also rosters three individual shooters in M.J. Walker, Anthony Polite and Sardaar Calhoun who shoot over 40% from three.
Florida State also enters this game with considerable size advantages. Michigan plays 6-foot-1 Eli Brooks and 5-foot-11 Mike Smith for nearly the entire game. Meanwhile, Florida State's 10-man rotation features 6-foot-4 RayQuan Evans as its shortest contributor. With multiple advantages over an injury-weakened Michigan team, Florida State is the play.
Risk: 1.16 units on Florida State +2.5 points on FanDuel to win 1 unit.
USC (6) vs. Oregon (7)
Oregon to Win (+110 Moneyline at FanDuel)
Playing in perhaps the top conference in college basketball, USC overpowered both Drake and Kansas for the right to play Oregon in the Sweet 16. Oregon automatically moved to the Round of 32 after a VCU forfeit, but the Ducks demolished No. 2 seed Iowa by 15 points. Looking forward to this contest, USC sits as a two-point favorite in a game with a 138-point total overall.
With this being a Pac-12 showdown, USC and Oregon already played this season. After their first scheduled game fell through due to COVID-19, USC demolished Oregon by 14 points in their second scheduled matchup. However, that score doesn't necessarily represent the true events of that game. USC stormed out to a 15-0 lead after Oregon missed their first eight shots and committed three turnovers in the first six minutes. After their brutal start, Oregon actually crawled back into the game and outscored USC 36-29 in the second half.
Both of these teams play drastically different styles of basketball. Oregon's entire starting five stands between 6-foot-5 and 6-foot-6. They all also shoot at least 36% from beyond the arc. USC funnels a majority of their offense through 7-foot-0 monster Evan Mobley, providing a direct clash of styles. Even in Oregon's last game, Iowa big man Luka Garza scored 36 points and secured nine rebounds in their losing effort.
While Mobley likely finds success in the paint against Oregon's 185h-ranked interior defense, Oregon's efficiency continues to overpower teams. Oregon ranks 23rd in offensive efficiency, despite playing much of the season without multiple starters. USC's major defensive weakness remains guarding the three. They rank 160th in three-point defense and sometimes struggle with teams that stretch them out.
Oregon commits very few turnovers, making their first performance against the Trojans somewhat of an anomaly. Oregon ranks 314th in offensive turnovers per game, while USC forces them at the 285th highest rate. USC also has a major weakness from the free throw line. The Trojans shoot just 64% from the charity stripe, which ranks 326th in the country. USC won both of their tournament games by double-digit points, so this hasn't come into play yet. However, it could be the difference in a game in these tight matchups down the stretch.
Now playing with a fully healthy roster and fully exploiting USC's defense, Oregon remains a solid play on the Moneyline. For those feeling more risk-averse, the two-point spread is also playable here.
Risk: 1 unit on the Oregon Moneyline +110 on FanDuel to win 1.1 units.
For the most up-to-date picks check out my Twitter or subscribe to our Discord. This sheet from Dan Rivera tracks all my betting picks (and those from the rest of the betting staff) on the year. Just click on the tab with my name on it for the results.
*All lines accurate at the time of publication.
---
This article is intended for entertainment purposes and adult users only. Call 1-800-GAMBLER if you have a gambling problem.