2021 NCAA Tournament Elite 8 Bets: Day 1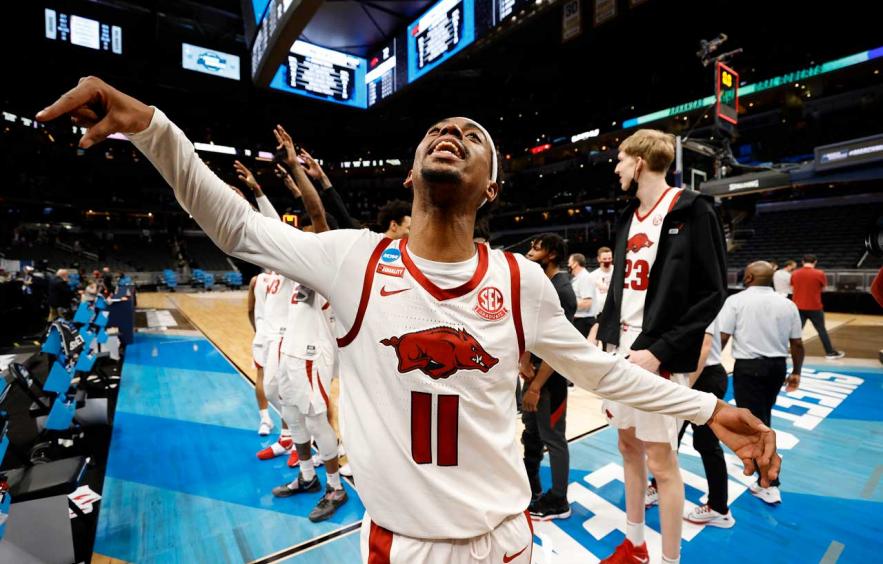 Tim Nwachukwu/Getty Images
This has truly been a spectacular tournament so far with a lot of close games and unexpected runs from double-digit seeds Oral Roberts (15), Oregon State (12), and UCLA (11). Oral Roberts' journey may be over but Oregon State pulled off another upset over Loyola Chicago to stick around one more round. We are down to just two games a day now, so I'll likely be sprinkling in some player props in addition to my usual totals and sides.
Before we dive into my recommended bets, a few metrics I'll cite are from KenPom.com that are important to understand:
Adjusted Efficiency Margin: How efficient a team is on offense and defense, adjusted for how good their opponents were.
Adjusted Offensive Efficiency: How efficient a team is on offense, adjusted for how good their opponents were.
Adjusted Defensive Efficiency: How efficient a team is on defense, adjusted for how good their opponents were.
This key provides a more in-depth explanation. Onto the Sweet 16…
2021 NCAA Tournament Elite 8: Day 1
Baylor (1) vs. Arkansas (3)
Arkansas +7.5 (-112 at DraftKings)
Arkansas to Win (+285 Moneyline at DraftKings)
We have bet on Arkansas in all three of their games so far, winning 2-of-3 wagers. We are now back on the Razorbacks but this time they are getting 7.5 points.
The biggest story for the Bears entering the tournament revolved around their defensive struggles after multiple players tested positive for COVID-19. After returning from their 20-day COVID-19 hiatus, they played seven games prior to the tournament:
77-72 win over Iowa State
71-58 loss to Kansas
94-89 win over West Virginia
81-70 win over Oklahoma State
88-73 win over Texas Tech
74-68 win over Kansas State
83-74 loss to Oklahoma State
Their only two losses of the season came during this stretch and they allowed 68+ points in every game. They have turned things around in the tournament, though, locking down Hartford for 55 points, Wisconsin for 63 and Villanova for just 51. While those teams have largely been efficient on offense this season, they play at a snail's pace:
Hartford: 243rd in adjusted pace
Wisconsin: 329th in adjusted pace
Villanova: 336th in adjusted pace
They will now match up against the lightning-paced Razorbacks, who are 17th in adjusted tempo. This is something the Bears not only haven't seen lately but didn't see much of at all during the season—the Big 12 is largely comprised of teams who play slow. Baylor has played just one game against a team in the top 50 of adjusted tempo—Oklahoma State (25th). They not only handed them one of their two losses but hung 83 and 70 points, respectively, in their two meetings after Baylor's COVID-19 issues. Baylor's defense enters the game ranked 27th in adjusted defense, nothing the Razorbacks haven't seen plenty of.
Arkansas' stretch of struggling was early in the season. Before February they were 30th in adjusted efficiency margin, 13-5 overall, and just 5-4 in conference play. From February on, they are 13-1 and now head into Monday's game ranked 17th in adjusted efficiency margin. In the Razorbacks' six total losses, only three came by more than seven points.
With Arkansas' fast-paced approach and ninth-ranked adjusted defense, I think they give the Bears all they are worth and potentially win outright. Make sure to also visit our Discord for an exclusive Jalen Tate props bet I posted.
Risk: 1.12 units on Arkansas +7.5 on DraftKings to win 1 unit.
Risk: 0.5 unit on the Arkansas Moneyline +285 on DraftKings to win 1.4 units.
---
March Madness Sportsbook Promos
BetMGM: Bet $1 on any team, win $100 if they hit a 3-pointer
PointsBet: Bet $20 on any team, win $150 if they score 16 points or if they hit a 3-pointer
FanDuel: Bet $5 on any team, win $150 if they win
William Hill: Get a $2,021 risk-free bet for March Madness
DraftKings: Bet $1, win $100 on any team to win
BetRivers: Get $250 in free bets on the tournament
Unibet: Get a $1,000 risk-free bet, plus $40 in free bets
---
Houston (2) vs Oregon State (12)
Houston -7.5 (-109 at DraftKings)
Ethan Thompson Under 25.5 PRA (-112 at DraftKings)
Oregon State is unequivocally the worst team left in the tournament. They don't do anything particularly well, ranking 35th in adjusted offense, 62nd in adjusted defense, 222nd in effective field goal rate, and they are outside the top 100 in turnover rate and offensive rebounding rate. So how are they in the Elite 8?
They have played their best six games of the season in a row, winning the conference tournament and three straight tournament games. In the past six games, Oregon State has shot the three incredibly well and opposing teams have bricked. For reference, the NCAA average in three-pointers made is 33.8%...
40% 3PM, 25% 3PA against UCLA
38% 3PM, 24% 3PA against Oregon
41% 3PM, 31% 3PA against Colorado
47% 3PM, 19% 3PA against Tennessee
30% 3PM, 27% 3PA against Oklahoma State
38% 3PM, 21% 3PA against Loyola Chicago
The Beavers shot better than the NCAA average in all but one game and allowed lower than the average in every game during this stretch. As The Power Rank's Ed Feng and Ken Pomeroy have found, the percentage of three-pointers made and three-pointers allowed are not stable and are usually random. This leads me to believe sooner or later that Oregon State is very likely to regress in both categories, and now they run into a defensive buzzsaw in Houston. There are a few massive mismatches that lead me to believe Houston will win by double-digit points. Houston is No. 1 in effective field goal rate defensively, while Oregon State is 222nd offensively. They also have a massive mismatch in terms of offensive rebounding rate, ranking second, while Oregon State ranks a lowly 228th on the defensive side.
If we think Houston's defense gets the best of Oregon State, grabbing the under on Ethan Thompson's Points + Rebounds + Assists (PRA) of 25.5 makes a lot of sense. Thompson has been crushing as of late but this game projects to be a lot different. The total is just 130 points and the Beavers are eight-point underdogs, making Oregon State's team total just 60.5 points. A big reason for this is both teams' sloth-like pace—the Cougars rank 326th in pace and Oregon State ranks 304th. In arguably his toughest matchup to date in a slow-paced game, Thompson would have to play incredibly to hit the over on his PRA.
Risk: 1.08 units on Houston -7.5 on DraftKings to win 1 unit.
Risk: 1.13 units on Ethan Thompson Under 25.5 Points + Rebounds + Assists on DraftKings to win 1 unit.
For the most up-to-date picks check out my Twitter or subscribe to our Discord. This sheet from Dan Rivera tracks all my betting picks (and those from the rest of the betting staff) on the year. Just click on the tab with my name on it for the results.
*All lines accurate at the time of publication.
---
This article is intended for entertainment purposes and adult users only. Call 1-800-GAMBLER if you have a gambling problem.