TJ's #Taek: Week 3 NFL DFS Recap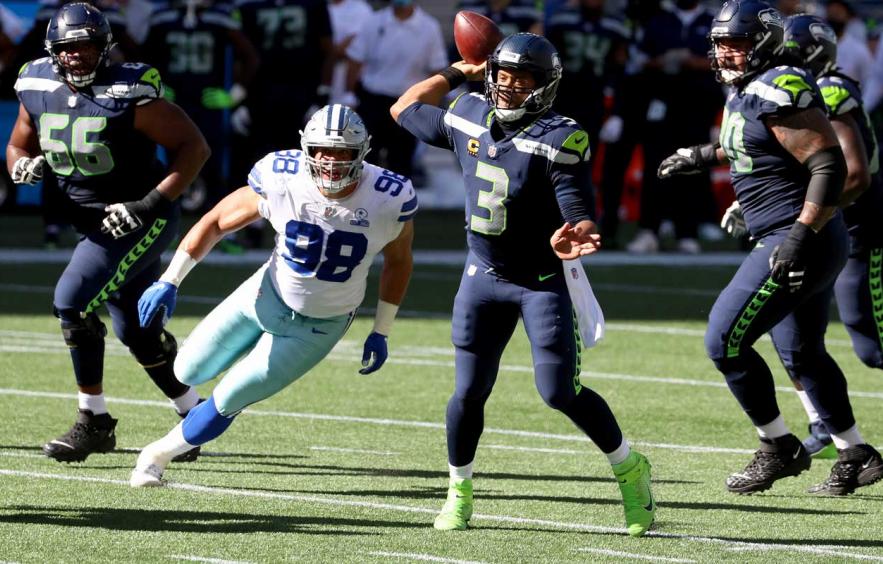 Abbie Parr/Getty Images
Week 3's winning lineups from the biggest contests on FanDuel and DraftKings can be used to tease out lineup-building strategies and offer clues on how you could have landed on a similar team. Reviewing your hits and misses each week is imperative if you want to be a profitable DFS player but examining winning lineups is also a useful exercise in cultivating a winning approach.
DraftKings Week 3 Millionaire Winning Lineup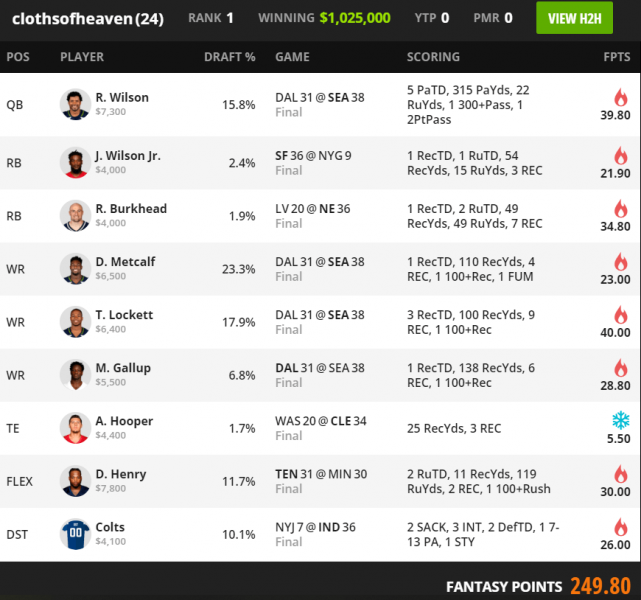 Despite using one of the most popular stacks of the week, clothsofheaven built a winning lineup with an average ownership of just 10.2%, the fifth-lowest mark for a Millionaire winner since the start of 2019. As we saw from Week 2's Millionaire winner, stacking the game with the highest total won't be unique on its own but rostering four players from one game can be when landing on the correct low-owned play—in this case, that was Michael Gallup.
Running back is usually the position that is easiest to project, in terms of both workload and game flow. When opting for a popular game stack, though, it makes sense to stray from the chalk at the running back position even though tournaments are often won with the most popular running back. It's worth noting that with a running back in the flex, each Millionaire winner in 202 has used a different position in the flex.
What Were the Indicators for the Low-Owned Plays?
This lineup was just as much about offsetting salary as it was offsetting ownership. The two low-owned running backs, Jeff Wilson and Rex Burkhead were min-salary backs that helped clothsofheaven four players above $6,000 as well as the most expensive defense of the week.
San Francisco and New England were both big favorites with ambiguous backfields, however, there were indicators for the big outputs in Week 3. Rex Burkhead led all Patriots backs in Week 2 with 71% of snaps with James White out, and White was inactive in Week 3 as well. The 49ers injury-riddled backfield was expected to be led by Jerick McKinnon but late-week beat reports pointed to Wilson as the player to lead the way. Of course, the latter was assisted by an injury to McKinnon but the point is that there is some value in targeting ambiguous backfields in favorable situations, even if it shouldn't be the predominant strategy.
Cleveland was a huge favorite against Washington and both of their running backs were expected to draw significant ownership. Pivoting to their pass catchers was a leverage play that didn't necessarily work out but did reiterate the fact that a roster doesn't have to be perfect to take down even the biggest tournaments. It also reminds us of a prevalent lesson from 2019 that playing a studs and duds approach often has a higher ceiling than a balanced strategy, even when the dud actually duds.
FanDuel Week 3 Sunday Million Winning Lineup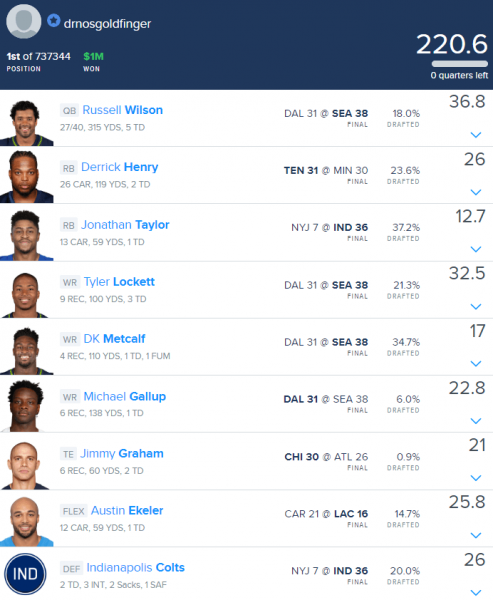 The winning Sunday Million lineup used the same primary stack as the wining Millionaire lineup but the rest of the approach was a stark contrast, with an average ownership of 19.6%, the highest average for a winner since at least the beginning of 2019. The high ownership of FanDuel winners is a direct reflection of how loose pricing is.
Whereas it's impossible to roster multiple high-priced backs on DraftKings with this stack, drnosgoldfinger was able to roster three expensive chalky backs and one of the most expensive defenses with the Cowboys-Seahawks stack. Jimmy Graham proved to be the best leverage play against a relatively popular Allen Robinson who many liked against a bad Falcons secondary that was down a starting cornerback. While ARob has seen WR1 volume through the first two weeks, Graham had just as many red-zone targets as Robinson going into the week.
Note that this lineup implemented an RB-DEF stack, the third time in three Sunday Millions this season that the winner has implemented some running back stack in addition to the traditional quarterback stack.
TJ's Final #Taek
There has been quite a disparity in the average ownership of winning lineups between FanDuel and DraftKings over the first few weeks. As the season progresses, the average ownership of wining lineups on DraftKings will rise since in-season data will become increasingly more reliable. Similarly, there will be weeks on FanDuel where a more contrarian approach is prevalent at the top of leaderboards.
With that said, as long as FanDuel trends towards looser pricing and DraftKings tighter pricing, we must differentiate our approach to how unique our lineups have to be in GPPs.
With loose pricing, it's easy to have a roster full of studs, which should discourage an overly contrarian build, even in the biggest tournaments. Tight pricing, however, means that a handful of marginal players will draw significant ownership. It's in those spots where it makes sense to go the most against the grain.