Yahoo Best-Ball Leagues: A First Look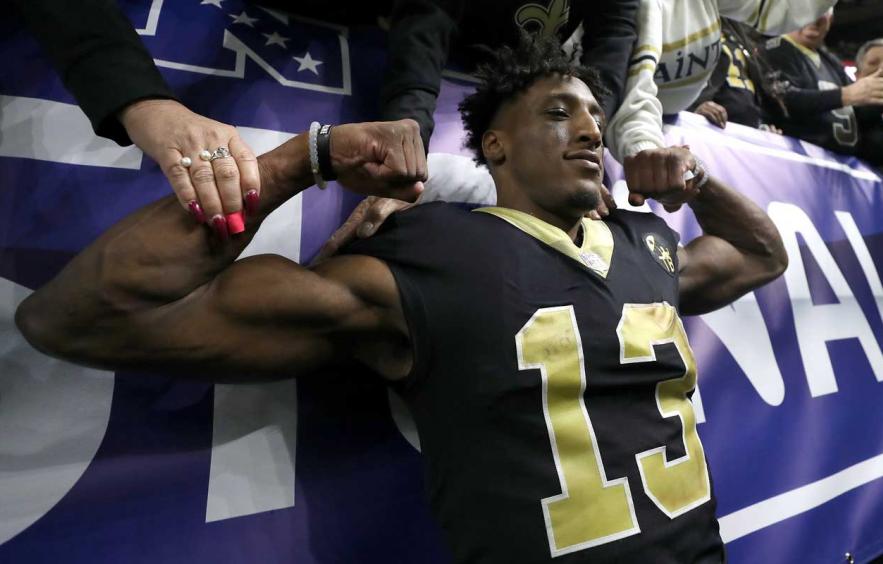 Chris Graythen/Getty Images
Fantasy sports give us options.
Do you like points? We've added so many premiums to scoring systems, that head-to-head totals require scientific notation.
Do you want deeper rosters? There's probably an 18-team, Superflex league with three flex spots drafting right now.
Do you need quick access to your roster and updates on players? New platforms have sprung up over the years along with updates to the classics that instantly provide injury news, coach-speak, and upcoming matchups.
We haven't had the same options for best-ball. There are limited sites, limited options for entry fees, and high rake limiting potential prize pools. Being safe at home gives us more time to build our portfolios, gain exposure to more players and test out other draft strategies. Yahoo has given us that chance. Their new platform helps scratch the itch as we await the NFL draft and for the offseason to begin in earnest. I took a look at some of the contests available and the differences from other sites. The entry fees alone were enough to pique my interest, but the contrasts were enough to keep my excitement.
Gameplay
Roster requirements:
1 QB, 3 WR, 2 RB, 1 TE, 1 Flex, 1 DEF, 11 Bench
These are 20-round drafts with points accumulating through Week 16 of the 2020 season. A similar setup to other sites, but leagues only include 10 people. For folks new to the format, you're drafting for the entire season. No trades or waiver claims. So, at the very least, injuries and bye weeks must be considered. Drafting additional players at the onesie positions (QB, TE, DEF) will address this need. The amount drafted of these onesies gets us into a discussion of roster construction.
How many of each position and when it's optimal to do so is an oft-debated topic in best-ball leagues. Personal preference can aid in your approach, but the goal is the same. Acquire enough types of players to build a high-scoring roster. Player types denote their archetypes. How they win on the field. Will a roster full of 'Jamison Crowder' types win your league? Or a squad filled with Will Fuller? A complimentary build endures the valley and spike weeks. I drafted an example group of receivers while testing out the site:
Any three have stat lines of 6-60-0 to 8-120-2 in their range of outcomes each week. The other positions require a similar composition, but you get a general idea. Players and profiles are to be kept in mind while constructing your squad, but you only have limited time to consider it.
Yahoo uses a 30-second timer between picks. It makes the entire draft move quicker, but your plan for each pick needs to come with a backup plan. Or, maybe, two backup plans. Watching for positional runs (multiple picks of the same position in a row) or being sniped will keep your roster goals intact throughout the draft. An understanding of Average Draft Position (ADP) can set expectations prior to the start of a draft. Each site is slightly different. Comparing ADP to our rankings can help avoid players with inflated costs protecting your path to an optimal roster.
Cost
League fees include:
Free, $1, $5, $10, $20, $50, $100
Free is good. For those who are used to slow-time drafts or want to look at ADP differences, here's your chance. Test out the interface and look at player values with a 45-minute test of the platform. If you're ready to put some money down, there's more good news.
Prize pools payout the top three at each tier. In addition, drafters with the weekly top score will win 25% of their buy-in. Total prizes result in a 10% rake. With the buy-in options and payouts, Yahoo is a low-risk option as more players join.
Scoring
Scoring differences:
-1 point for Interceptions
Tighter defensive scoring (ex. 7-13 points allowed = 4 fantasy points)
Half PPR
The implications of the first two differences are easy to understand. Lesser consequences for INTs open up the discussion for aggressive quarterbacks. In an extreme example, Jameis Winston finishes as the QB3 after only removing one point for his 30 INTs. Tighter defensive scoring bands push for acquiring a top-tier unit. While the position is hard to project over an entire season, points allowed will drive gamers to invest in the position early and often. The final point requires some nuance.
What's the difference between full and half PPR? The common answer is that it places less emphasis on receivers. While true, the real question is how should this affect our draft strategy? Usually, the response is to draft more running backs in the early rounds. But history shows us what we're giving up in doing so.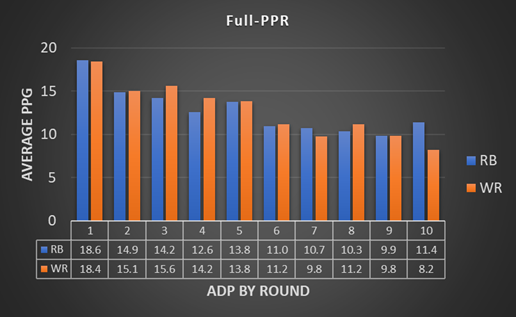 Full PPR offers some protection to pursuing running backs early. Receivers available in the middle rounds 2-5 offer similar or greater value than their rushing counterparts. As running back value drops off, pass-catchers can be acquired to fill out your roster. Not necessarily the case in half PPR.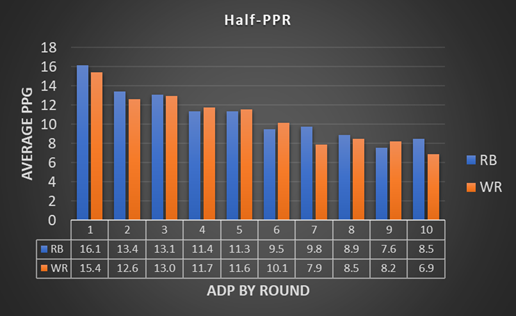 Running backs have the edge early. But there isn't a significant shift throughout the remaining rounds. Wide receivers still maintain similar value throughout the early part of the draft. A balanced approach is still required. While the scoring may slightly favor RBs, our rosters still need three WRs to start each week. To avoid missing out on high-end talent, looking to all positions for value will likely lead to a profitable final roster.
Bottom Line
Best-ball formats are taking over the offseason. They offer the thrill of drafting, matched with not having to maintain the squad during the season. All play. No extra work. Yahoo has offered a variety of low-cost options that will get you acquainted with the format at little risk to your bankroll. The payout structures also lend themselves towards recouping some of your buy-ins throughout the season. Sign up and draft a team today.