Player to be Selected with the Giants' First Draft Pick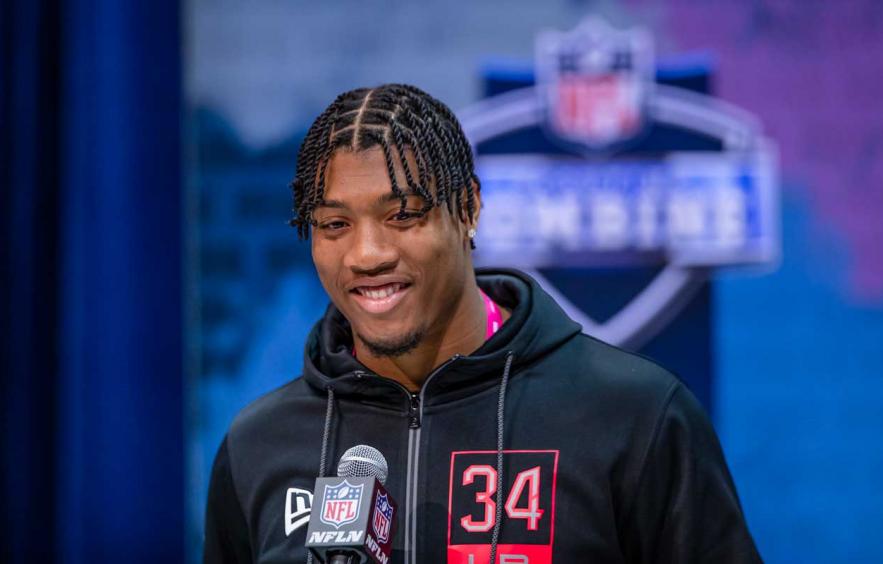 Michael Hickey/Getty Images
The New York Giants hold the fourth pick in the 2020 NFL Draft and on Draftkings Sportsbook you can wager on who they will select with their first-round pick. The following will discuss the best values for this prop bet.
The
Giants

' First Pick

The New York Giants have been one of the worst teams at keeping a secret since Dave Gettleman came to town. When they had the second overall pick the world new Saquon Barkley was the pick. Last year, Charles Robinson reported a week before the draft, "There is a team with Daniel Jones as their No. 1 QB on their board. And y'all know exactly who that team is". When asked about it, Gettleman said he made his decision that Jones was the pick all the way back at the Senior Bowl. Moral of the story: Gettleman makes up his mind early and the rest of the league knows about it.

If you are wondering what about a trade down, Gettleman only seems to trade in one direction and that is up. In five years with the Panthers and two with the Giants he has moved up plenty, but has never moved down in his draft career. It is a safe bet, the Giants are staying put at four, so who is the pick?
| Player | Odds |
| --- | --- |
| Isaiah Simmons | +120 |
| Tristan Wirfs | +350 |
| Mekhi Becton | +700 |
| Jedrick Wills | +700 |
| Andrew Thomas | +1400 |
| Derrick Brown | +1600 |
| Jeffrey Okudah | +1600 |
| Chase Young | +2500 |
Isaiah Simmons +120
The term once in a generation prospect is thrown around every year, making it meaningless. However, Simmons may be the exception to that rule. At 6'4" 238 lbs, Simmons ran a 4.39 40-yard dash, had a 100th percentile speed score and a 96th percentile agility score. He played every position other than DT at Clemson, and when I say every I mean every. He played LB, SS, FS, CB, and edge rusher. He is the ultimate chess piece and the secret is out, Gettleman wants him.
This line has dropped from +400 to +120 as the betting market has taken notice. Simmons's o/u has moved from -110 to -152 on the under as well. While I would almost never suggest betting on a line that has dropped so much, at plus money Simmons still offers a ton of value. I would say as things stand right now, 80% of the time Simmons is off the board at pick four and at plus money, it is worth risking a unit. One scout was quoted as saying per Ralph Vacciano "Gettleman really is looking for a 'gold jacket' player at four. "That's Simmons," one scout said. "If you're looking for greatness, he's got it. The linemen don't."
---
Want in on the action? Get a sign-up bonus up to $1,000 with DraftKings!
---
Tristan Wirfs +350
Dave Gettleman is known for his love of the "hog molly"—the big guys up front. While he has invested serious draft capital in defensive linemen, the highest he has ever picked an offensive lineman is 34th overall in Will Hernandez. Gettleman could change that this year by taking an offensive tackle fourth overall. If he does, the most likely tackle he takes is Tristan Wirfs. Wirfs stands 6'5" 320 lbs and tested as a 99th percentile athlete. Both reports and odds suggest he is the top tackle on the Giants board as the next closest lineman is +700 in Mekhi Becton. Per Ralph Vacchiano, the Giants are down to deciding between Simmons and Wirfs. A way to lock in profit is to put a full unit on Simmons and one-third of a unit on Wirfs. If Wirfs goes fourth, you cover your loses on Simmons; if Simmons goes fourth, you still win 0.87 units, with +700 odds that any other player is the pick.
Pick Summary
| Prop | Pick | Odds | Suggested Units | Limit (bet down to) | |
| --- | --- | --- | --- | --- | --- |
| Player to be Selected with the Giants' First Draft Pick | Isaiah Simmons | +120 | 1.00 | +100 | Bet Now! |
| Player to be Selected with the Giants' First Draft Pick | Tristan Wirds | +350 | 0.33 | +300 | Bet Now! |
Note: All advice in this article is based on odds available on the date of publishing.