Philip Rivers Could Be Great For T.Y. Hilton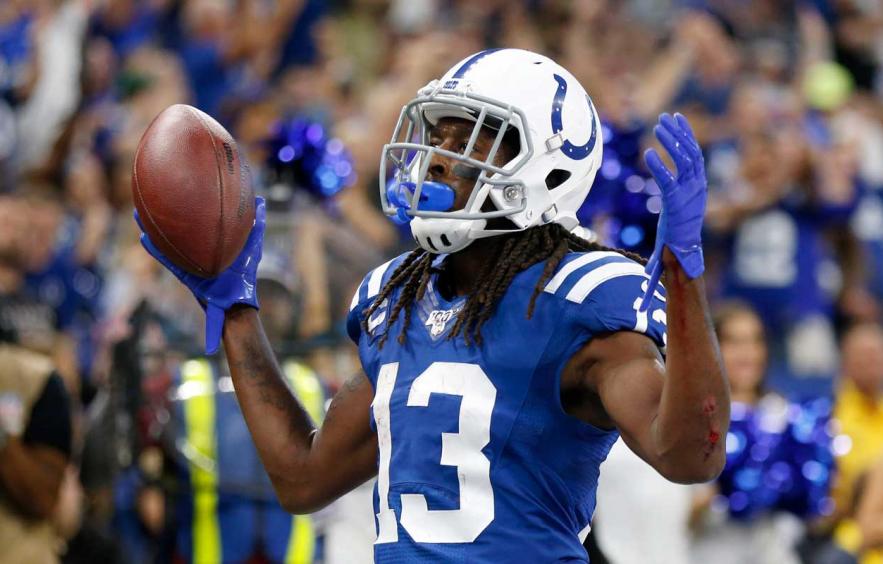 Justin Casterline/Getty Images
T.Y. Hilton was barely usable for fantasy purposes in 2019—clearing 12 PPR points in just three of his 10 games—and there's somehow a clear cut case for why the veteran is a bargain in 2020 drafts.
Create or join a 2020 Yahoo Fantasy Football League for free today
As you may have surmised—because surmising is a passion of yours—Hilton's potential 2020 viability is linked to the Colts' quarterback change. The team's overwhelming desire to Make The Run Great Again will remain, for better or worse, would make Hilton an easy fade if he were going among the first 10 or 15 wide receivers off the board. But he's not. Today, he's being drafted after 24 wideouts.
A Recap of
T.Y. Hilton

's 2019 Season

It's no mystery as to what is suppressing Hilton's 2020 ADP: rostering him in 2019 was a waking nightmare. He missed six games and parts of other contests with nagging injuries after being drafted as the WR20. When he played, he was mired in an ultra-conservative offense that ran the ball 45% of the time even while trailing.

It's not that he wasn't seeing any volume in 2019. Hilton averaged 6.8 targets per game, which works out of around 109 targets over 16 games. That would've accounted for 22.3% of the Colts' 2019 targets; the next closest target share belonged to Jack Doyle (14.6%). Yes, I just cited an extrapolated target share—I'll never apologize. The problem was the kind of opportunity Hilton saw from Jacoby Brissett. The high-value downfield chances pretty much vanished in 2019.

Hilton's yards per reception plunged to a career-low 11.1, around 4.5 yards per catch below his career average, while his yards per target dropped from 10.6 in 2018 to 7.4 in 2019 (1.5 lower than his career yards per target average). There's regression, and there's this: a collapse of what had made Hilton so valuable for fantasy managers. The statistical indignities never ended for Hilton.
Philip Rivers

vs.

Jacoby Brissett

In comes Rivers and changes things for Hilton. Certainly, the aged vet isn't the quarterback he was a decade ago—even so, he operates much differently than Brissett. That's not the worst news for those interested in drafting Hilton in the fifth round of 12-team drafts.

Let's take a look at just how different Rivers is from Brissett.
Philip Rivers

vs

Jacoby Brissett

on Downfield Throws

| Player | Adjusted Yds/Att | 2019 Deep Throws | 2019 Deep Throw Accuracy | Intended Air Yds/Att | Air Yds/Comp |
| --- | --- | --- | --- | --- | --- |
| Jacoby Brissett | 6.6 | 28 | 42.9% | 7.9 | 5.2 |
| Philip Rivers | 7.7 | 62 | 45.8% | 8.6 | 6.4 |
Rivers's deep ball attempts and accuracy have dipped over time (his career-high adjusted yards per attempt was 9.1 in 2009) yet he's still better for Hilton, who has put up his best fantasy numbers when he's targeted down the field. Only four quarterbacks tried fewer long throws than Brissett in 2019, perhaps partly due to Hilton missing nearly half the season, but also because Brissett has never been an aggressive (or accurate) long ball passer.
A meager 16% of Brissett's attempts over his career have been more than 15 yards beyond the line of scrimmage. Meanwhile, nearly 20% of Rivers's attempts have traveled that distance. The old guy hasn't lost his downfield feistiness either: last year, Rivers attempted throws of at least 15 yards on 21.9% of his attempts. They weren't all that good—his adjusted yards per attempt dipped considerably compared to his career numbers—but the tries were there. Consider it a moral victory for Hilton in 2020.
While Rivers' deep throw accuracy in LA last year was slightly below the league average (47.7%), it was still markedly better than Brissett's. I should note that only 12 quarterbacks had long ball accuracy higher than the league average in 2019. For Hilton, the most important stat in the above table might be deep throw attempts; Rivers had 16 more long throw tries than the league average in 2019. This long, drawn-out story much shorter: Rivers is ready and willing to push the ball downfield—a willingness that Andrew Luck shared during Hilton's fantasy football heyday.
The Bottom Line
The Colts' offense will remain a run-centric attack that'll likely keep the ball on the ground in neutral and positive game script situations. Probably that means Hilton's fantasy ceiling is capped this year, unless the proverbial wheels come off for Indy and Rivers has to take to the air much more than planned.
Fantasy managers taking Hilton at his ADP of WR25 don't have to depend on that (unlikely) scenario unfolding for the veteran wideout to finish above his redraft price point. Rivers is a massive upgrade for a team's field stretcher; on the Colts, that just happens to be Hilton.