Jared Cook: Boring Tight End, But Still a Fantasy Starter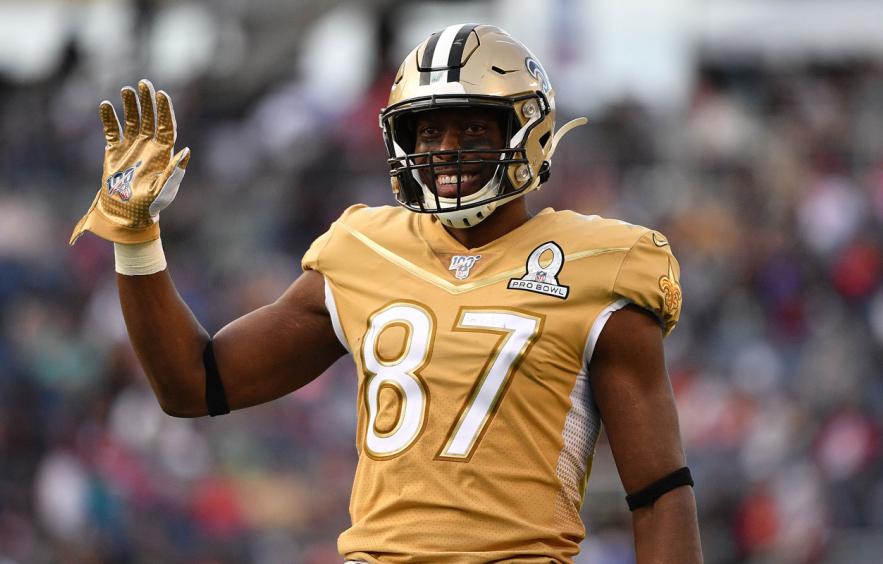 Mark Brown/Getty Images
Jared Cook may not be the sexiest tight end out there in the fantasy landscape, or even the most youthful. There are fresher, flashier names emerging, causing managers to consider ditching Cook for the perceived hotter, tighter version.
However, he is still a viable starting option outside of the top few tiers of guys and can be had for a decent price tag. Cook ended last season as TE7 in total half-PPR points with 146.0, and TE8 in half-PPR points per contest with 10.4. And that was without Drew Brees for five games.
There are many calling for regression, or that he can't match his production from last season. Screw those guys, Cook can still cook, and here's why.
New Orleans Puts Up Points
In the last two seasons, the Saints have been third in total points scored, averaging 31.5 points per game in 2018 with Brees for 15 contests, and 28.6 per tilt last year with Brees only on the field in 11 of those matchups.
If we look at 4for4's Hot Spot: Team Level SOS tool, New Orleans offense as a whole has a fairly easy schedule this season, with only two really difficult matchups against Chicago and San Francisco.

Another thing that stands out is their late-season schedule, particularly during the fantasy playoffs. The Saints tend to produce at a higher volume at home in the dome, and are fortunate to get back-to-back contests in the Big Easy in Weeks 15 and 16. Oh, and those games are against teams who fell in the middle of the pack in total offensive schedule-adjusted fantasy points allowed or aFPA. Here's a look at points scored by the Saints offense over the past three seasons, split between home and away games.
Saints

Average Point Splits, 2017-2019

| Year | Home | Away |
| --- | --- | --- |
| 2017 | 30.13 | 25.83 |
| 2018 | 34.13 | 28.86 |
| 2019 | 31.14 | 28.56 |
While this is not Cook-specific in terms of production, it can give us an idea of what that offense as a whole may accomplish in 2020, with Cook as their starting tight end.
Jared Cook

Can Still Play Football

Once Brees returned from injury last season, Cook threw down with the best of them from Weeks 10-17. He was TE1 in half-PPR points in that timeframe and showcased an impressive 10.8 yards per target, which bested his career-high of 9.8 back in 2011.

Last year he also set a career-high in touchdowns (9) and yards per catch (16.4) on only 65 targets, which was his fourth-lowest volume in his 11-year career. Speaking of touchdowns, Cook's red-zone prowess is also something that makes him an appealing fantasy option this season. He boasted a decent 60% catch rate inside the 10-yard line and four of his nine touchdowns came from within the red zone.

Cook managed to find the end zone nine times on only 43 receptions, for 709 yards in 2019. While his average yards-to-TD ratio may not be sustainable for 2020, even if he slips a little bit, he's still coming out with a line something like 61-40-550-6.
Bottom Line
Yes, the Saints finally have a legit WR2 in their arsenal in Emmanuel Sanders, and his presence may have an effect on Cook's usage, however, I still think he's in line for starting tight end numbers this season.
Cook's ADP is currently in the eighth to ninth round depending on platform and type of league, which seems right where he should be, as TE10 off the board. If you don't want to pay up for the top tier or even that next one, Cook is a safe option for his price tag without having to punt tight end.
Despite being on the wrong side of 30, Cook proved just a season ago that he can still perform at a high level for fantasy-purposes, showcasing those able hands and after-the-catch juiciness.
While there are newer, younger tight ends trying to make names for themselves in the NFL, sometimes sticking with the steady, some-what vanilla guys just makes the most sense.
In other words, I'd still rather bank on a player with a stable, proven quarterback in a powerful offense, than taking a gamble on a spicier-looking tight end in a new system with an iffy guy under center.